About Your Noise
Clarity to speech is a must in any Conference Room setting.   What threatens the clarity is blurred sound signals caused by unwelcome echoes that bounce around off the perimeter wall, ceiling and floor surfaces in the room.    As the echoes carry, the original sound signals become blurred by the background noise, which threatens the communications within the space.   Not good for hosting business meetings, AV presentations, telephone communications, teleconferencing, employee training and customer relations.  We know how to soundproof a conference room, and the key to improving the sound values inside your Conference Room is to capture and convert the echoes out of your space.
Your Conference Room Soundproofing Solution
Sound panels absorb echo.  By placing them around the perimeter of your Conference Room, wall or ceiling mounted, the sound wave reflections are caught, captured and converted out of the room.   What remains is great clarity to original sound, lower levels of background noise, the elimination of blurred sound signals, and a more user friendly and productive Conference Room setting.   The key to making the treatment work is to get the right amount of material introduced into the room.  For that, we offer a complimentary Room Analysis designed to calculate your amounts and quote your project.    See the link at the top or bottom of this page.
Questions?  Call 1-800-638-9355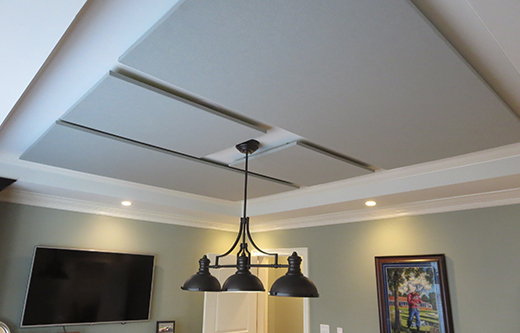 Featured Sound Panel

Fabric Panels are architectural sound panels that look great and sound even better.  We custom cut them to the cavity size that you ask for, based on the available surface space in your Conference Room.   Wall or ceiling mounted, the Fabric Panels will combine to capture the reverberations in the room, and deliver back premium sound quality for you to enjoy.   Clips are shipped with your panels for easy self-installation around the room's perimeter.    1" thick panels are designed for human voice, 2" thick panels should be the choice if you host music in the room.  Available in 60 color options.
See Fabric Panels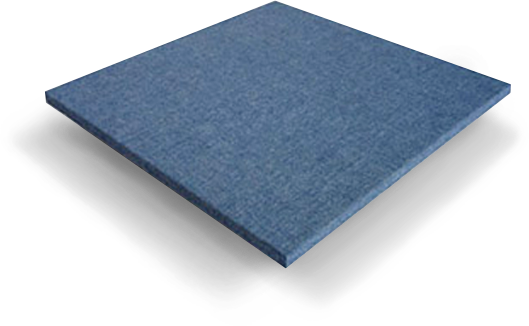 Related Sound Panels

If you are interested in using the sound panels to "brand" your Conference Room with corporate logos, product images, graphics and such, consider the upgrade to our PicturePanels.   This is the same panel treatment, same value back, but rather than wrapping the panels in solid color, we will wrap them in graphics and images.  As a result, the sound values in the room will be restored to premium sound quality,  while the visual presentation to space will promote your company brand and look fantastic.    Another popular option for Conference Rooms is to "float" the  Fabric Panels off the ceiling as a Ceiling Cloud, leaving your walls as they are.
Why We Love The Fabric Panel
For more than 25 years NetWell has been prescribing sound panel treatments for commercial office space.   By far, the most popular treatment is our Fabric Panels.   They look great, sound great, are easy to install, they do not degrade over time, and they deliver premium sound quality back for your Conference Room.   The ideal choice for controlling your acoustics, and providing the business friendly environment you are seeking.

Questions?  1-800-638-9355
See Fabric Panels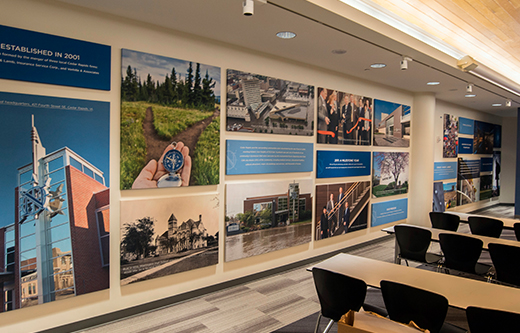 Your Four Steps to Quiet:

Measure Your Room
We need the cubic footage of your space. Measure your room's length, width, and height.

Submit Room Analysis
Use the button at the top or bottom of this page to submit your room's dimensions.

Approve the Quote
We will define the framework for your treatment and submit back your quote for approval.

Self Install
Your sound panels will drop ship to your doorstep.  Our treatments are cost effective, and designed for self-installation.
Case Studies
To showcase the concept of a sound panel treatment placed into a Conference Room to control the acoustics, we refer you to our Case Study Library.   There, we feature a financial services firm based in Cedar Rapids, Iowa named TrueNorth.    Check out their storyline and images of their finished product!
See Case Studies

Sign Up for StartSmart
StartSmart
If budgets are rearing their ugly heads, we offer an email series that might be of interest to you.   Our StartSmart program offers a series of emails that offer insight into controlling the costs related to your upcoming acoustic project.   The program is free, it is a quick and easy read, be sure to sign up today!