About Your Noise
Gymnasiums are used to host gym classes and sporting events, but often serve also as a multi-purpose venue for hosting a variety of other events.   The hard reflective surfaces in the gym are designed for durability, but are terrible for the acoustics in the space.   As sound waves bounce off the perimeter walls, ceiling and floor, the decibel levels spike due to the unwelcome level of echo.   The key to soundproofing a gymnasium, the key to producing premium sound quality within your gym, is to capture and convert the echoes out of the room. What remains will be greater clarity to original sound, lower crowd noise, and a more user-friendly space for all to enjoy.
 Your Gym Soundproofing Solution
Soundproofing is our specialty. Of all the vertical market solutions we provide for creating premium sound quality, the Gymnasium applications represent our signature treatment.   The goal is to place a set of sound panels inside your gym, wall or ceiling mounted, to collectively capture and convert the unwanted echoes from your space.   By lowering your level of background noise, you generate greater clarity to original sound, which results in lower crowd noise, a healthier teaching environment, greater ease in communication, and a more user-friendly gym.   The key to the success of your acoustic treatment is to make sure we put the right amount of product into the gym.   If we under treat the space, your sound values will decay.   Step 1 in your journey will be to submit your gym's dimensions using the Room Analysis, which will allow us to generate your panel count and quote.   Use the button at the top or bottom of this page to submit your figures.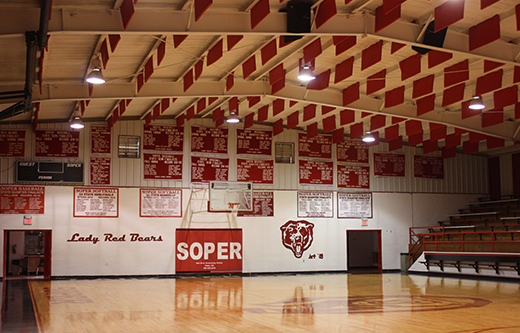 Featured Sound Panel

The most popular sound panel option designed for gym soundproofing is our acoustic VET Baffle.   These are colorful banners that hang vertically between the joists in an open deck gym space.   They will combine to produce an absorption coefficient in the gym that will capture and convert the unwanted echoes from the space, cleaning the room acoustically, and delivering back the sound values you are seeking.   VET Baffles free hang from your ceiling in rows and columns, spread out across the expanse of the room.   The key to your sound values is to ensure you have introduced the right amount of baffle into the space, which is what our Room Analysis will define for you.
Questions?  Call 1-800-638-9355
See VET Baffles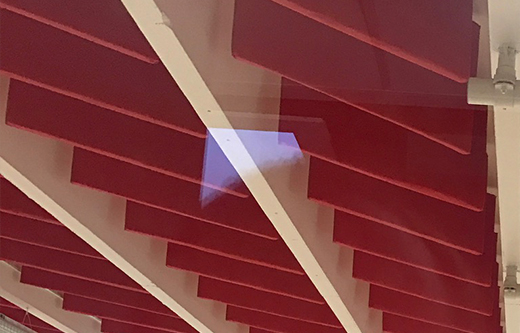 Related Product Options
If the ceiling height in your gym is under 20 feet, or if you have a finished ceiling in your gym with recess or flush mounted lighting, this will negate your ability to install the VET Baffles.   Instead, the alternative treatment is to line the upper third of your perimeter walls with a set of sound panels called Fabric Panels.   These are colorful, durable sound panels that generate the same level of absorption as the VET Baffles.   But due to their price, a less popular option over the baffle system.
Why We Love The VET Baffle
VET Baffles are class A fire rated, waterproof, light weight, easy to self-install, and come in 25 colors.   This treatment is the most popular product we sell, and have for more than 25 years.   Coming in under $3 per square foot, it is also one of the most cost effective treatments out there.   Our clients love them, and so will you.
Questions?   Call 1-800–638-9355
VET Baffles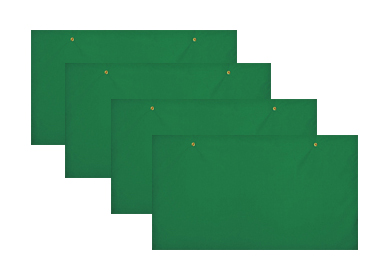 Your Four Steps to Quiet:

Measure Your Room
We need the cubic footage of your space. Measure your room's length, width, and height.

Submit Room Analysis
Use the button at the top or bottom of this page to submit your room's dimensions.

Approve the Quote
We will define the framework for your treatment and submit back your quote for approval.

Self Install
Your sound panels will drop ship to your doorstep.  Our treatments are cost effective, and designed for self-installation.
Case Studies
A variety of recent NetWell sound panel projects are featured in our Case Studies Library.   We invite you to spend some time there and discover the variety of types of soundproofing projects that our clients have enjoyed.   The visuals and testimonials will help move our conversation forward with you on your quest to resolve your gym noise!
Questions?  1-800-638-9355
See Case Studies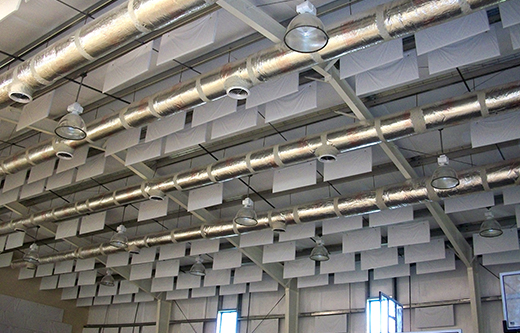 Sign Up for StartSmart
StartSmart
As with most gym projects, schools and churches and YMCAs are all on tight budgets. Maneuvering through the financial end of our sound panel projects is the biggest hurdle to overcome on each new project.   If you are serious about controlling your gym noise, and want some good background information on how to push through your soundproofing project on a tight budget, sign up for our StartSmart series.   This is a free tool designed to help our clients control both their noise and their pocketbook. Sign up today!