In the history of the noise control industry, a generation back there were just a handful of acoustic foam fabricators that sold foam panels through distributors to clients suffering from noise.   Most of the treatments centered on audio applications in music studios, drum booths, recording studios, and so on.   The depth of product options was limited, the foam was a familiar and staple product, effective at controlling noise, but not class A fire rated, and not decorative for use in commercial venues.
Where Art Controls Sound
Through the years, the advent of the cloth wrapped panel systems then found their niche, and they still do today. No longer is foam used as much to capture and convert unwelcome echoes from a room. Instead, the cloth wrapped sound panels systems are made of compressed fiberglass boards, which are stiff and rigid. The boards are durable, portable, easy to self install, class A fire rated, and approved for use in any commercial setting that suffers from poor quality sound. The core material captures and converts the echoes from the room, while the outer skin is a decorative fabric that for many years was offered in dozens of colors. Today, those color options have expanded, the bulk of the color textile clothes used in the sound panel industry are supplied by a single sourced called Guilford of Maine.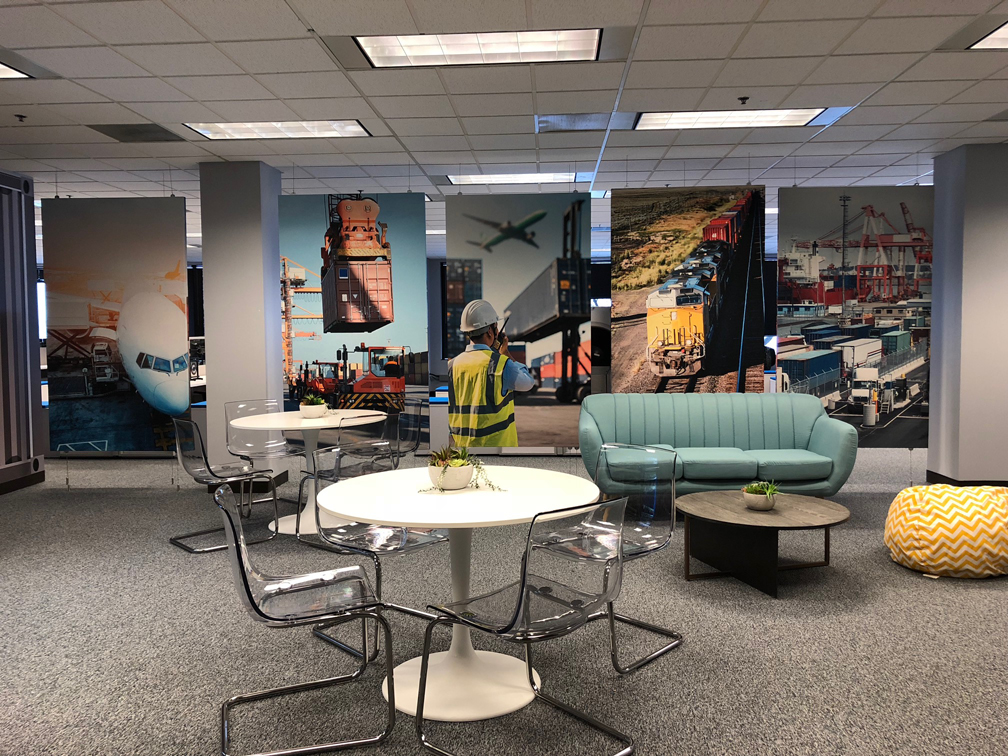 However, clients kept clamoring for even greater diversity in design options, which in term gave birth to the dye sublimation industry and their ability to paint images, graphics, logos, photography and artwork digitally onto the face of the sound panel. Suddenly, there are today no limitations on what your sound panels might look like. Case in point is this set of images supplied by OEC Group in Chicago. They supply logistics services to clients worldwide. Within their office setting, they were having acoustic issues, and decided to apply the designer panel concept to their own interior office space.
OEC provided company related images of their industry to NetWell Noise Control. The textiles were printed, and then wrapped around sound panels designed to suspend vertically off the floor from the ceiling. The visual representation to the space is stunning, the sound values excellent, and the client a happy customer. For more information on producing a unique and decorative acoustic panel presentation to your space, you can reach to NetWell Noise Control at 1-800-638-9355 or visit them online at www.controlnoise.com.
The art of dye sublimation converts paint from a liquid state to a gas state. Much like steam cleaning drapes or drycleaning clothes, the imagery is sprayed into the face of the textile, coating each fiber of the fabric with color. This allows a small .jpg image to expand to mural size sound panels and maintain the vividness in color, as you can see with the OEC Group project. It is thanks to this technique that today's sound panel market now stretches deep into the designer field. Sound panels can now be made to look like clouds in the sky on a ceiling, or brick walls on a wall that really aren't brick at all. They are acoustic panels instead. The difference in terms of sound values? A brick wall might absorb up to 5% of the echoes in a space, while a sound panel made to look like a brick wall might absorb up to 80% of the same level of echo. The difference in striking in offices, restaurants, schools, churches and most any commercial venue that suffers from poor premium sound quality.
So out with the foam and in with the new? Of course! The sound panel market is there to be tapped, with most any creative design you can think of, now available and at your fingers tips. Again, for more information, reach to NetWell's help line at 1-800-638-9355.