About Your Noise
A MultiPurpose room, by its name, signifies a public space that can be used to host a variety of events.   From sports, to music, to guest speakers, to fellowship, to eating, the room serves a multitude of purposes.   What threatens the success of the space is poor quality interior room acoustics.   As people and events fill the venue, the original sounds in the room begin to reflect off of the perimeter wall, ceiling and flooring surfaces. This results in a spike in background noise, which carries to uncomfortable levels, as echoes blur new sound signals. Speech becomes unintelligible, music harmonies are lost, communication distorted, and the room needs help.   The key to the sound values you are seeking lies in the capture and conversion of the echo from your space.
Your Soundproofing Solution
The goal with generating more favorable sound quality for your Multipurpose venue is to better control the level of ambient echo in your space.   By placing a set of sound panels around the perimeter walls or ceiling space in your venue, you are better able to capture and control this unwelcome level of background noise. Ceiling acoustic sound panels are designed to capture and convert the echoes from your space, which in turn will combine to lower your level background noise, and generate greater clarity to original sound.   This means lower crowd noise, lower background noise, greater ease in communication and conversation, music sounds better, guest speakers enjoy greater clarity to speech, and so on.   The bottom line, if your Multipurpose Room is unfriendly, people won't use it.   Insert the sound panels into the room, and the results will be dramatic.   The key to soundproofing a Multipurpose room and the acoustic values you are targeting lie in product selection and quantities.   That's where we come in.   Use the Room Analysis tool at the top or bottom of this page to submit your room size, and we will quote the project back for you!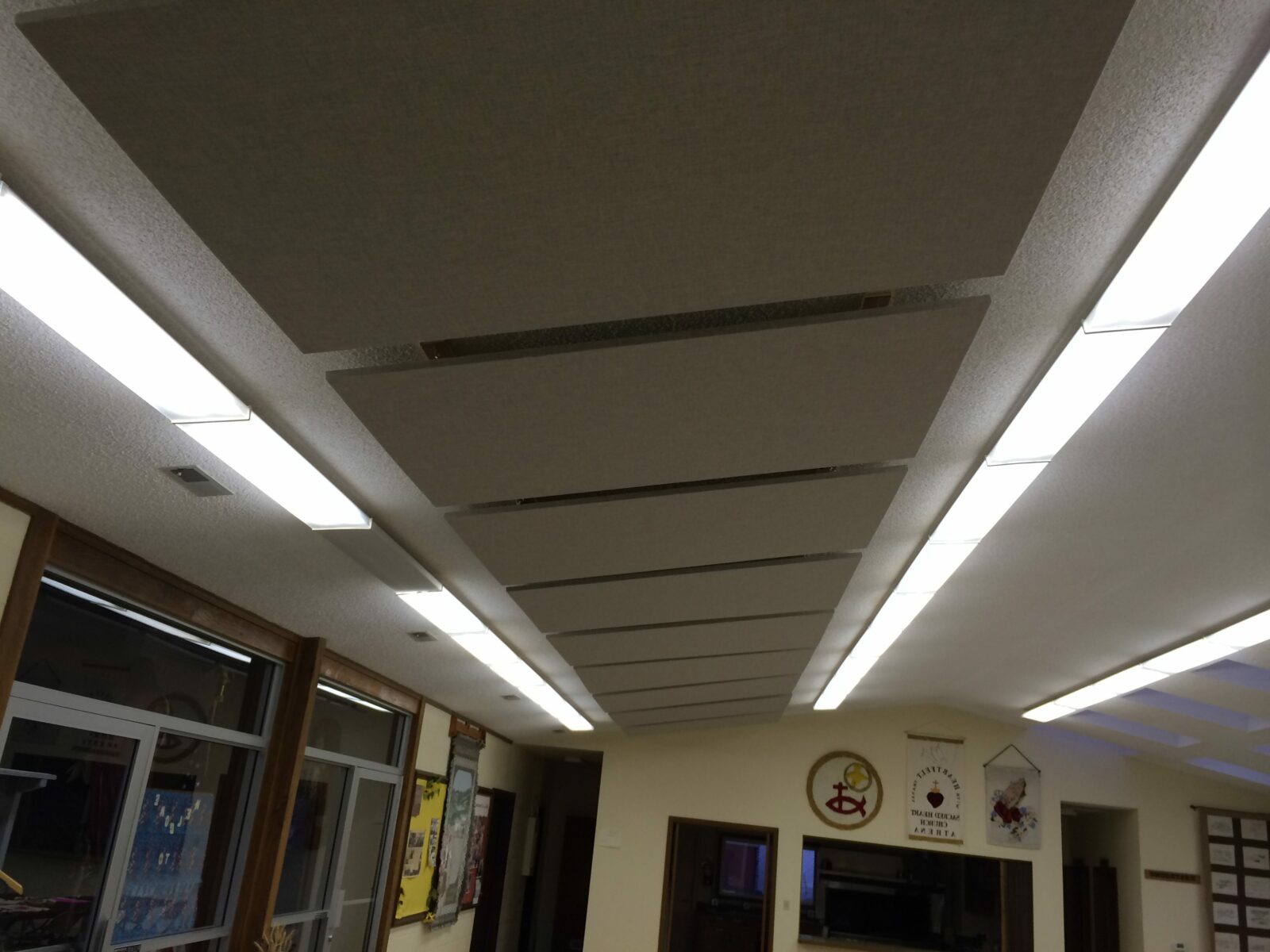 Featured Sound Panel

Fabric Panels are super popular for treating Multipurpose Rooms that suffer from unwanted noise.   These panels are class A fire rated, colorful, durable, decorative, easy to self-install, and work great to control the ambient echoes in your room. The sound panels combine to capture the sound wave reflections, and deliver back premium sound quality by lowering your levels of background noise.   You can place the Fabric Panels as you wish, wall or ceiling mounted inside your room.   The goal to start is to get the square footage totals right based on your room size, to ensure we are not under treating your space.   Submit your Room Analysis and we will quote back your Fabric Panel price.
Questions?  Call 1-800-638-9355
See Fabric Panel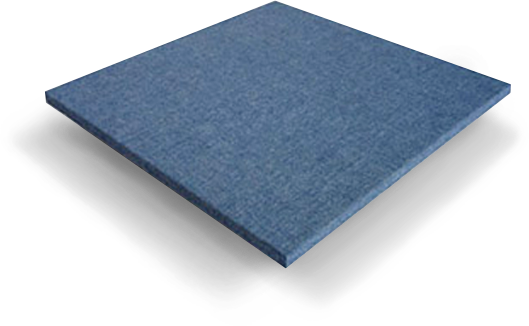 Alternative Product Options
A popular upgrade to the Fabric Panel is our FabricTack Panel, which is essentially the same product, but this version can double as a bulletin board.   That means you can use our sound panels to tack up seasonal projects, calendars, message boards and artwork onto the face of the panels.   We also offer our standard Fabric Panel as a Ceiling Cloud, which allows you to mechanically "float" your sound panels from your Ceiling.
Why We Love Fabric Panel
NetWell has provided this same sound panel treatment to tens of thousands of clients scattered around America for more than 25 years.   What's not to love. We have never heard back from a single client that the treatment didn't perform. The Fabric Panels are decorative, durable, colorful, beautiful, class A fire rated, and will ship with a set of clips designed for easy self–installation.
Questions?  Call 1-800-638-9355
See Fabric Panel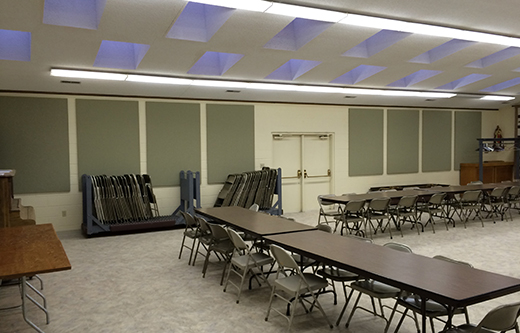 Your Four Steps to Quiet:

Measure Your Room
We need the cubic footage of your space. Measure your room's length, width, and height.

Submit Room Analysis
Use the button at the top or bottom of this page to submit your room's dimensions.

Approve the Quote
We will define the framework for your treatment and submit back your quote for approval.

Self Install
Your sound panels will drop ship to your doorstep.  Our treatments are cost effective, and designed for self-installation.
Case Studies
Our Case Studies Library will introduce you to a variety of recent NetWell sound panel project with images and testimonials from our clients.   The art of replication is what NetWell thrives on.   We will produce the same values back for you that you will see illustrated here in our Library.
See Case Studies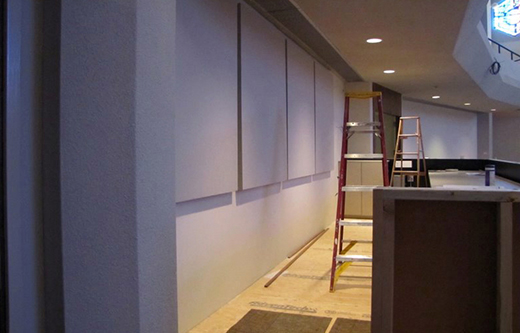 Sign Up for StartSmart
StartSmart
If you are on a tight budget, and are interested in controlling both your noise levels and your pocket book, we encourage you to sign up for this free online course that teaches our clients steps they can take to minimize the costs associated with your upcoming soundproofing treatment.   Super popular. Sign up today!