Gun Range Noise Control
We start by differentiating between an indoor gun range and an outdoor gun range. For outdoor gun range soundproofing, the goal is typically to protect the neighbors from the sound of gun blasts. For indoor gun range soundproofing, the goal is to protect both the people inside the shooting tunnel, as well as those in the same building that may experience unwelcome levels of exposure to the noise.
Soundproofing Indoor and Outdoor Shooting Ranges
For the outdoor shooting range, there is only one treatment, one product, that combines to both "block" directional noise to the neighbors, as well hold up in the weather. These are called QBO Blankets.  These sound control blankets can be suspended from structures that surrounds the contained area where the gun is being fired.
For the indoor range, the options expand.   To isolate the room from the rest of the building, we refer you to the Wall and Ceiling sections of this website.   For the level of exposure inside the room, Pyramid Acoustic Foam Panels can be placed on the perimeter wall and ceilings areas around the shooting line and down the tunnel.
Questions?   Call 1-800-638-9355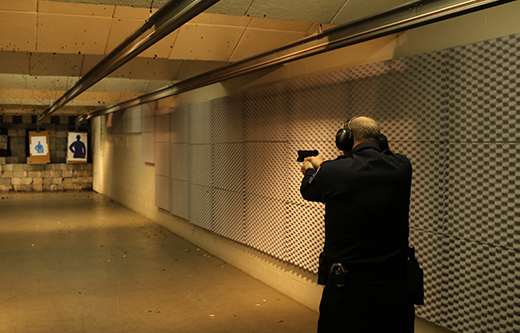 Gun Range Noise Control
What you see here lining the perimeter walls and ceiling of an indoor gun range is our superior performance Melamine Acoustic Foam FireFlex Panel. This sound deadening acoustic panel system is ideal for curbing excessive noise levels within an indoor gun range.
Use the Room Analysis tool at the bottom of this page to feed us your range's dimensions and we will quote back the appropriate panel count for your project based on tunnel size.
For outdoor applications, we switch the treatment over to our popular Outdoor Sound Barrier QBO Blankets.
See QBO Blankets
See FireFlex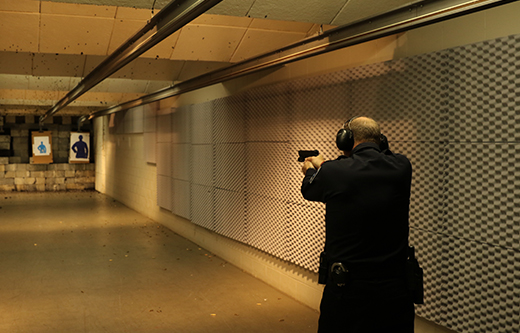 Outdoor Gun Ranges Love Noise Reduction Blankets
For outdoor gun ranges, the goal with the NetWell soundproofing treatment is to isolate the noise to the range as best you can, and protect the neighbors that surround the range.   Outdoor, Weatherproof Sound Barrier Blankets are available to attack the directional noise from the gun blast and hold the noise to a more contained and isolated area.
Indoor Gun Ranges Love FireFlex Acoustic Foam
FireFlex Acoustic Foam Panels are the preference of choice for noise reduction with indoor gun ranges.   These sound panels are a simple product to make, ship, receive, install and generate the value back you are seeking.   The panels ship in 2'x4' squares and we recommend the 3" thickness.   They are made from class A fire rated melamine foam and are the ideal choice for controlling exposure to excessive noise echoes inside your indoor gun range.
Questions?  Call 1-800-638-9355
See FireFlex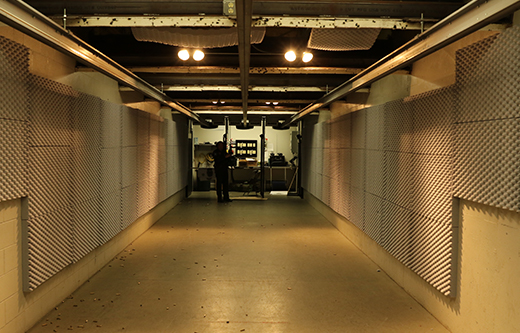 Four Steps to Soundproofing Your Shooting Range:
Measure Your Room
We need the cubic footage of your space. Measure your room's length, width, and height.
Submit Room Analysis
Use the button at the top or bottom of this page to submit your room's dimensions.
Approve the Quote
We will define the framework for your treatment and submit back your quote for approval.
Self Install
Your sound panels will drop ship to your doorstep.  Our treatments are cost effective, and designed for self-installation.
Case Study Samples
Our Case Study Library showcases a variety of sound panel treatments for our clients to review. The story lines and images can help you visualize your treatment, and prepare you for your upcoming acoustic project. Call our help desk at 1-800-638-9355 for any related questions. Learn more about our West St. Paul Police Department case study below!
See Case Study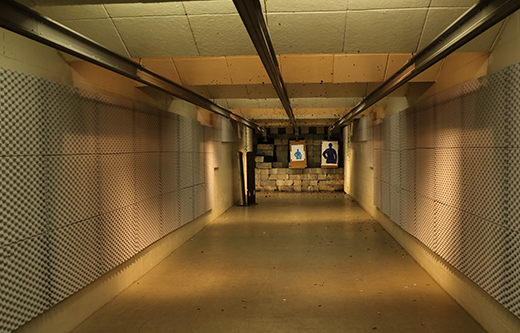 Gun Range Noise Control:  Q&A
How Do You Design an Indoor Gun Range for Noise Control?Proper gun range noise control involves Isolating the noise from a gun blast within your gun range and not letting it impact adjoining spaces. The goal as you construct your perimeter wall and ceiling surfaces is to build a room-within-a-room scenario. Detach your inner walls from the exterior walls of the building and float a finished ceiling off the existing ceiling structure. By doing so, you control the structural points which prevents noise traveling through vibrations. Once the walls and ceiling are properly configured, anchor your gun range soundproofing method on these surfaces to absorb the trapped sounds.
How Do You Design an Outdoor Gun Range That Won't Upset Your Neighbors?
Outdoor gun range soundproofing treatments are too unique for us to easily answer this question. Your design depends on your starting point, where your neighbors are positioned, which direction you are firing your gun, and whether there's any existing structure at the firing line that can be used to enclose and redirect the noise. All of this can be discussed with our help desk at 1-800-638-9355.
How Can Gun Blast Noise Affect Hearing Loss?
Hearing loss can occur at a decibel level of 85 A-weighted decibels (dBa). However, a 9mm pistol can produce a reading of nearly 160 decibels. Without wearing hearing protection, the shooter is likely to suffer hearing loss. For more information on gun range soundproofing, call our help desk at 1-800-638-9355.
Why Is Acoustic Foam So Popular for Soundproofing a Gun Range?
Acoustic foam absorbs the noise generated from a gun blast. These sound panels will line the walls of an indoor gun range to protect the shooter from excessive exposure to gun blast noise. Fireflex is a class A fire rated acoustic foam panel that is the ideal choice for soundproofing an indoor gun range. Be sure to go 3" thick with the sound panel and to cover the first 30% of the tunnel on the side walls, as well as the top and back wall if you are able.
Can Soundproofing Products Be Used Outdoors?
Yes. There are sound control blankets that are designed to withstand weather and deaden directional noise stemming from gun blasts. They are called QBO Blankets. These soundproofing curtains can be configured to isolate noise, soundproof an outdoor gun range, and endure extreme weather. For more questions related to your soundproofing project, call our help desk at 1-800-638-9355.
How Many Sound Blankets Do I Need to Soundproof My Gun Range and Where Should I Place Them?
Outdoor gun ranges produce gun blast noise that can have an adverse effect on those shooting the guns, as well as surrounding neighbors. To control the noise exposure levels, QBO sound control blankets can be placed into positions that block directional sound and isolate the noise generated from the gun blast. At this point, each gun range soundproofing treatment should be unique depending on its setup. Special care should be taken as to where the acoustic blankets should be positioned. For help in designing your outdoor gun range, call our help desk at 1-800-638-9355.
How Do Shooters Protect Themselves From Gun Blast Noise?
By placing QBO noise control blankets on the side and back staging areas that surround the shooter, the gun blast noise can be effectively captured. Individual firing stations can be separated by sound barrier walls made from the QBO blankets. These sound control blankets can hang from floor-mounted stands or the ceiling of a structure to help protect both the shooter and those nearby from unhealthy noise exposure levels.
What Are the Benefits in Using NetWell's Sound Blankets in Your Gun Range?
Excessive noise exposure levels stemming from gun blasts can cause permanent and irreparable damage to your hearing. Care should be given to ensure you are designing a safe and comfortable shooting environment. By installing NetWell's weather-resistant QBO sound barrier blanket system in your outdoor shooting range, both the neighboring communities and those firing the guns will be protected from unwelcome noise levels. Gun range soundproofing is a must for the safety of the shooter.
Sign Up For StartSmart
StartSmart for Gun Ranges
We offer a simple email series called StartSmart that is designed to teach our clients how to save money on their upcoming run range soundproofing projects.   If you are serious about controlling your noise levels, and want to do so as cost effectively as possible, sign up today!