Foam Sound Panels
FBF Panels line the inside of an enclosure to help combat sound transmission out of the enclosure.  Cut from class A fire rated melamine foam, these enclosure liners are available in 2'x4' panel dimensions that measure 1-3/8" thick.   The construction is composed of a 1/4″ decoupler, lined in the center of the panel is a 1/8″ thick layer of our dB-Bloc sound barrier membrane, and the outer layer that faces the sound source is 1″ thick absorber.  The composite panel combines to both "block" the escaping noise as well as "absorb" the reflections taking place inside the enclosed area.
Questions?  Call 1-800-638-9355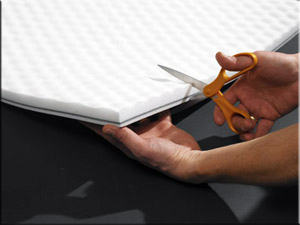 Lining Your Enclosure
FBF Panels are ideal for a cut/paste application on the interior walls of a new or existing shroud or enclosure built around your stationary sound source.    FBF foam sound blocking panels are available in two facings – mini wedge (egg-carton style) or flat. A tuftane or mylar skin can be added to the face (flat only), which helps protect the foam against moisture/oil mist, etc., and also serves to seal the foam sound panels and prevent foam dust from emitting out into the air.   These sound panels can easily be cut with scissors and applied to the walls with a tube of water-based heavy duty construction adhesive.    The panels are lined with dB-Bloc, so they weigh more than a standard foam sound panel. Each 2'x4′ panel weighs a little over 8 LBS.  For adhering to the ceilings of an enclosure, consider bracing the panels to the surface with a reinforcing strap or bar.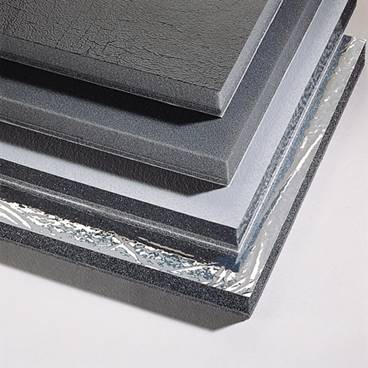 FBF Panel Pricing
Our FBF Panels are priced per panel, as shown here. For questions related to your project, call our help desk at 1-800-638-9355. Orders can be placed by phone or online through our eStore.
Order by Phone
Color
Panel Size
Unit Price
Gray
2'x4', 1-3/8" thick
$90
Charcoal
2'x4', 1-3/8" thick
$100
White
2'x4', 1-3/8" thick
$110
Add PSA (pressure sensitive adhesive)
$15
Add Protective Mylar or Tuftane Skin
$20
Sound Barrier Blankets
A popular alternative to the cut/paste FBF panels is our QBS Sound Barrier Blanket system.   Where the FBF is a foam/barrier/foam composite that is cut into smaller 2'x4' panels, the QBS Blankets are a fiberglass/barrier/fiberglass composite that can be cut up to 25' tall and serve the same purpose of both blocking as well as absorbing sound energy.   For smaller projects, clients opt for the FBF panels.  For larger products, they switch over to the QBS Blankets.
Show QBS Blankets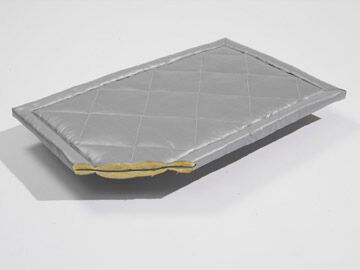 Installation
We recommend using a heavy-duty water-based construction adhesive such as Titebond GREENchoice or similar.  With FBF Panels, plan for an application rate of approximately (1) 10 oz tube per 16 square feet.  Prior to application, the mounting surface should be smooth, clean, dry, solid, and free from dust, oil and residues. Uneven surfaces should be leveled.  Panels can be easily cut if necessary with a sharp utility knife.  Adhesive should be spread evenly over the entire back surface of the panel. Panels are positioned into place, then pressed to the surface and adjusted.  Be sure to provide adequate ventilation to ensure quick bonding.  We recommend a test adhesion in a small area before proceeding with full installation.
Questions?  Call 1-800-638-9355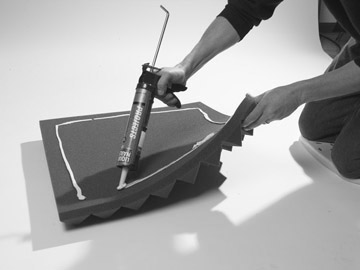 Sound Test Results
Octave Band Frequency (Hz)
Thick
125
250
500
1k
2k
4k
1-3/8"
.33
.24
.63
1.23
1.35
1.14
NRC:
.85
20
21
25
28
32
42
STC:
29
1-3/8"
1.35
1.14
NRC:
.85
Shipping
FBF Panels are boxed and shipped via Fedex Ground for smaller orders, or shrunk wrapped on pallets and shipped via common carrier for larger orders.  For questions related to your treatment, contact our help desk at 1-800-638-9355.
Shipping/Receiving
Terms & Conditions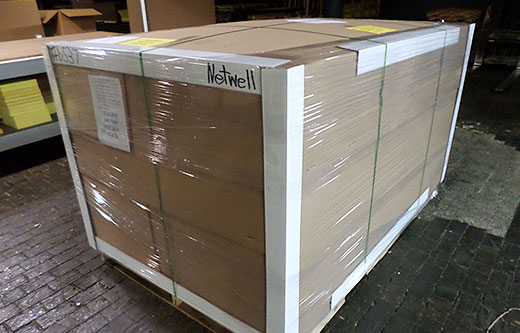 Before You Get Started…
NetWell prides itself on being a teaching website. Yes, our goal is to help you solve your noise issues, but just as important is to help you understand how to do it, and do so cost effectively. The support tools below are built for you to help you better understand the art of sound control. We look forward to working with you, and delivering back a more user-friendly space.  BP.