Foam Bass Traps
Another acoustic foam product, CornerCuts are acoustic foam bass traps, also known as corner bass traps, that free stand in the corners of a room to help combat low bass frequency noise. These three-sided sound panels stand 4' tall with a fluted convoluted cut in the face of the panel to add to the absorption values of the panel.
Questions?  Call 1-800-638-9355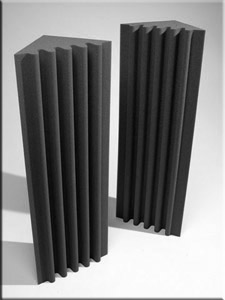 Acoustic Foam Bass Traps
CornerCuts are cut from class A fire-rated melamine foam.   They are available in light gray, charcoal, and white.   These corner bass traps are sold primarily to the music, recording, and broadcast markets for curbing excessive low bass frequency noise that can collect in the corners of a sound room.
See Case Studies

Related Products
CornerCuts are typically a supplement to a full perimeter wall treatment using our popular Pyramid or VCut acoustic foam panels.   Cut from the same melamine foam, these wall panels are available in 2", 3" and 4" thickness.   The key to the success of your treatment lies not in where you position your sound panels in the room, but by ensuring you target the right amount of product.   Use our Room Analysis to help define your treatment if you haven't done so already!
Questions?  Call 1-800-638-9355
See Pyramids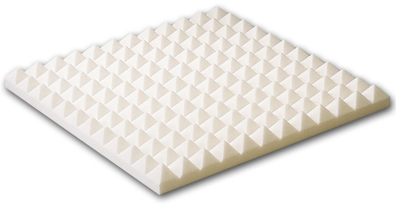 Pricing
CornerCuts are priced as shown here.   Orders can be placed by phone at 1-800-638-9355 or online.
Tips & Techniques
CornerCuts are designed to simply free stand in the corners of your music room.  Stack 1 one on top of the other for a full 8' reach to your ceiling, and place them in all 4 corners of your room.   The Pyramid or VCut panels should be your primary focus with your treatment, and those sound panels can be glued to your perimeter wall space with silicone adhesive.
Questions?  Call 1-800-638-9355
See VCuts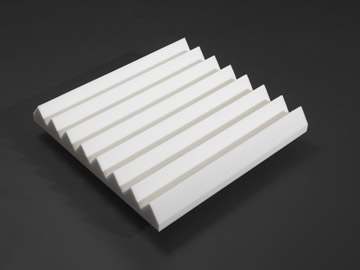 Installation
We recommend using a heavy-duty water-based construction adhesive such as Titebond GREENchoice or similar.  Plan for an application rate of approximately (1) 10oz tube per 32 square feet.  Prior to application, the mounting surface should be smooth, clean, dry, solid, and free from dust, oil and residues. Uneven surfaces should be leveled.  Panels can be easily cut if necessary with a sharp utility knife.  Adhesive should be spread evenly over the entire back surface of the panel. Panels are positioned into place, then pressed to the surface and adjusted.  Be sure to provide adequate ventilation to ensure quick bonding.  We recommend a test adhesion in a small area before proceeding with full installation.
Sound Test Results
Octave Band Frequency (Hz)
125
250
500
1k
2k
4k
Sabins
12" x 48"
3.6
9.7
9.5
8.25
6.8
5.15
8.6
12" x 48"
3.6
9.7
9.5
8.25
Spec Sheet
This product is class A fire rated and approved for use in any public venue.
* Test results available upon request
Shipping
CornerCuts will be shipped to your doorstep via Fedex.   Be sure to inspect the order upon delivery and sign for anything that might appear to have been damaged during delivery.
Shipping/Receiving
Terms & Conditions