Soundproofing Your Broadcast Studio
Radio and TV stations require premium sound quality for broadcasting. Controlling the echoes within the broadcast room happens when sound panels are introduced into space. Once the echoes are captured from the studio with the sound panels, greater clarity to original sound is restored, and a crisp broadcast signal is produced. The key to studio soundproofing and maximizing the quality of your broadcast signal is to reduce and eliminate the echo.
Broadcast Studio Acoustical Treatment
The goal with generating premium acoustics within your Broadcast Studio is to lower your levels of ambient echo, which in turn, will generate great clarity to the original sound and a crisp quality to the broadcast signal. By lowering the level of echo with sound proof walls, the room will be restored to premium sound, and instantly generate into a more user-friendly studio for your broadcasting. Your unwanted sound wave reflections can be captured and converted out of your studio by introducing a set of sound panels into the studio, wall or ceiling mounted.
We will coach you along with regard to panel selection, panel thickness, and panel quantities, giving you the freedom to place it as you wish within your space. Once your sound panels are installed you will notice the acoustic difference immediately.
Questions?  1-800-638-9355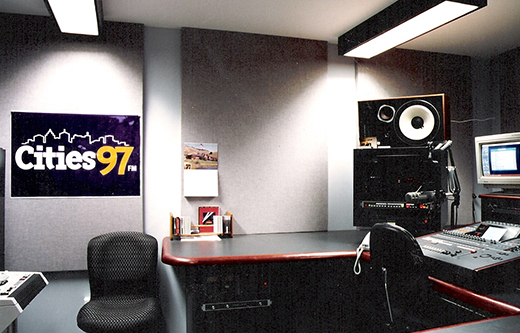 Broadcast Studio Sound Panels
Fabric Panels are the most popular product option for a studio treatment. The acoustic panels combine to deliver the absorption coefficients you need to generate the intended sound values back. They can be flush mounted to perimeter wall or ceiling surfaces, or suspend from your ceiling as a floating "cloud." Regardless of where you place the panels, the sound values will be picked up so long as you do not under treat the space. Use the Room Analysis button below to submit your room's dimensions, and we will define the coverage amounts you will need based on your room size.
See Fabric Panel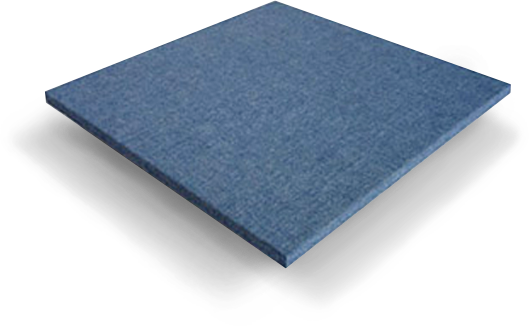 Related Product Options
There are a couple of popular alternatives for retrofitting your Broadcast Studio with sound panels. One option would be to switch the treatment out for a set of acoustic Pyramid foam panels.   These are class A fire rated sound panels that are just as effective as the Fabric Panels at controlling your sound quality.  Easy to apply, quick to ship, and class A fire rated.   Another popular choice is to suspend a set of acoustic VET Baffles from your ceiling to produce the same absorption coefficients, and the same level of premium sound quality as a wall mount sound panel system would
Why Broadcast Studios Love The Fabric Sound Panels
Fabric Panels are durable, decorative, portable sound panels that combine to produce the absorption coefficients your studio will need to generate the sound values back you are hoping for.  These sound panels are Class A fire rated, easy to self-install, and are available in 60 color options.
Questions?  1-800-638-9355
See Fabric Panel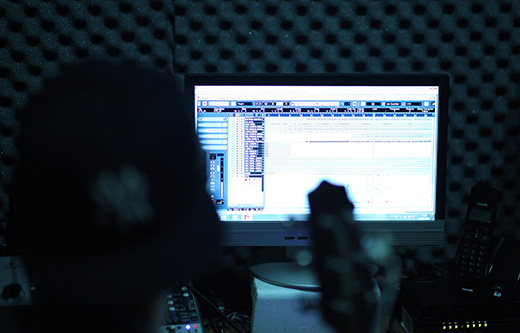 Your Next Four Steps:
1. Measure Your Studio
We need the cubic footage of your space. Measure your room's length, width, and height.
2. Submit Room Analysis
Use the button at the top or bottom of this page to submit your room's dimensions.
3. Approve the Quote
We will define the framework for your treatment and submit back your quote for approval.
4. Self Install
Your sound panels will drop ship to your doorstep. Our treatments are cost effective, and designed for self-installation.
Case Studies to View
We invite you to visit our Case Studies library for an array of sound panel treatments that represent recent NetWell projects. After 25 years of experience in the sound panel business, the goal on our end is replication. We will deliver the same sound values back for your studio that countless others enjoy who came before you.
See Case Studies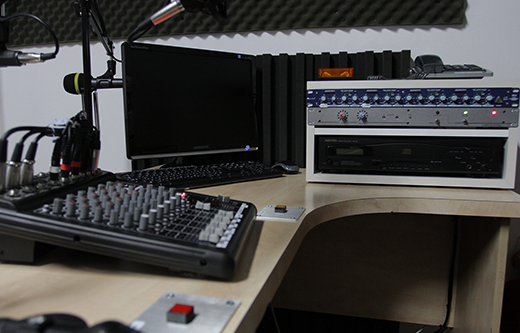 Broadcast Studio Soundproofing:  Q&A
How to Design a New Broadcast Studio for Premium Sound Quality
When designing a broadcast studio for soundproofing, keep in mind the size and shape of the live room. The width, length and height will play key roles for producing premium sound quality with your soundproofing treatment. In general, a larger room will produce a less compressed environment, and lend towards a more acoustically balanced space when treated with perimeter wall or ceiling mounted sound panels. Hard flooring, high ceilings and asymmetrical walls are also ideal for eliminating standing sound waves to maximum premium sound values within the broadcast studio.  As for protection against external noise sources, see our Wall Soundproofing section of this website.
How Poor Room Design Hinders Acoustic Performance in a Broadcast Studio
Poorly designed studios can cause issues that will affect your overall sound quality. Carpeted rooms absorb high frequencies, but not low ones, which would create excessive reverb and blur your sound signals. In addition, small rooms with low ceilings and parallel sets of walls will produce standing sound waves that also combine to will distort the sound. For premium sound quality with broadcast studio soundproofing, sound panels play the key role in controlling your background sounds to deliver premium clarity to original sound and your broadcast signal.
How to Produce Greater Clarity in Your Broadcast Signal
You'll need an FM transmitter to connect your broadcast to a radio signal. In addition, you'll need to decide what frequency the transmitter broadcasts at, so it's important to familiarize yourself with the device's specifications. Other aspects to consider are the type of modulation, the stability of the resulting sound and the required power level. Aside from this, it's always best to have a sound proof room for high quality acoustics. Clear broadcast signals are important, but without the proper soundproofing treatment, your sound will be muddled.
How to Soundproof an Existing Broadcast Studio
To soundproof an existing broadcast studio, line the perimeter wall or ceiling surfaces with a set of acoustic sound panels designed to capture and convert the unwanted background noise from the space.   In turn, clearer sound signals will be generated as the background noise drops.  When choosing sound panels for a studio, our most popular option is the Fabric Panel. These acoustic panels can be flush mounted to the wall perimeter or ceiling surface. You can also suspend the panels from your ceiling to appear as a floating "cloud" or a vertically suspended "baffle."  The key to the success of the noise control treatment is to ensure that you do not undertreat the space.  Be sure you use our Room Analysis so that we can help you gauge the correct coverage amount.
How the Size of Your Studio Space Makes a Difference in Your Acoustic Values
It's critical to choose the right studio space when it comes to quality sound. With any room, you can expect to have your sound reverberate and bounce around the space. As more sound accumulates, it will clash and blur the sound signals. Larger broadcast studios will deliver a less compressed environment. Low ceilings and parallel sets of walls are frowned upon due to standing sound wave potential that will distort your broadcast signal. And regardless of your room size, for proper studio soundproofing, be sure to introduce a set of acoustic panels to your perimeter wall or ceiling surfaces to effectively capture and convert the background noise from your space. See our Room Analysis tool to submit your room dimensions.
How to Retrofit Sound Panels Into Your Existing Broadcast Studio
The key to success for broadcast studio soundproofing is to ensure that you introduce the proper coverage amount of sound panels based on room size.   Sound panel location is less critical than ensuring the right amount is shipped to your project site in the first place.  Your job will be to discern where you can place your Fabric Panels (wall or ceiling mounted) to deliver the appropriate coverage amounts. Our Room Analysis will target and define this amount for you. For help with calculating your acoustic panel coverage, contact our help desk at 1-800-638-9355 or submit a Room Analysis.
Why Acoustic Foam Is So Popular for Soundproofing a Studio
Acoustic foam is less expensive than cloth wrapped fiberglass sound panels. These sound foam panels are easy to custom cut onsite and glue into place. See Pyramids. Acoustic foam panels work great to absorb unwanted reverberations in the room, producing premium sound effects for broadcast or recording. Note that acoustic foam panels are more limited in color and design options than their counterpart, the fiberglass-based sound panel called the Fabric Panel.  Acoustic foam panels are class A fire rated as are the cloth wrapped Fabric Panels.
How to Brand Your Studio With Custom Image Sound Panels
For broadcast studios with larger budgets, our cloth wrapped sound panels called PicturePanels can be printed with your call letters, logos, artists and more to accentuate and brand your studio. These large sound panel murals can stretch up to 10' tall, and they work just as well as acoustic foam to capture and convert the echoes in your sound proof broadcast studio. Custom image sound panels can be expensive, and they're geared primarily for higher end studio projects.
What Are the Benefits in Using NetWell's Sound Panels for a Studio?
When you invest in studio sound panels, you'll benefit from crisp, premium sound quality for your listening audience. Without this soundproofing treatment, your acoustic sound will be distorted by echoes blurring your sound signals. Again, be sure to place the right amount of acoustic Fabric Panels into your broadcast studio by confirming your coverage amounts with NetWell based on your room size.
Sign Up for StartSmart
StartSmart for Broadcast Studios
NetWell offers unique insights into cost control mechanisms available to you for your upcoming soundproofing project. This popular email course is called StartSmart, and is enjoyed by many of our new clients. Controlling your noise is our goal, but doing it cost effectively is too. Sign up today!