How to Soundproof a Multipurpose Room
A Multipurpose Room can be used to host a variety of events.  From sports, to music, to guest speakers, to fellowship, to eating. This  room serves a multitude of purposes.   What threatens the success of any space is poor quality interior room acoustics.   As people and events fill the venue, the original sounds in the room begin to reflect off of the perimeter wall, ceiling and flooring surfaces. This results in a spike in background noise, which rises to uncomfortable levels as echoes blur new sound signals. Speech becomes unintelligible, music harmonies are lost, communication distorted, and the room needs help.
The key to improving acoustics lies in the capture and conversion of the echo from your space. We show you how this can be done with sound absorbing panels.
Questions?  Call 1-800-638-9355
Controlling Noise in a Multipurpose Room
The goal with generating more favorable sound quality for your Multipurpose Room is to better control the level of ambient echo in your space.   By placing a set of sound absorbing panels around the perimeter walls and/or ceiling space in your room, you are better able to capture and control this unwelcome level of background noise.
Ceiling acoustic sound panels are designed to capture and convert the echoes from your space, which in turn will combine to lower your level background noise, and generate greater clarity to original sound.   This means lower crowd noise, lower background noise, greater ease in communication and conversation, music sounds better, guest speakers enjoy greater clarity to speech, and so on.
The bottom line, if your Multipurpose Room is unfriendly, people won't use it.   Insert the sound absorbing panels into the room, and the results will be dramatic.   The key to soundproofing a Multipurpose room and improving acoustics lies in product selection and quantities.   That's where we come in.   Use the Room Analysis tool at the top or bottom of this page to submit your room size, and we will quote the project back for you!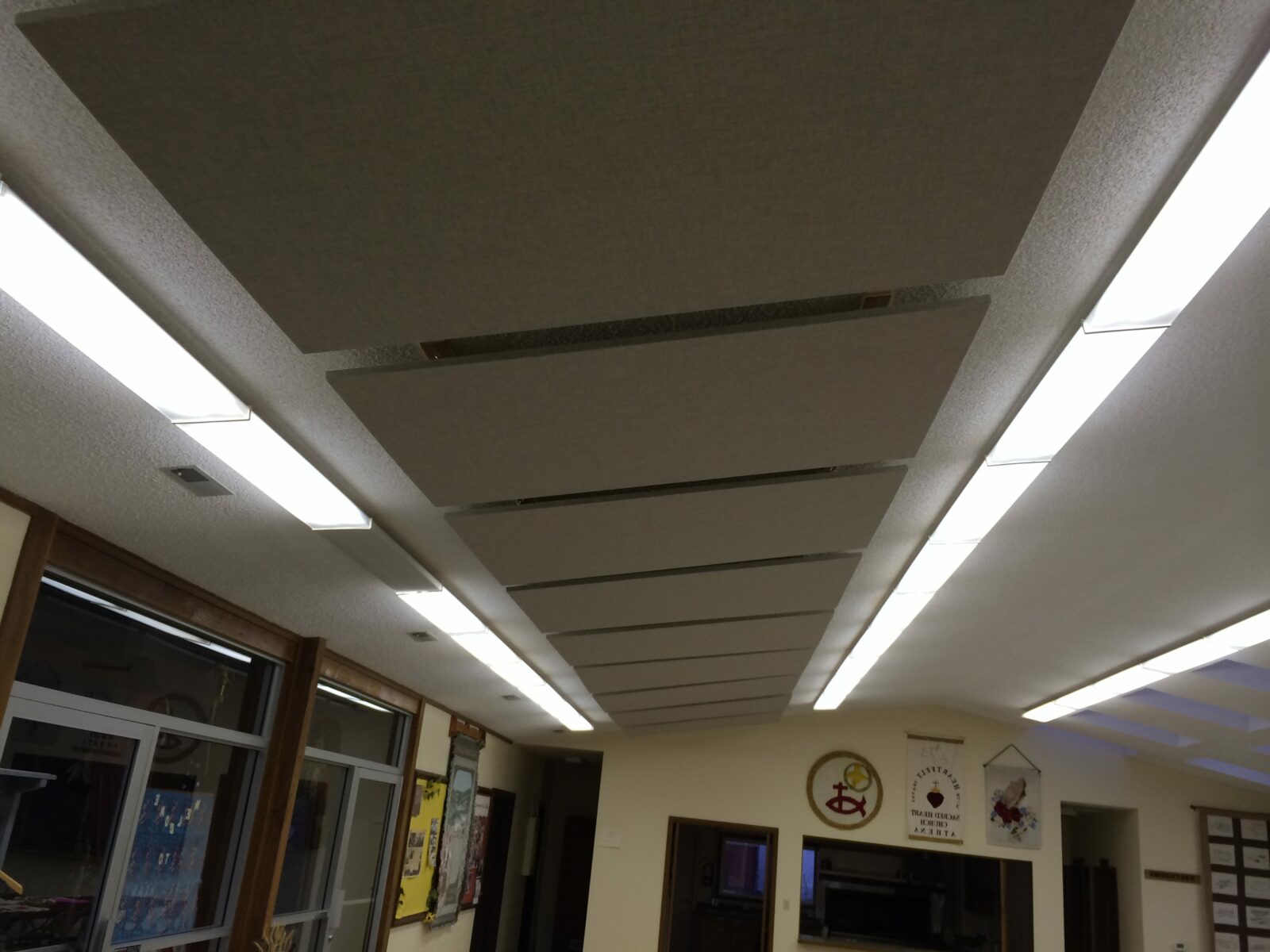 The Right Sound Panel for Your Multipurpose Room

Fabric Panels are super popular for soundproofing Multipurpose Rooms that suffer from unwanted noise.   These panels are class A fire rated, colorful, durable, decorative, easy to self-install, and work great to control the ambient echoes in your room. The sound panels combine to capture the sound wave reflections, and deliver back premium sound quality by lowering your levels of background noise.
You can place the Fabric Panels as you wish, wall or ceiling mounted inside your room.   The goal to start is to get the square footage totals right based on your room size, to ensure we are not under treating your space. Submit your Room Analysis and we will quote back your Fabric Panel price.
Questions?  Call 1-800-638-9355
See Fabric Panel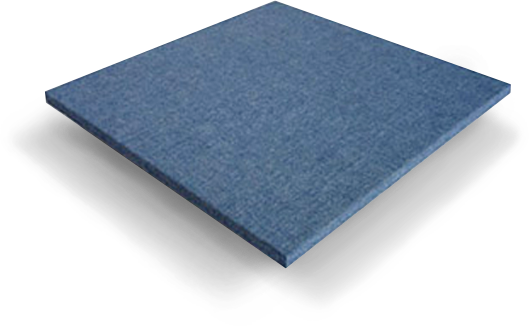 Acoustic Panel Options Multipurpose Room Soundproofing
A popular upgrade to the Fabric Panel is our FabricTack Panel, which is essentially the same product, but this version can double as a bulletin board.   That means you can use our sound panels to tack up seasonal projects, calendars, message boards and artwork onto the face of the panels.   We also offer our standard Fabric Panel as a Ceiling Cloud, which allows you to mechanically "float" your sound panels from your Ceiling.
Why Multipurpose Rooms Love Our Fabric Panels
NetWell has provided this same sound panel treatment to tens of thousands of clients scattered around America for more than 25 years.  What's not to love. We have never heard back from a single client that the treatment didn't perform. The Fabric Panels are decorative, durable, colorful, beautiful, class A fire rated, and will ship with a set of clips designed for easy self–installation.
Questions?  Call 1-800-638-9355
See Fabric Panel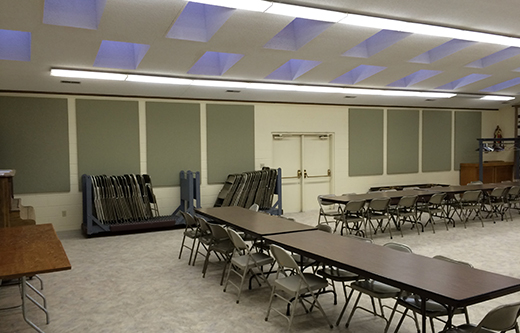 Four Steps to Soundproofing MultiPurpose Rooms:
Measure Your Room
We need the cubic footage of your space. Measure your room's length, width, and height.
Submit Room Analysis
Use the button at the top or bottom of this page to submit your room's dimensions.
Approve the Quote
We will define the framework for your treatment and submit back your quote for approval.
Self Install
Your sound panels will drop ship to your doorstep.  Our treatments are cost effective, and designed for self-installation.
Example Case Studies
Our Case Studies Library will introduce you to a variety of recent NetWell sound panel project with images and testimonials from our clients.   The art of replication is what NetWell thrives on.   We will produce the same acoustic values back for you and your noisy Multipurpose Room that you will see illustrated here in our Library.
See Case Studies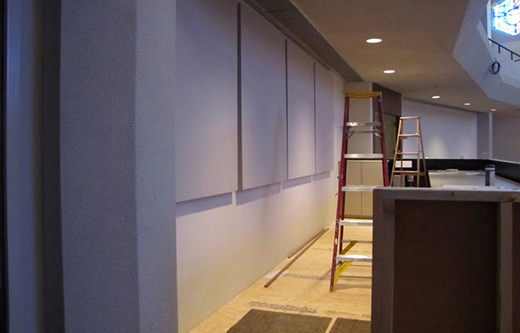 Multipurpose Room Noise Control:  Q&A
How to Design a Multipurpose Room for Premium Sound Quality
By definition, a multipurpose room is a space built to host a variety of events and social gatherings. Because of this, original sound clarity is a must. The design should include a set of acoustic panels wall or ceiling mounted in the room to collapse background noise. In turn, crowd noise subsides, and clarity of conversation is restored. Soundproofing a multipurpose room will enable the facility to host better functions.
How to Soundproof Your Existing Multipurpose Room
Sound panels can be evenly spaced around the perimeter walls of the room or spaced evenly across the expanse of the ceiling. The soundproofing panels will effectively capture the echoes and convert them, delivering lower levels of background noise and greater original sound clarity.
How Controlling Your Noise Makes a Multipurpose Room More User-Friendly
Noise reduction in a multipurpose room is generated by using wall and ceiling acoustic panels that will lower the level of ambient background noise. As the echoes subside and original sound is restored, the multipurpose room becomes more functional and user-friendly, making you more equipped to host a variety of events in the space.
How to Generate Greater Conversation Clarity in a Social Hall
In a social hall gathering, voices tend to reflect off the perimeter surfaces of the room. By introducing a set of wall or ceiling acoustic panels, these background echoes can be captured and converted from the space. After the application, you'll experience lower levels of background noise, greater sound clarity and an ideal social setting for conversation.
How Sound Panels Help Make Your Multipurpose Room More Friendly
Sound panels capture and convert the unwanted echoes stemming from voices and activities. This lowers background noise levels and generates greater sound clarity, which improves conversational tone and the ability to communicate without straining. The final result is a more comfortable and functional room for a variety of events.
How Many Sound Panels Does a Multipurpose Room Need, and Where Should You Place Them?
Coverage amounts depend on the size, shape and surface textures of the room. Use our quick and easy Room Analysis tool to send us this information, and we'll calculate your acoustic panel quantities for soundproofing your multipurpose room and send you a quote.
Why Panel Thickness Can Make All the Difference in Your Sound Values
Sound panels are generally 1" thick for noise that stems from midrange frequencies, such as human voices. If the room also hosts musical instruments, then we recommend you bump up the thickness to 2". (See our Fabric Panels.) The thicker panels perform better when there are low frequencies from drums, bass guitars and other musical instruments. If your room doesn't host musical instruments, however, the 1" thick sound panels will provide sufficient coverage.
What Are the Benefits of Using NetWell's Sound Panels in Your Multipurpose Room?
By controlling the level of echo in the room, you'll be lowering your background noise and increasing sound clarity. This will erase the need to raise your voice over the background noise, allowing ease in communication. After soundproofing a multipurpose room, your space will become more functional for hosting a variety of events. Without soundproofing treatment, the room will be loud, and crowds will thin over time. Sound panels protect the long-term user-friendliness of your space.
Sign Up for StartSmart
StartSmart for Multipurpose Rooms
If you are on a tight budget, and are interested in controlling both your noise levels and your pocket book, we encourage you to sign up for this free online course that teaches our clients steps they can take to minimize the costs associated with your upcoming soundproofing treatment.   Super popular. Sign up today!