Anechoic Foam Panels
Part of our acoustic foam line of products, MelaMax sound dampening panels are thick blocks of anechoic foam cut from class A fire rated melamine foam stock. These cubes are 1'x1' square and measure either 4″, 6", or 8" in thickness.  Custom dimensions are also available upon request.  MelaMax anechoic foam panels are designed for chambers where sound testing for engine rattle is performed, or where excessive industrial noise sources below 125 Hz need maximum sound absorption values.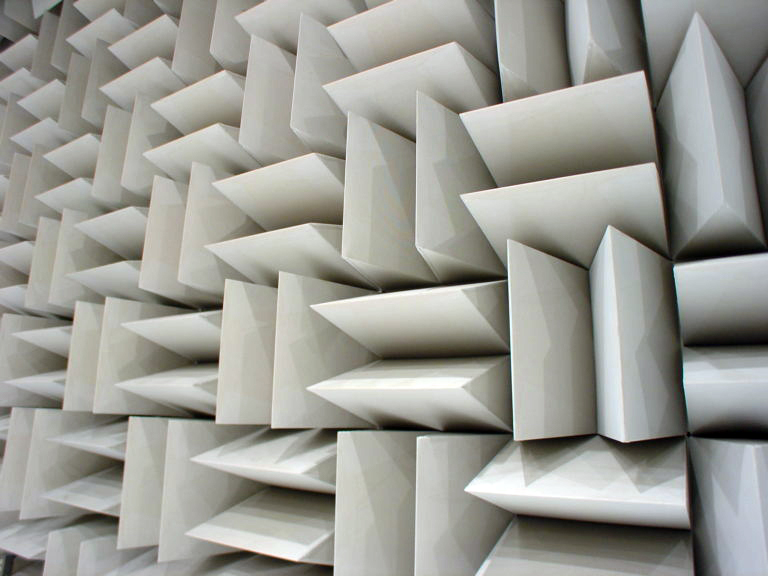 Anechoic Environments
The bulk of our MelaMax orders come from clients who have sound testing environments that require maximum control over background reverberations, which in turn deliver maximum clarity and accuracy back to their sound testing results.   If you don't need this extreme result for your noise control purposes, see below for alternative options that would be more price favorable for you.   MelaMax panels are available in White, Light Gray or Charcoal as shown.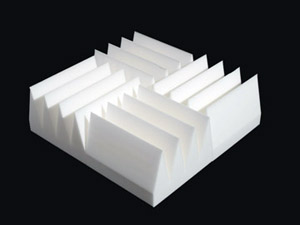 Pricing
MelaMax acoustic foam sound blocks are sold by the panel with unit pricing reflected here.  Orders can be place by phone at 1-800-638-9355 or online using the link on the left.
Light Gray
Charcoal
White
Other Melamine Foams
The only reason to go this thick with your acoustic foam block choice would be for the build out of an anechoic space for sound testing purposes. For most industrial noise control projects, or other acoustic foam needs, we offer the same melamine foam cut into thinner panels with various sculpted designs. For popular alternatives to the MelaMax, choose from either Pyramids or VCuts for more favorable price points.   
See Pyramids
See VCuts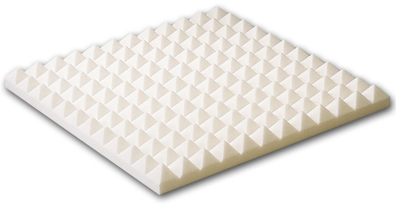 Tips & Techniques
MelaMax panels should be aligned perpendicular to each neighboring panel to maximize the absorption coefficients.   The panels are glued into place using water-based construction adhesive.  For anechoic chamber builds, cover 100% of the walls, ceiling, and floor for maximum performance and best results in your sound testing procedure.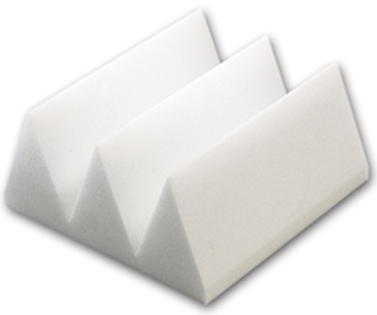 Installation
We recommend using a heavy-duty water-based construction adhesive such as Titebond GREENchoice or similar.  Plan for an application rate of approximately (1) 10oz tube per 32 square feet.  Prior to application, the mounting surface should be smooth, clean, dry, solid, and free from dust, oil and residues. Uneven surfaces should be leveled.  Panels can be easily cut if necessary with a sharp utility knife.  Adhesive should be spread evenly over the entire back surface of the panel. Panels are positioned into place, then pressed to the surface and adjusted.  Be sure to provide adequate ventilation to ensure quick bonding.  We recommend a test adhesion in a small area before proceeding with full installation.
Sound Test Results
Octave Band Frequency (Hz)
125
250
500
1000
2000
4000
NRC
6"
.22
1.07
1.27
1.34
1.27
1.15
1.26
8"
.39
1.05
1.44
1.38
1.33
1.19
1.33
Spec Sheet
This product is class A fire rated and approved for use in any public venue.
* Test results available upon request
Shipping
MelaMax panels are shipped via Fedex Ground or Common Carrier depending on the volume of your order.   For questions related to the shipping of the panels, call NetWell at 1-800-638-9355.
Shipping/Receiving
Terms & Conditions