AcoustiBooth
Acoustibooth is a soundproof booth or telephone enclosure that is made from rugged, lightweight perforated steel. This telephone sound enclosure system is designed to combat unwanted external ambient noise in factories, airports, ships, mechanical rooms, shopping malls, and other loud public venues where phone communication is essential.   These soundproof booths are built to deliver premium quality telephone communications where background noise can be excessive.
Questions?  Call 1-800-638-9355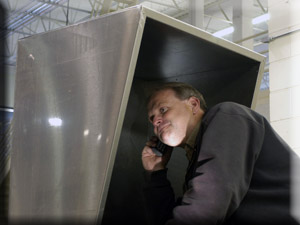 Clarity to Communication
Our acoustic phone booth stations are self-installed to existing structure in your facility providing telephone communications for landline phones or cell phone use.    These soundproof booth stations can deliver 12-18 dB drops for telephone privacy as we simulate in our Sound Chamber.
Sound Chamber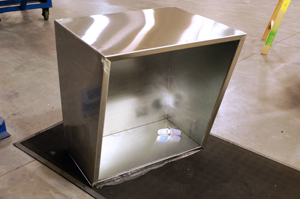 Pricing
AcoustiBooths sell for $1400 per unit + freight.   For questions related to your upcoming soundproofing project, call our help desk at 1-800-638-9355.
Dimensions
Acoustibooths measure in size as 30" tall x 28" wide.   The shelf depth at the base of the unit is 15.25" deep and the top of the unit is 23.5".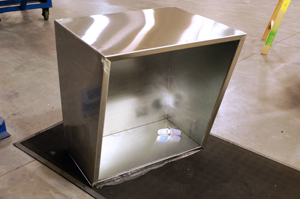 Tips & Techniques
These prefabricated soundproof acoustic phone booths are ideal for use in a variety of commercial and industrial settings.   They trigger average 12-18 dB drops from unwelcome ambient environmental noise spikes, delivering quality and comfort for clear telecommunications within the unit. Installations are custom per application.  The standard mounting method is to bolt them to your existing wall, beam or pole surface.
Questions?  Call 1-800-638-9355
Sound Values
Note that an average 12-18 dB drop in the perimeter noise is the equivalent to a collapse of 70-90% of the noise exposure surrounding your telephone area.     This generates a clear and distinct telecommunications signal inside a noise infested space.  Questions?  Call our help desk at 1-800-638-9355.
Spec Sheet
Shipping & Installation
These soundproof booths ship individually to your project site.   Up to 2 units per pallet, shrunk wrap, shipping via common carrier.   If you have a preferred method of shipment, please indicate with your order.  Installation of these units are fairly straight forward:  drill two holes into the back of the piece, insert bolt with washer and attach to wall or post.    One bolt near the top, one near the base of the unit.    Anchor with the desired height off the floor.
Shipping/Receiving
Terms & Conditions