Soundproof Room Divider Curtain
Curtitions, also known as soundproof room divider curtains, acoustic folding partitions, or accordion doors, are designed to serve as decorative, collapsible soundproof wall dividers. These accordion style noise-reducing room dividers turn one large open room into two smaller rooms that are sound protected from one another when closed. The Curtition is made of a steel frame wrapped in four layers of sound attenuation material on both sides, and then three layers of special composite vinyl over a layer of fiberglass batting.  The outer cover (vinyl, carpet, or fabric) is added to provide 10 full layers of sound deadening material plus a dead-air space in the center of the frame.  Outer covering seams for these accordion sound-blocking room dividers are located in the most recessed spot on the hinge to be as unobtrusive as possible.
Questions?  Call 1-800-638-9355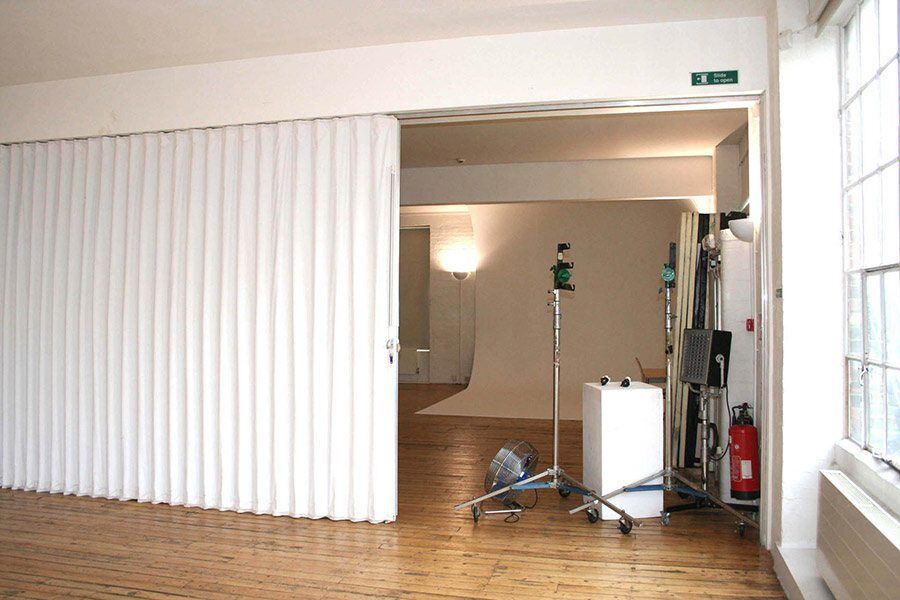 Acoustic Folding Partition Walls
Clients that opt for our Curtition Systems are usually seeking to subdivide a larger room into two or more smaller rooms that stay acoustically protected from one another.  They may also be looking to add a soundproof accordion door to separate multiple spaces. The Curtition System is able to glide open and shut, allowing the two rooms to be opened up to a single room to host larger events.  These sliding soundproof room dividers can be cut up to 16' in height. There is no limit on width, however, any Curtition over 25′ wide will require a field splice or consist of multiple panels that attach together.   Curtitions are available in 4 different exterior finish options, each with a variety of colors to choose from.
See Standard Vinyl
See Upgrade Vinyl
See Carpet
See Fabric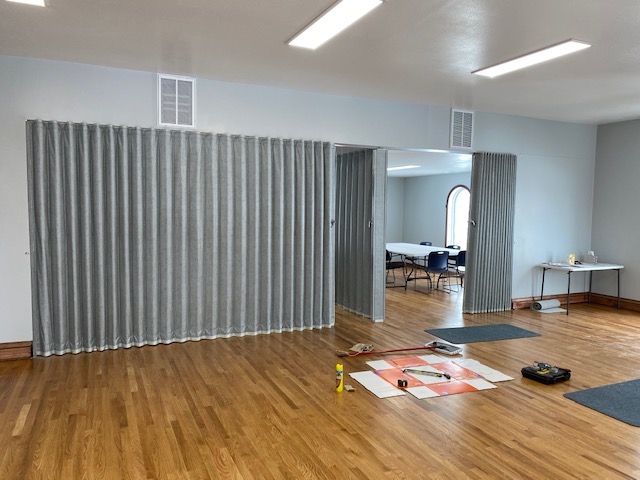 Pricing
Curtition Systems are custom quoted per project based on the cavity size of your opening, exterior finish, and optional accessories.   Measure your space and call our help desk at 1-800-638-9355 for your custom quote.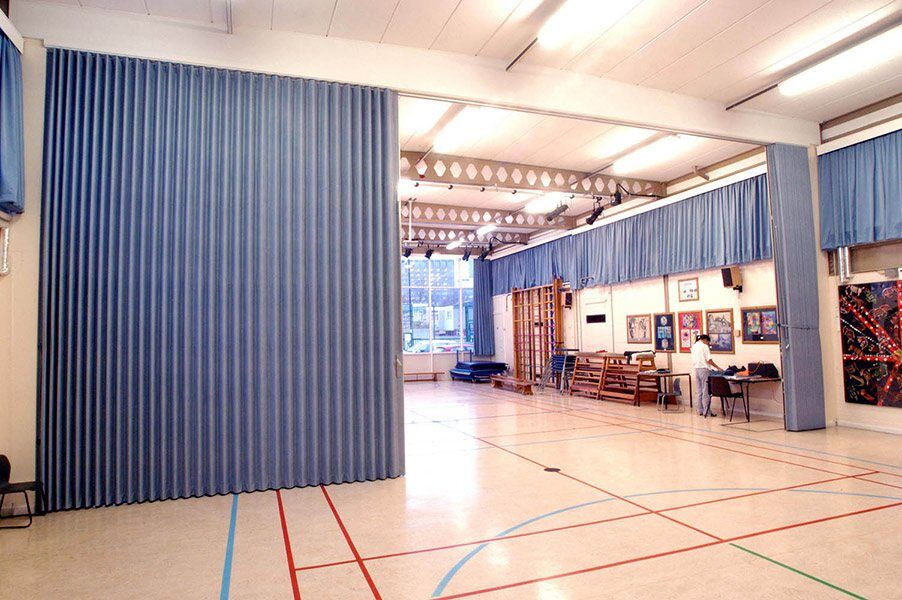 Stack Depth When Folded Against the Wall
Note that the Curtitions when collapsed back will have a stack depth of approximately 23% of your opening.   For example, if you retract a 20' wide single panel Curtition, it will have a stack depth when pulled back of approximately 4' 7″.   To minimize your stack depth we can make the Curtition as a dual-panel/bi-parting system, which pulls together from each side of the room and connects together in the middle, minimizing your stack depth on each side. We can also fabricate curved switch-track systems (similar to a railroad switch) that allow the Curtition to be stored parallel to the wall when not in use. Contact us to discuss all storage options.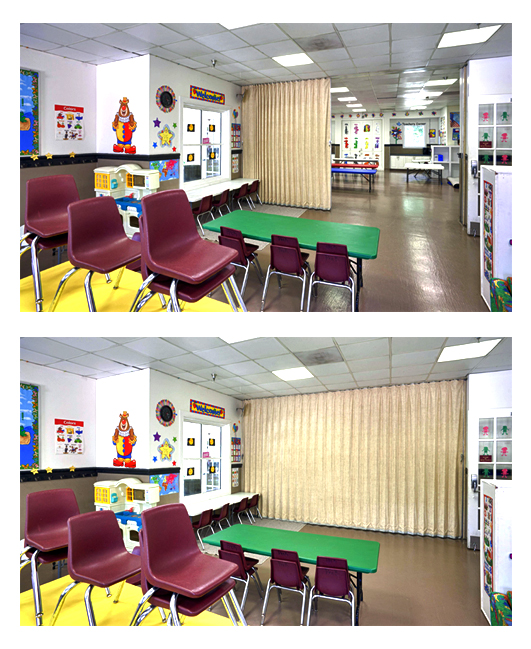 Tips When Measuring For Your Room Divider
When measuring the cavity space for your accordion style acoustic room partition, measure wall to wall, and finished floor to finished ceiling. Be sure to take several height measurements at various locations, as sometimes the floor to ceiling dimensions will vary. When providing us with your measurements we will want to know the tallest height dimension. This will ensure there are no leakage points for sound to travel through and provide the best sound insulation performance. Curtitions include a 1.5″ sweep strip along the bottom edge which can be easily trimmed with a utility knife to fine-tune for height variances as needed. 2″ & 3″ sweeps are also available for greater height variances.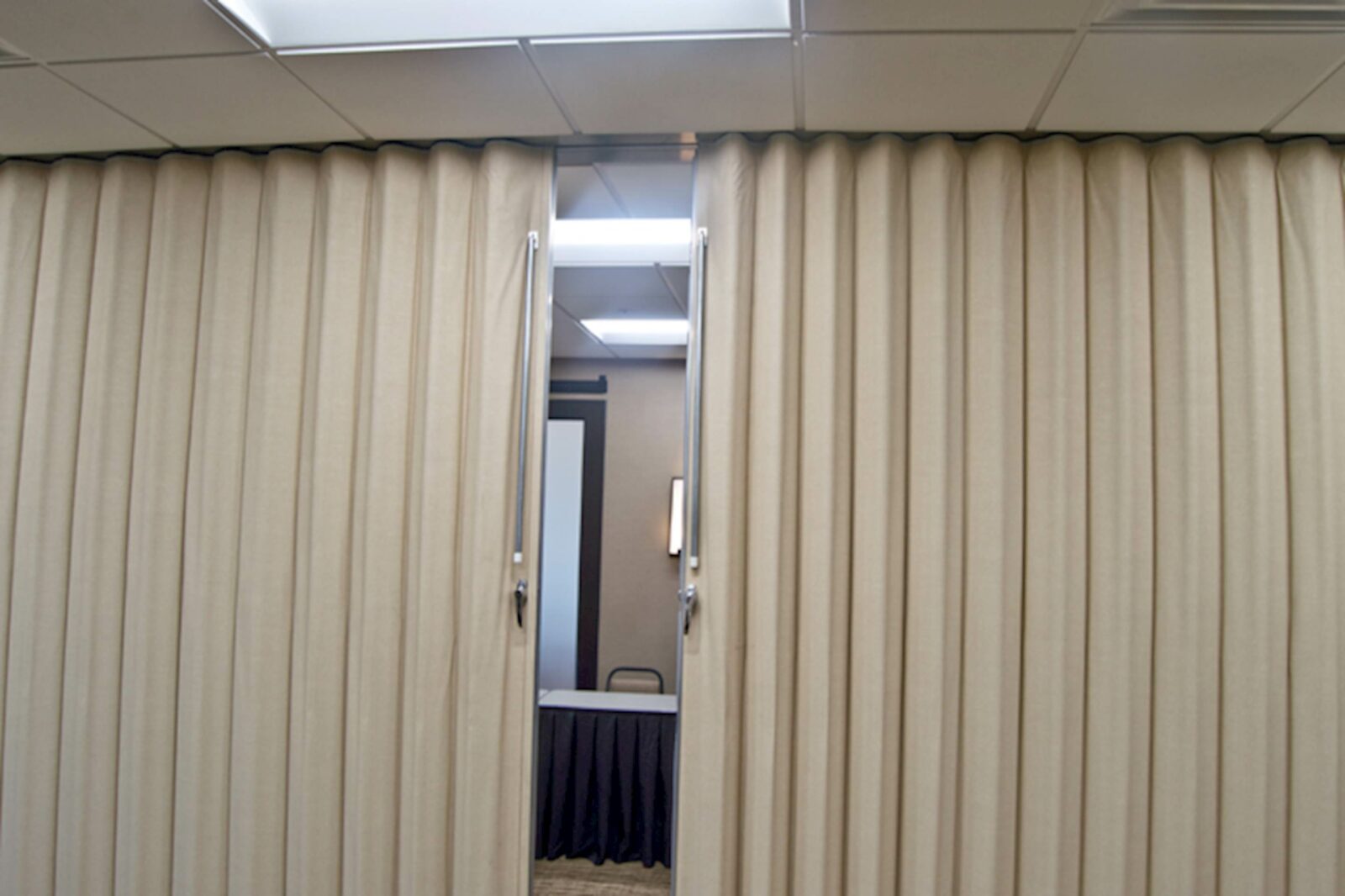 Tips & Techniques for Installing Sound Curtains
Curtition Systems glide along a ceiling track that comes with your order, there is no floor track.   The track is to be anchored to a header or joists in your ceiling. For drop ceilings, you will need to suspend a header from the ceiling deck to provide structural support for the track to mount to. This is typically done by hanging two pieces of 2'x8′ framing lumber from threaded rods which are then attached to the ceiling deck with uni-strut.  If you have a ceiling tile grid system, remove the sections of grid where the installation is to take place and adjust the height of the header so that the bottom of your header matches the height of your grid. If you choose a concealed track, then the bottom of the header should be 1-1/4″ above the grid. We also offer an optional ceiling guard which acts to hide the header and protects your ceiling from wear. Install the track, hang the Curtition, then reassemble your grid system.
Questions?  Call 1-800-638-9355
See Spec Sheet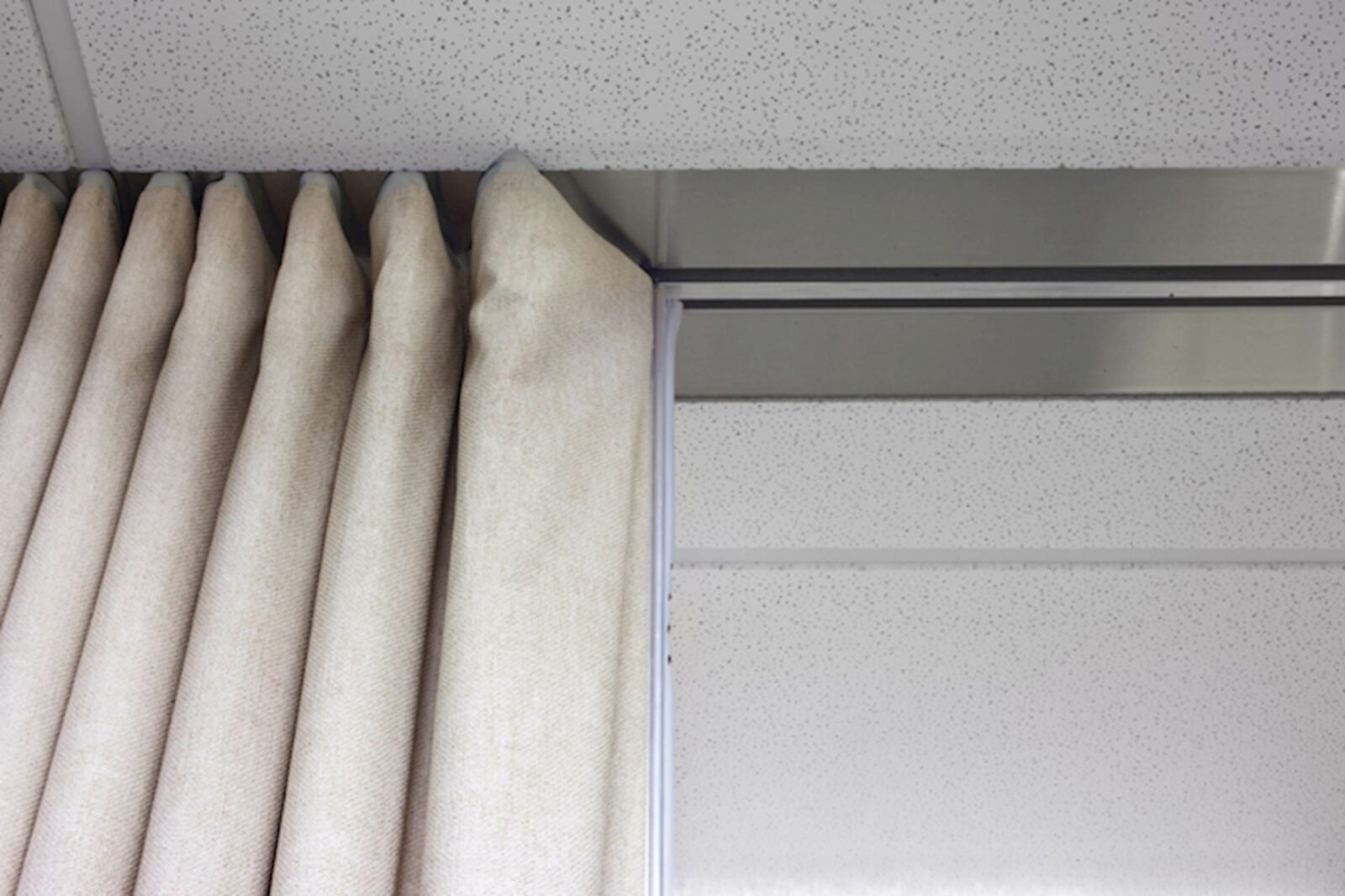 Shipping & Installation
Your Curtition System averages around 4-6 weeks to custom make, package, and release to the shipper.  This varies depending on how many orders are in our production queue, so please contact us for a more accurate lead time estimate. Upon delivery, carefully inspect your order and contact our help desk for questions.   Instructions for installation will be included with your sound barrier curtain system.
Shipping/Receiving
Terms & Conditions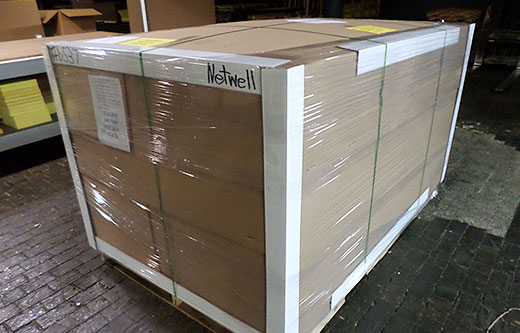 Before You Get Started…
NetWell prides itself on being a teaching website. Yes, our goal is to help you solve your noise issues, but just as important is to help you understand how to do it, and do so cost effectively. The support tools below are built for you to help you better understand the art of sound control. We look forward to working with you, and delivering back a more user-friendly space.