High-Quality Ceiling Baffles for Sound Absorption
The hanging VET Baffle is our most popular hanging Sound Baffle. They are Class A fire rated, waterproof, easy to self-install, durable, and one of the most cost-effective ways to control excessive sound wave reverberations in large open spaces. Their popularity ranges in treatments from gymnasiums to industrial plants, restaurants, multipurpose rooms, and swimming pools.
VET Baffles simply free hang in rows and columns, spread across the expanse of a ceiling, to trigger a dramatic collapse in echo. By removing the background noise from the room, clarity to original sound is restored. From human voice to music, machine noise to crowds at sporting events, your room is rendered more user-friendly simply by installing a set of these hanging sound baffles.
Questions?  Call 1-800-638-9355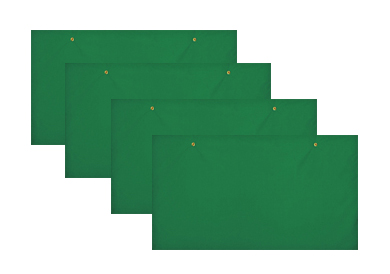 Soundproofing Baffles Work
VET Baffles are ideal hanging sound baffles. Simply suspend vertically via their grommets from ceilings with exposed joists. Position them to stay clear of lighting, sprinkler heads and ventilation, and free hang them in rows and columns spread across the expanse of your ceiling.
For ceilings that "peak" in the center, VET Baffles can be hung parallel to the spline of the middle of the room. For ceilings that are "flat", we recommend you alternate their direction, formatting a design such as a checkerboard or herringbone pattern.
The key to the success of your treatment is to ensure that you have enough acoustic baffles to treat your space. For an accurate acoustic baffle count appropriate for your space, call our help desk. Or submit a Room Analysis and we will tabulate how many hanging acoustic baffles you need.
See Color Chart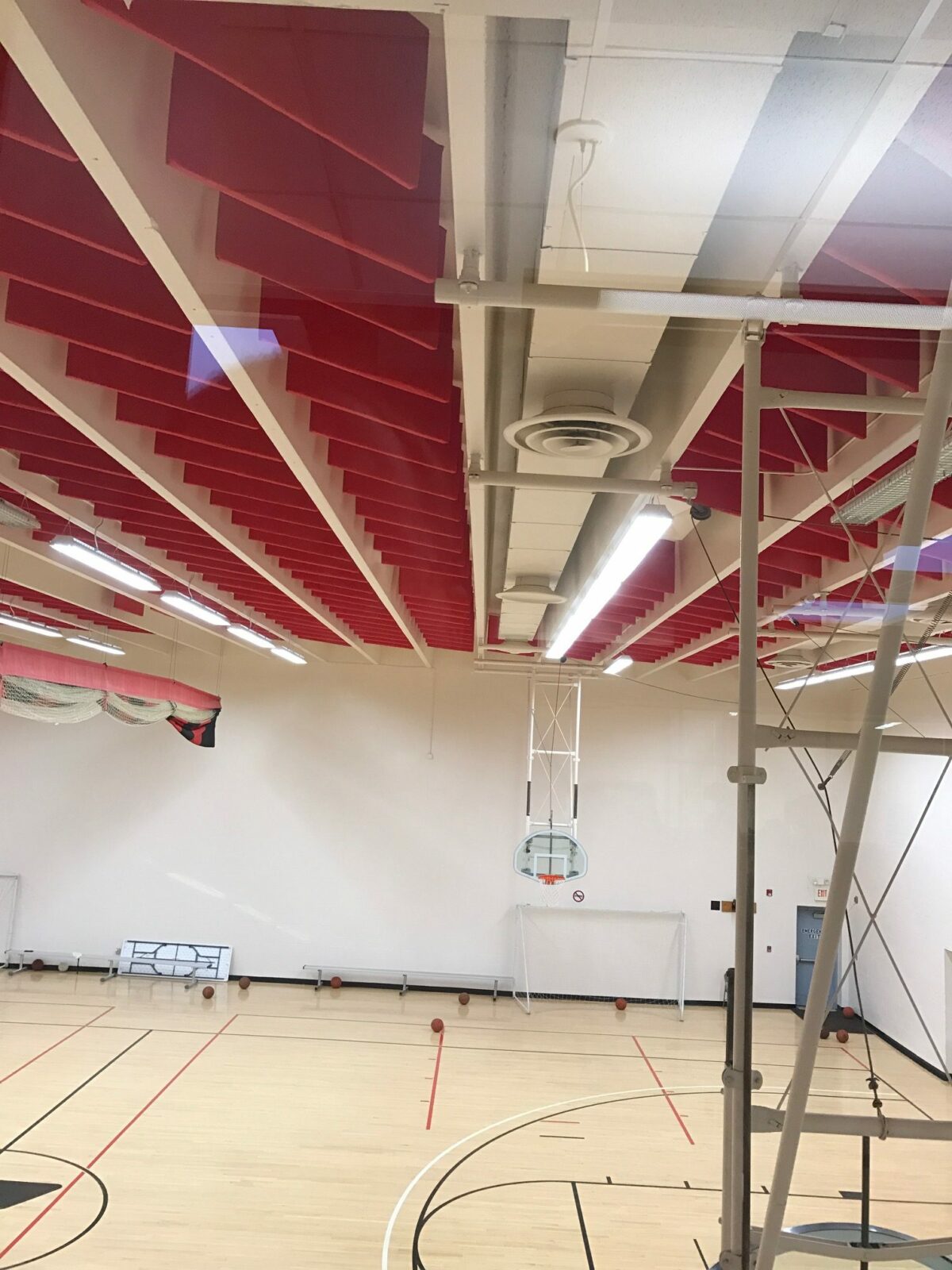 Sound Baffle Prices
Our popular hanging sound VET Baffles are priced as shown here. For questions related to your upcoming project, call our help desk at 1-800-638-9355. Orders can be placed by phone or online using the link at the top of this page.
Order By Phone
Formation for Acoustic Sound Baffles
Clients are often concerned about how to place their VET Baffles into their ceiling.   The first key to note is that regardless of their positioning, the goal is to ensure that you do not under treat the space.   So long as we deliver the right acoustic baffle count to your doorstep, your sound values will be triggered.
There are, however, some common sense suggestions.   First, if your ceiling is pitched, suspend the VET Baffles end-to-end in rows all parallel to the spline of the ceiling.  This will increase your ability to capture first wave reflections off the ceiling that will otherwise pinch your sound wave reflections down into the center of your room.   If your ceiling is flat and parallel to your floor, then we recommend that you alter the direction of a portion of your sound baffle install.  Create more of a checkerboard or herringbone pattern with your installation.
For more layout ideas on ceiling acoustic baffles, be sure to visit our Case Studies library.
Questions?  Call 1-800-638-9355
See Case Studies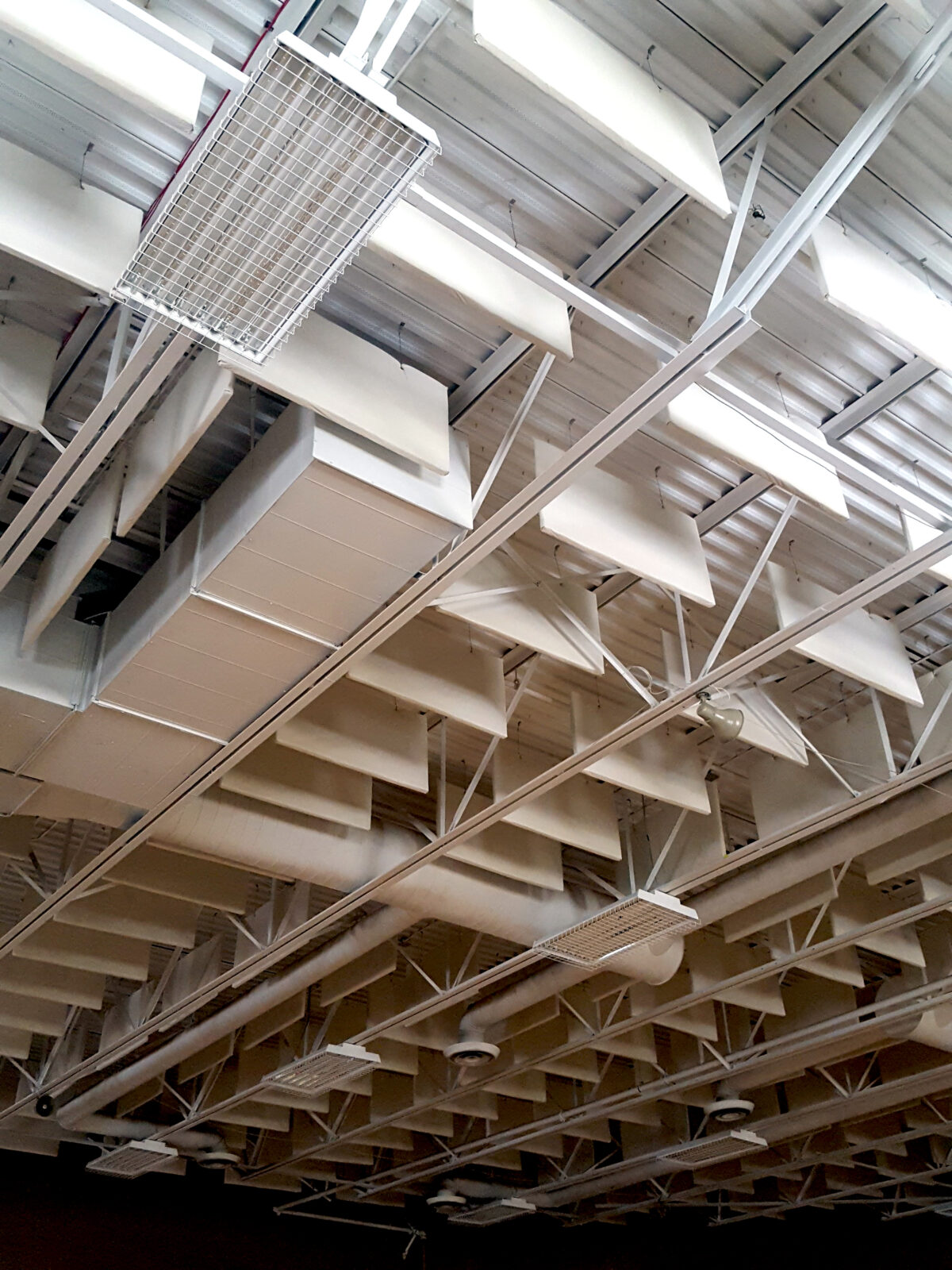 Sound Test Results
Octave Band Frequency (Hz)
Thick
125
250
500
1k
2k
4k
Sabins
2"
2.4
5.5
10.6
12.2
8.0
4.7
9.2
Spec Sheet
This product is class A fire rated and approved for use in any public venue.
* Test results available upon request
Shipping & Installation
VET Baffles will drop ship to your project site boxed on pallets and shipped via common carrier.  Care should be given to carefully inspect the delivery before the driver leaves, be sure to sign for anything that looks like it might have damaged in transit.
Once delivered, these sound baffles can easily be stored where you need until your team is ready to install them. We punch grommets into the top two corners of each acoustic baffle, and you simply thread your own wire or plastic zip ties through the grommets and free hang from your ceiling in rows and columns spread out across the expanse of your room.
Shipping/Receiving
Terms & Conditions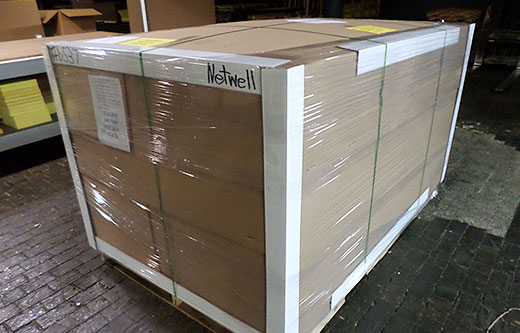 VET Baffle Q&A
What are VET Baffles made out of?
VET Baffles are made of a 1.5# density fiberglass core cut into 2' x 4' panels and then wrapped in a PVC vinyl skin with a sewn edge. Grommets are then punched into the top 2 corners of each sound baffle for easy vertical suspension from your ceiling.
How do they work?
VET Baffles combine to capture and convert echoes in a room. The core material collects the sound wave energy and converts it to kinetic energy, return just a mildlevel of echo to rebound back into the room. By eliminating up to 80% of the unwanted background noise, greater clarity is restored to original sound.
Why do they work so well?
With lower levels of background noise, and greater clarity to original sound, the net result is that VET Baffles will produce lower crowd noise, greater ease in communication, greater speech intelligibility, a healthier teaching or learning environment, clarity to music, and a more user friendly space.
How many baffles do I need?
Your VET Baffle count depends on the size of your room. To calculate your totals, submit a Room Analysis and we will run the numbers and quote the project back to you. The key to the success of your treatment lies not in where you position the sound baffles, but by ensuring you do not under treat your space.
What is your Room Analysis all about?
For more than 25 years, NetWell has been prescribing sound panel treatments, including hanging sound baffles, for thousands of satisfied clients. The Room Analysis we have developed is a tool that helps us replicate our successes over and over again with each new client. The size, shape and surface textures in your room will tell us in turn, how many VET Baffles you need to produce the sound values you are seeking.
What size are the baffles?
VET Baffles are 4' wide x 2' tall x 2" thick and super light weight. Some clients, mostly natatoriums, have trouble accessing the ceiling, and opt instead for the related product called a VET Panel.  These are wall mounted versions of the same product that we can cut up to 12' tall.
How do I install them?
VET Baffles will deliver with grommets placed into the top 2 corners of each sound baffle. You supply our own wire and mount method (screws, hooks, etc) into the ceiling. Simply thread the wire through the grommets, and free hang from the ceiling, in rows and columns, spread out across the expanse of the ceiling as best you can.
Does it matter where I hang them?
What matters is that the right amount of material is introduce into the room. So long as we deliver the right VET Baffle count to your door step, you can place them as you wish, but work to spread them out and stay clear of lighting, sprinkler heads, HVAC and other obstructions you will have in your ceiling. But please note, the baffles are designed to be tucked up inside the joist space, not down below the joists.
Do have recommendations on placement pattern?
If you have a pitched roof ceiling that peaks in the center of the room, hang the VET Baffles all parallel to the center spline, end to end, in rows equally divided on both sides of the spline. If your roof is flat, parallel to the floor, then work to hang them more side-by-side like dominoes, and stagger their directions such as a checkerboard or herringbone pattern. Don't be too concerned about placement, the treatment will perform regardless, so long as we don't under treat the space.
What colors are available?
This product is available in 25 colors to make sure that you can match any space you are trying to control noise in. Check out our VET Baffle color chart to see what works best for your application.
Why is the VET Baffle better than other sound baffles?
While there are a variety of sound baffles on the market, including several other options here on our website, the fact is that the VET Baffles average around $3 per square foot, they are class A fire rated, super light weight, waterproof, easy to self install, and carry strong NRC values. The reason the VET Baffles is our #1 seller is because they work, and they are cost effective hanging sound baffle in comparison to the other options on the market.
Do ceiling baffle treatments perform better than perimeter wall treatments?
No. Regardless of the placement of a sound panel system, so long as the coverage amounts are correct, so long as the right number of VET Baffles are delivered to your project site, the absorption coefficients will kick in and convert the unwanted echoes from your space. Wall or ceiling mounted, the conversion will happen.
Can I hang VET Baffles against the wall?
Yes. The alternative to the VET Baffle is its sister the VET Panel. VET Panels are longer cuts of the same product, measuring up to 12' long to be placed around the top 1/3 of the perimeter walls of a room, usually a natatorium. These VET Panels will pop, however, if you place them in a gym against the wall, so use the Fabric Panels instead if that is your application. But please note, VET Baffle projects average half the cost of a Fabric Panel treatment.
How long does it take to get them delivered?
VET Baffles average 4 weeks + shipping to deliver to your project site.
How long does it take to install them?
You will need a boom lift and a team of 2-3 people. The first VET Baffle might take 2-3 hours of setup time, but once you get started, the average is a pace of hanging about 15 baffles an hour.