About Your Noise
Clarity to speech is a must in any Conference Room setting.   What threatens the clarity is blurred sound signals caused by unwelcome echoes that bounce around off the perimeter wall, ceiling and floor surfaces in the room.    As the echoes carry, the original sound signals become blurred by the background noise, which threatens the communications within the space.   Not good for hosting business meetings, AV presentations, telephone communications, teleconferencing, employee training and customer relations.  We know how to soundproof a conference room, and the key to improving the sound values inside your Conference Room is to capture and convert the echoes out of your space.
Your Conference Room Soundproofing Solution
Sound panels absorb echo.  By placing them around the perimeter of your Conference Room, wall or ceiling mounted, the sound wave reflections are caught, captured and converted out of the room.   What remains is great clarity to original sound, lower levels of background noise, the elimination of blurred sound signals, and a more user friendly and productive Conference Room setting.   The key to making the treatment work is to get the right amount of material introduced into the room.  For that, we offer a complimentary Room Analysis designed to calculate your amounts and quote your project.    See the link at the top or bottom of this page.
Questions?  Call 1-800-638-9355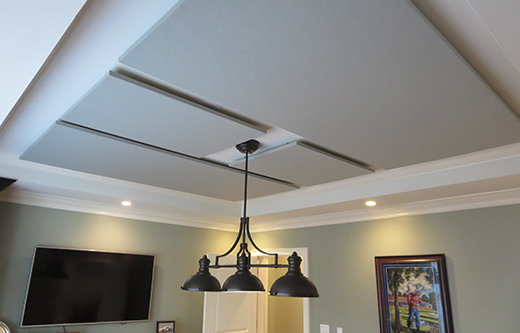 Featured Sound Panel

Fabric Panels are architectural sound panels that look great and sound even better.  We custom cut them to the cavity size that you ask for, based on the available surface space in your Conference Room.   Wall or ceiling mounted, the Fabric Panels will combine to capture the reverberations in the room, and deliver back premium sound quality for you to enjoy.   Clips are shipped with your panels for easy self-installation around the room's perimeter.    1" thick panels are designed for human voice, 2" thick panels should be the choice if you host music in the room.  Available in 60 color options.
See Fabric Panels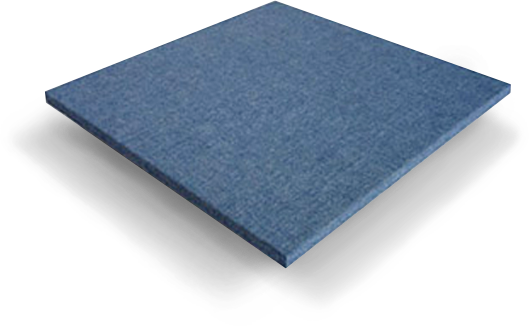 Related Sound Panels

If you are interested in using the sound panels to "brand" your Conference Room with corporate logos, product images, graphics and such, consider the upgrade to our PicturePanels.   This is the same panel treatment, same value back, but rather than wrapping the panels in solid color, we will wrap them in graphics and images.  As a result, the sound values in the room will be restored to premium sound quality,  while the visual presentation to space will promote your company brand and look fantastic.    Another popular option for Conference Rooms is to "float" the  Fabric Panels off the ceiling as a Ceiling Cloud, leaving your walls as they are.
Why We Love The Fabric Panel
For more than 25 years NetWell has been prescribing sound panel treatments for commercial office space.   By far, the most popular treatment is our Fabric Panels.   They look great, sound great, are easy to install, they do not degrade over time, and they deliver premium sound quality back for your Conference Room.   The ideal choice for controlling your acoustics, and providing the business friendly environment you are seeking.

Questions?  1-800-638-9355
See Fabric Panels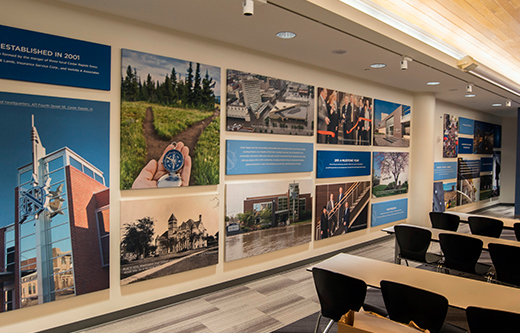 Your Four Steps to Quiet:

Measure Your Room
We need the cubic footage of your space. Measure your room's length, width, and height.

Submit Room Analysis
Use the button at the top or bottom of this page to submit your room's dimensions.

Approve the Quote
We will define the framework for your treatment and submit back your quote for approval.

Self Install
Your sound panels will drop ship to your doorstep.  Our treatments are cost effective, and designed for self-installation.
Case Studies
To showcase the concept of a sound panel treatment placed into a Conference Room to control the acoustics, we refer you to our Case Study Library.   There, we feature a financial services firm based in Cedar Rapids, Iowa named TrueNorth.    Check out their storyline and images of their finished product!
See Case Studies

Most Commonly Asked Questions
How to Design a New Conference Room for Premium Sound Quality
Conference rooms need to provide premium acoustics and sound isolation for privacy outside of the room. Lining the perimeter walls with the dB-Bloc layering system can knock out 90% of any noise bleeding. Our Ceiling Caps can rest atop existing ceiling tiles to put an acoustic lid over the top of the room that prevents plenum noise bleed. Within the room, sound panels can be placed on the perimeter wall or ceiling surfaces to effectively capture background echoes and deliver greater sound clarity. This will produce effective conference room soundproofing.
How to Soundproof an Existing Conference Room
By lining perimeter walls with our dB-Bloc layering system, you can block up to 90% of the noise that travels from the conference room. This will protect the privacy of communication and will effectively sound proof the conference room. This acoustical treatment can be applied to all existing finished drywall surfaces, including the ceiling, for stronger conference room noise reduction. For a drop grid ceiling tile with open plenum space, rest a set of Ceiling Caps atop the ceiling tiles to place an acoustic lid over the room.
How Soundproofing a Conference Room Can Preserve and Protect Corporate Growth
Protecting the privacy of communication within a corporate setting will result in a healthier and more productive work environment. It's important to know how to soundproof a conference room, so you can eliminate echoes within the room, and produce greater sound clarity for teleconference calls and audio/video presentations.
How to Isolate a Conference Room Space for More Privacy
Line the perimeter walls of the conference room with our dB-Bloc layering system. This will sound insulate your walls, and prevent noise from bleeding into or out of the room for greater privacy. Also, seal any sound leakage by using a heavy, solid door, and a gasket around its perimeter. If you have glass windows or glass walls in the room, they will bleed noise unless you double or triple pane them. Rest the Ceiling Caps atop your existing ceiling tiles to deaden sound bleed through open plenum space.
Why Teleconference Calls Are Threatened by Poor Room Acoustics
Communication via a teleconference call requires premium sound quality, so everyone in the room can understand what is being presented. If the echoes within the conference room setting are not dealt with, the background noise will blur original sound signals and distort the audio, making it more difficult to understand communication. Conference room soundproofing will protect the room against the background noise, and deliver premium sound values.
How to Block Noise Bleeding Through a Conference Room Wall
Common wall soundproofing will protect the noise that's bleeding in and out of your conference room. This produces greater privacy for conversation within the room and greater protection against outside noise interference. The key to combating sound bleed is to line the perimeter walls with a combination of "density" and "disconnection," as outlined in the Soundproofing Walls section of this website. The layering treatment includes anchoring our dB-Bloc sound barrier membrane to your wall surface, then adding a channel system over the dB-Bloc, and then new drywall to the face of the channel system. This layering sequence can trigger up to a 90% collapse in sound bleed, and deliver luxury grade STC ratings of 55 or greater. For more information on how to soundproof a conference room, contact our help desk at 1-800-638-9355.
How to Block Noise Bleeding Through A Conference Room Ceiling
If your ceiling is finished drywall, apply the same layering sequence previously mentioned on soundproofing a common wall. If your ceiling is a drop grid ceiling tile system, then the soundproofing treatment will act as a dense membrane that goes over your existing ceiling tiles and places an acoustic "lid" over the top of your room. This lid is delivered in the form of a composite sound barrier product called a Ceiling Cap. You can simply rest this atop your ceiling tiles to help deaden sound from bleeding through your drop grid ceiling tile system. Note that without adding this density to your ceiling tile configuration, noise will bleed through your plenum space and spill through to any adjoining office space.
How Many Panels Does Your Conference Room Need and Where Should You Put Them?
If your goal with conference room soundproofing is to improve the sound values inside the space, the key to your acoustical treatment lies in mounting a set of sound panels on your wall or ceiling, so that you can effectively capture and convert the echoes out of the room. By reducing the level of echo, you increase original sound clarity, and improve the communication taking place inside the conference room. Fabric Panels are decorative acoustic sound panels that capture echoes, and provide you with drastic conference room noise reduction. The key mistake that can be made is undertreating the room, so once we know the dimensions of your space, we can calculate your coverage amounts and report it back to you. Call our help desk at 1-800-638-9355, or complete a Room Analysis worksheet to get the specifics on what your space needs. As for the location of your sound panels, it doesn't matter as long as you spread your conference room soundproofing treatment out as best you can, and mount the right amount of sound panels in your room, wall or ceiling.
What Are the Benefits in Using NetWell's Sound Panels in Your Conference Room?
By reducing and eliminating the echoes in your conference room, you increase the original sound clarity, and produce premium sound quality for business communications. Whether teleconferencing, video conferencing, or presenting to your audience within the space, once the background noise collapses from your acoustical treatment, the remaining tones will be delivered through sharp, clear sound signals for easier communication. Without the soundproofing treatment, your conference room will suffer from extended levels of background noise that will hinder communication, and threaten business productivity.
Sign Up for StartSmart
StartSmart
If budgets are rearing their ugly heads, we offer an email series that might be of interest to you.   Our StartSmart program offers a series of emails that offer insight into controlling the costs related to your upcoming acoustic project.   The program is free, it is a quick and easy read, be sure to sign up today!