Acoustic Ceiling Clouds
Acoustic Ceiling Clouds are fabric wrapped fiberglass acoustic panels that float from the ceiling rather than flush mount to a surface.  By floating the panels our clients are able to leave their walls as they are. An added benefit to suspending the acoustic panels is that both sides of the Ceiling Clouds are exposed to sound, which increases the panel's ability to capture and convert more echo from a space.  Ceiling Clouds are a popular item for noise infested rooms where available wall space is limited, or the client has the preference to create ceiling soundproofing rather than apply sound panels to the perimeter walls.
Questions?  Call 1-800-638-9355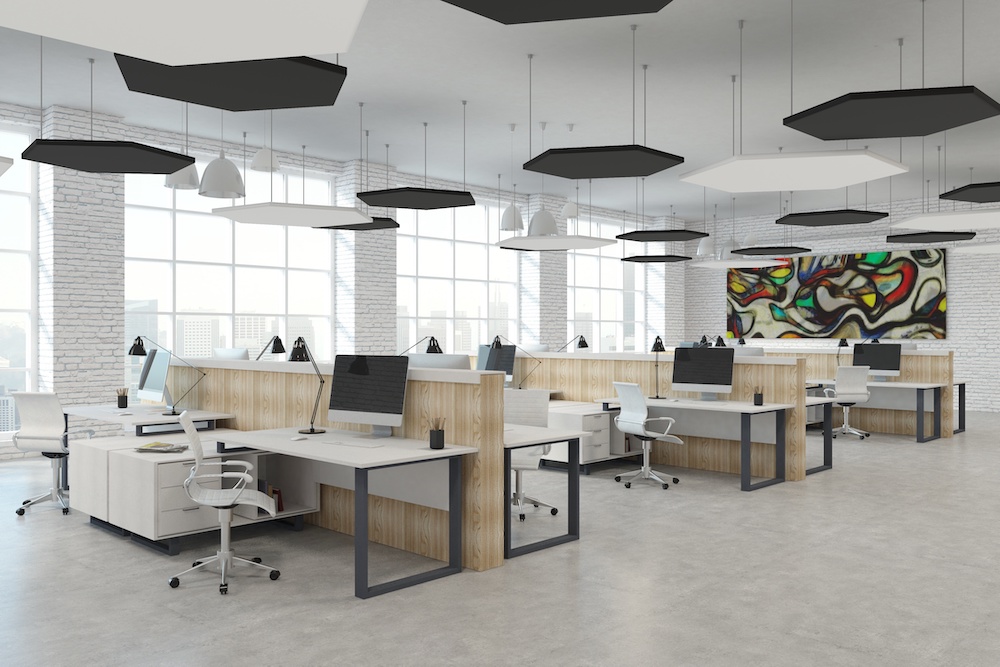 Floating Sound Panels
Just as with our other acoustic panels, success with acoustic Ceiling Clouds is based on having the correct number of sound panels for your room's size and surface textures.   Our acoustic Ceiling Clouds are colorful, durable, class A fire rated, and easy to self-install.   You can float them as close to the ceiling as you wish.
Free color swatches are available to help you choose the right colored sound panel for your room. Specialty fabrics are available upon request and custom quoted.
We run a complimentary Room Analysis for our customers to ensure you order the correct amount for your space.   See the link below.
View Color Options
Order Color Samples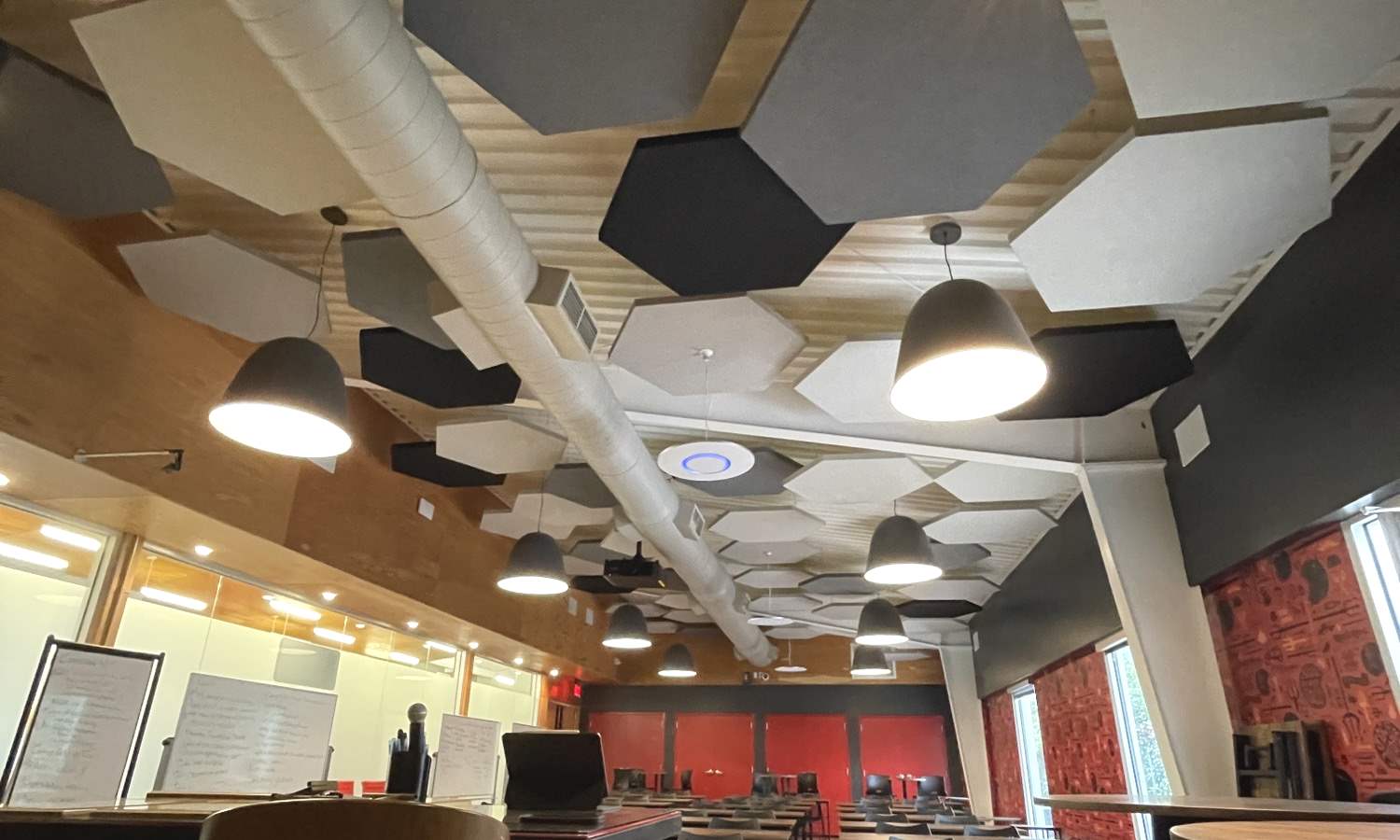 Acoustic Ceiling Cloud Prices
Acoustic Ceiling Clouds can be cut to virtually any size & shape, up to a maximum of 4'x 10'. The sound panel dimensions shown here represent our standard size Clouds, but you can submit your own dimensions as you wish.   The prices listed include a soft, square edge.   Add $10 per sound panel for a hardened edge.  Add $10 per panel for mitered, beveled, or rounded edge. Specialty fabrics & shapes are custom quoted.
Questions?  Call 1-800-638-9355
Panel Size
1" thick
2" thick
Installing Your Ceiling Clouds
Your acoustic Ceiling Clouds will ship with either pre-installed D-Rings or Rotofast cloud anchors that easily screw into the backside of the sound panels. Larger clouds may require T-grid (included) to add structural rigidity.  Simply thread your own thin gauge wire through the hardware and anchor it mechanically to your ceiling as you wish.   Any distance down from the ceiling works as well as any other.  Be sure to stay clear of lighting, sprinkler heads, and any HVAC or pipes you have in your ceiling. The goal is to have nice even sightlines, once we have the right amount of material calculated and delivered to your project site.   Acoustic Ceiling Clouds are lightweight. A standard 3'x4′, 1″ thick panel will weigh about 6 pounds.
Order by Phone
Cloud Mount Installation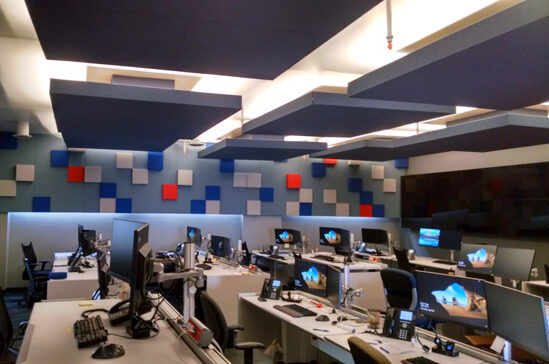 Ceiling Cloud Tips
Ceiling Clouds are designed to suspend mechanically from your ceiling to lower the ambient levels of echo in your space.   This is an ideal soundproofing treatment where available wall space is limited, or clients want their walls left alone.   By floating these sound panels out over the expanse of a ceiling, in nice even sightlines, the panels combine to create a decorative look to the space as well as curb the excessive levels of noise.   Pay attention to your panel thickness. Go 1" thick for rooms filled primarily with human voice, and upgrade to the 2" thick sound panel if you have music in the room.
Questions?  Call 1-800-638-9355
See Case Studies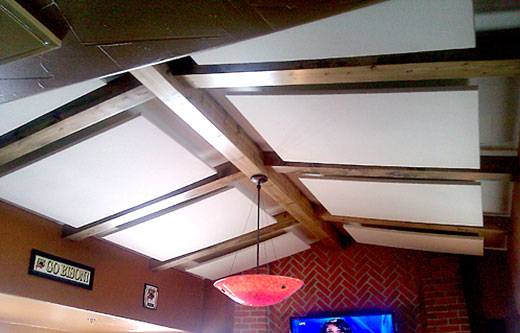 Sound Test Results
Frequency
1"
.14
.27
.80
1.11
1.14
1.14
.85
2"
.22
.81
1.24
1.30
1.21
1.16
1.15
Spec Sheet
This product is class A fire rated and approved for use in any public venue.
* Test results available upon request
Shipping
Acoustic Ceiling Clouds will be bundled and edge protected, boxed up and shrunk wrap on pallets prior to shipment.   Care should be given upon delivery, be sure to carefully inspect your shipment before your driver leaves.   If you see any potential damage to your order, be sure to sign for as such while your driver is still there.   It happens only on rare occasions, but if your sound panels are damaged, our only recourse is to replace the panels at the expense of the freight company, which only happens if you sign for the delivery as damaged.   Be sure to notify our help desk if you need a lift gate for ease in delivery.
Shipping/Receiving
Terms & Conditions