Noise Reduction in Loud Restaurants
Progressive restaurants with a long term view for success in their business plan understand that their customers are there to not just eat, but to converse with family and friends. Restaurant soundproofing is a necessary step to control noise levels, so guests can be more comfortable. Without these controls in place, the acoustics are generally poor. Restaurants are built from hard reflective surfaces that make the space beautiful, and easy to keep clean, but render the room unfriendly due to the unwelcome echo levels. As the crowd swells, and the echoes climb, the noise becomes deafening as your clientele begin to strain to hold a conversation. Your repeat customers will start to dine elsewhere as a result. Improving restaurant acoustics and reducing noise are as important as the quality of your food or the level of your service. When you protect your guests, you protect your future.
Questions?  1-800-638-9355
How to Reduce Restaurant Noise
When it comes to restaurant acoustics, the goal is to improve the sound quality within your space by controlling your levels of unwanted ambient echo. If the echoes are allowed to carry in the room, background noise can build to uncomfortable levels as your guests strain to hold a conversation. By placing a series of ambient noise reduction panels into your space, the sound wave reflections will be captured and converted back out of the room, restoring the restaurant to premium sound quality.
The key to successful restaurant acoustics is product selection, panel thickness and coverage. If you under treat the room, your values will be lost. That's where our 25 years of acoustical experience can be of great service to you. The Room Analysis button at the top or bottom of this page is your first step. Use this to submit back the dimensions of your restaurant, and in turn, we will quote your panel count and cost. Once the project is defined, approved, shipped and installed, you will notice an immediate drop in your level of background noise. As a result of your soundproofing treatment, your restaurant will sound better. It is all about the art of controlling your echo.
See Fabric Panels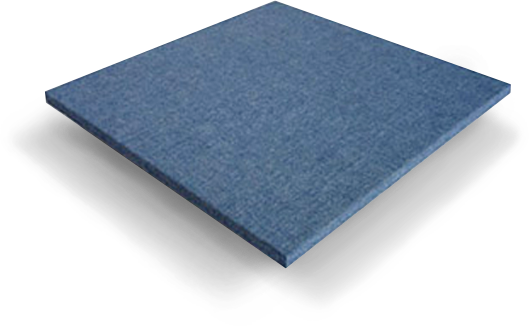 Restaurant Sound Panels Reduce Echoes



The most popular sound panel option designed to improve restaurant acoustics is our cloth wrapped acoustic Fabric Acoustic Panels.   These are decorative sound panels that can wall or ceiling mount as you wish inside your restaurant space.   The panels are class A fire rated, easy to self-install, portable, durable.  By capturing the background noise in your noisy restaurant space, we can restore your venue to premium sound quality.   Your guests and your staff will thank you.
"The best investment I have made in my restaurants in the last few years"   Francisco Flores  Pear Street Bistr0
See This Case Study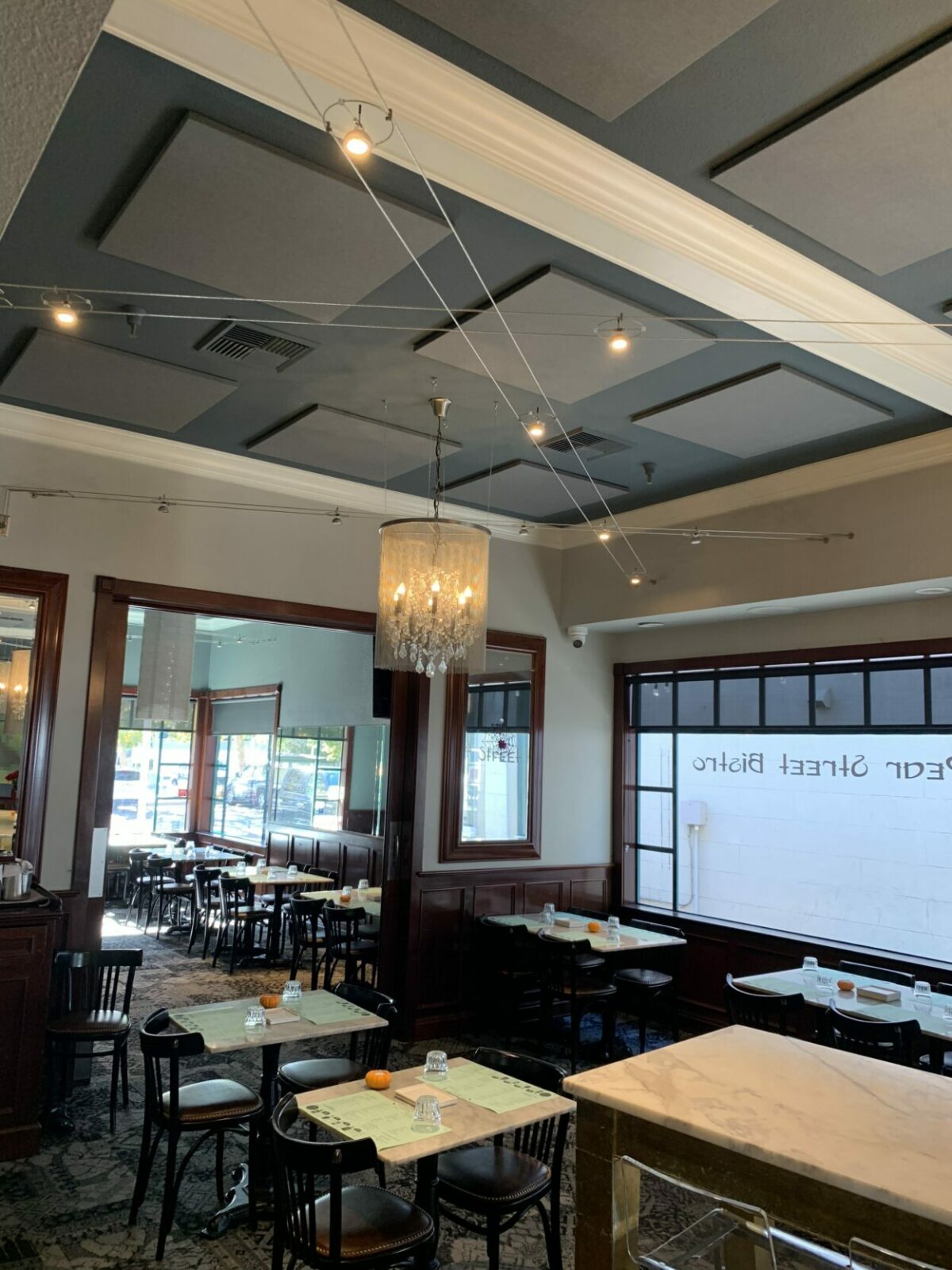 Related Soundproofing Materials for Noisy Restaurants
In addition to our standard Fabric Acoustic Panels, there are other restaurant soundproofing products.   Oftentimes, Restaurant owners will ask for a designer sound panel, called a PicturePanel, which can print graphics, logos, menu items, local area artistry, and digital images onto the face of your panels.   Acoustic Ceiling Clouds are also popular, which allow our clients to "float" acoustic ceiling panels for restaurants, rather than flush mount them to wall or ceiling surfaces.   And if you have a black metal deck in your restaurant, the Dakota Panels are black sound panels designed to blend in with your ceiling.
Restaurant Owners Love The Fabric Sound Panel
The Fabric Panel treatment has stood the test of time.  For more than 25 years we have been placing this sound panel treatment into tens of thousands of spaces across America.   For  soundproofing your space, these sound panels will combine to absorb your echoes, protect your space, and please both your staff and your clients.  Fabric Acoustic Panels are available in 60 colors.  By installing sound-absorbing panels for restaurants, you ultimately let your customers dine in peace.
Questions?  Call 1-800-638-9355
See Fabric Panels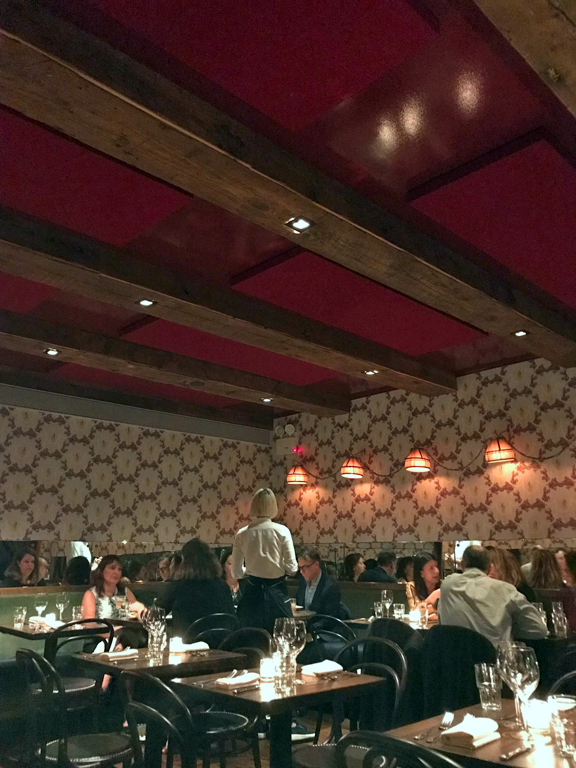 Four Steps to Better Restaurant Acoustics:
Measure Your Restaurant
We need the cubic footage of your space. Measure your room's length, width, and height.
Submit Room Analysis
Use the button at the top or bottom of this page to submit your room's dimensions.
Approve the Quote
We will define the framework for your treatment and submit back your quote for approval.
Self Install
Your sound panels will drop ship to your doorstep.  Our treatments are cost effective, and designed for self-installation.
See Case Studies
To view the variety of sound panel projects that NetWell prescribes, we invite you to visit our Case Studies Library.   Here we showcase various recent sound panel projects to help give our new clients a better understand as to the visual presentation to their space and the testimonials that endorse our soundproofing treatments.
See Case Studies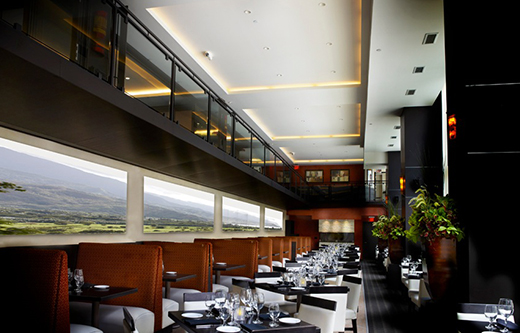 Restaurant Soundproofing:  Q&A
How to Control Noise Exposure Levels in a Restaurant
All restaurants are designed with hard, reflective surfaces that are made of tin, granite, marble, steel, brick, concrete, glass, metal, wood or drywall. Not only are the surfaces designed to be attractive, but they're also durable and easy to clean. The drawback is that these surfaces reflect and build sound, which can result in a loud restaurant and eventually force it to go out of business. Care must be given to lowering excessive noise levels. Use restaurant soundproofing panels to capture and convert the noise within your space.
Why Are Restaurants so Loud?
Noise that reflects off the perimeter surfaces in a restaurant spike exposure levels. As crowds gather during peak dining hours, people have to strain to be heard over the background noise. This produces excessive noise that creates an uncomfortable dining experience and drives customers away. Therefore, attention must be paid to properly soundproof a restaurant.
Why You Should Never Use Acoustic Foam in a Restaurant
Most of the acoustic foam panels on the market are not class A fire rated and shouldn't be used for soundproofing a restaurant. Even if the foam was class A fire rated (also known as melamine foam), it is still not a good idea because foam panels will flake over time and sprinkle dust particles into the ventilation system. These particles will eventually reach the food and tabletops within your restaurant.
Why It's a Soundproofing Myth to Place Panels Underneath Tabletops
Sound panels that are placed beneath tables and chairs will not work to control the excessive noise within your restaurant. Sound panels need to be exposed to the room for premium sound quality. Mount the sound panels on your ceiling, so the panels can produce the noise reduction you're seeking.
The Impact Noise Has on Repeat Customers
Owners of loud restaurants agree that unwelcome noise levels drive customers away. The goal when soundproofing a restaurant is to lower the background noise to a minimum so customers can enjoy their dining experience. Dining out is a social experience. If the noise levels are untreated, repeat customers will dine elsewhere.
Why Some Restaurant Owners Prefer Noise
Some owners prefer noise because it tends to get customers out the door sooner. Due to the excessive noise, owners can make more money by having more customer turnover and by pouring more drinks. Of course, most bar and restaurant owners put more stock into making their customers comfortable by using restaurant soundproofing products.
How to Soundproof Your Existing Restaurant
By mounting your sound panels on the walls or ceiling, you'll effectively capture the echoes that are disrupting customers. What remains will be lower levels of background noise and restored original sound. This results in less communication strain and a more comfortable dining experience for your customers.
Why Sound Panels Won't Compromise Your Existing Space's Design
NetWell has been retrofitting restaurants with acoustic panels for more than 26 years. When deciding where to place your soundproofing, care must be given to the existing design. The goal is to not corrupt the design. Since every restaurant has its own look and feel, treatments will vary, but the bulk of our projects use our Fabric Panels. We offer 60 different color options to help disguise them in your space, and most often they are applied to the ceiling. In addition, we can upgrade the panels to be wrapped in graphics, photography, artwork, logos and more. These upgrades are more eye-catching and can be presented as murals too. We can also make your acoustic panels look like brick walls or your existing surface textures.
How Many Sound Panels Does Your Restaurant Need, and Where Should You Put Them?
Coverage amounts depend on the size of your public seating area. Once you submit your room's dimensions to us, we will calculate your square footage and give you a quote for your sound panel project. You can call our help desk at 1-800-638-9355 with your dimensions or submit them on our Room Analysis worksheet.
Sign Up for StartSmart
StartSmart for Restaurants
Cost control on your upcoming soundproofing project plays a key role in your decision making process.   Our StartSmart series is built to help educate new clients on steps they can take to curb the expenses involved in a sound panel treatment.  The course is free, easy to ready, and popular with our readers.  Sign up today!