Controlling Restaurant Acoustics
"The Best Investment I Have Done For My Restaurants in the Last Few Years"
So says owner Francisco Flores of The Pear Street Bistro restaurant in Pinole, CA.  Francisco was facing the same acoustic issues that most restaurant owners face:  how to better control the acoustics within the dining and bar areas.   As is the case with most restaurant spaces, the Pear Street Bistro was filled with hard reflective surfaces that looked fantastic, but also combined to absorb less than 5% of the echoes in each room.  As a result, excessive exposure to unwanted noise was forcing the clientele to choose between elevating their voices to hold conversation, or simply dining elsewhere.   To protect the long term viability of his restaurant, Francisco reached out to NetWell Noise Control for help.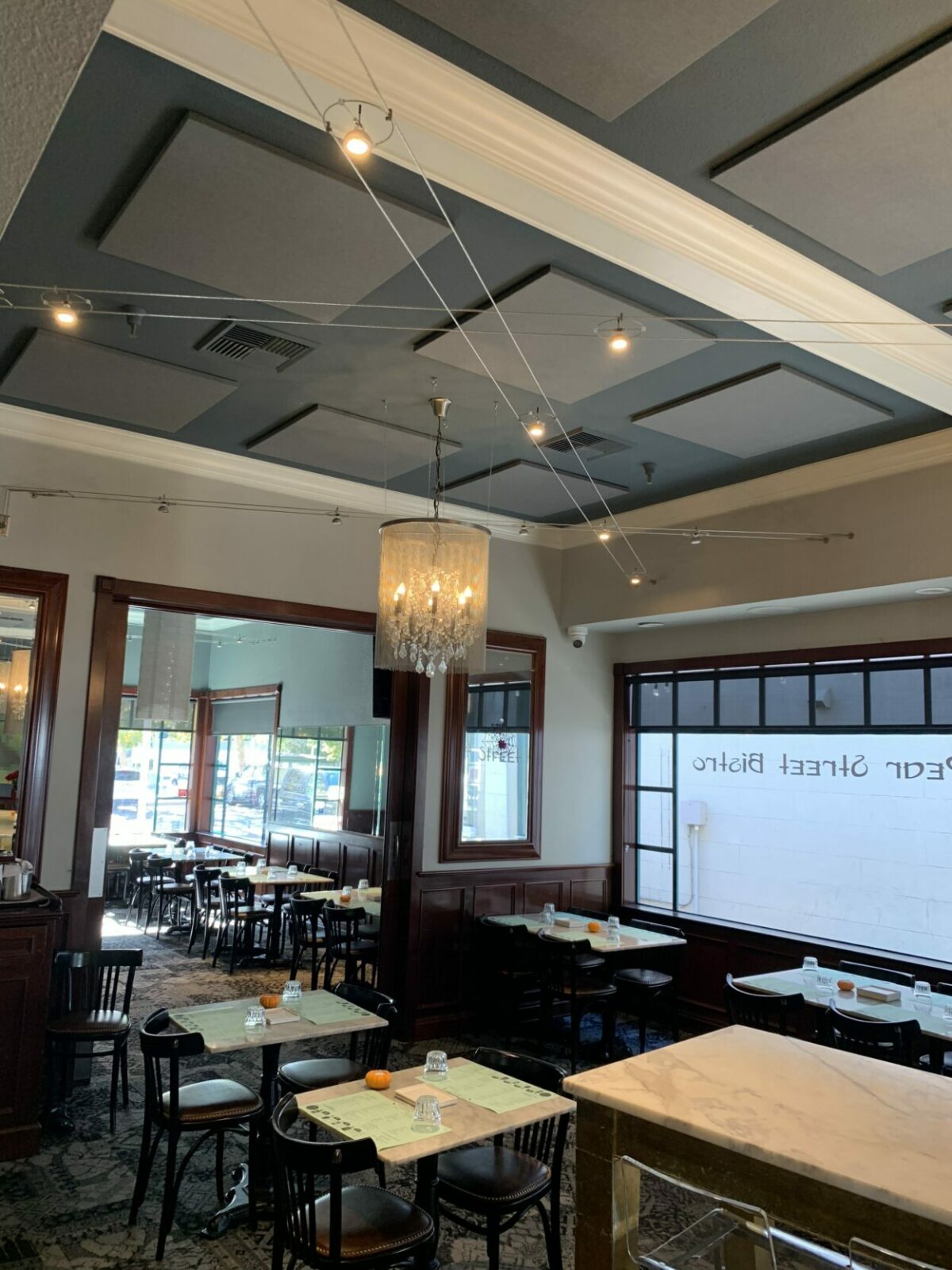 The Treatment
The goal with soundproofing a restaurant space is both a cosmetic and an acoustic challenge.   Sound panel systems, wall or ceiling mounted, are designed to capture and convert the unwanted echoes from the space, but care must be given to protect and preserve the design of the restaurant.   Case in point is the Pear Street Bistro.   When Francisco first reached out to NetWell Noise Control for help, a simple Room Analysis was conducted to help target the appropriate square foot coverage that would be needed to effectively control the noise levels in the main dining room, a back dining room and the bar.   With each room targeted for a soundproofing treatment, NetWell was able to define the total panel counts required per room, and feed that number back to Francisco.  From there, he took tape measure to ceiling, to determine panel count, panel size, and panel color.  The results of his efforts were stunning.
See Restaurant Soundproofing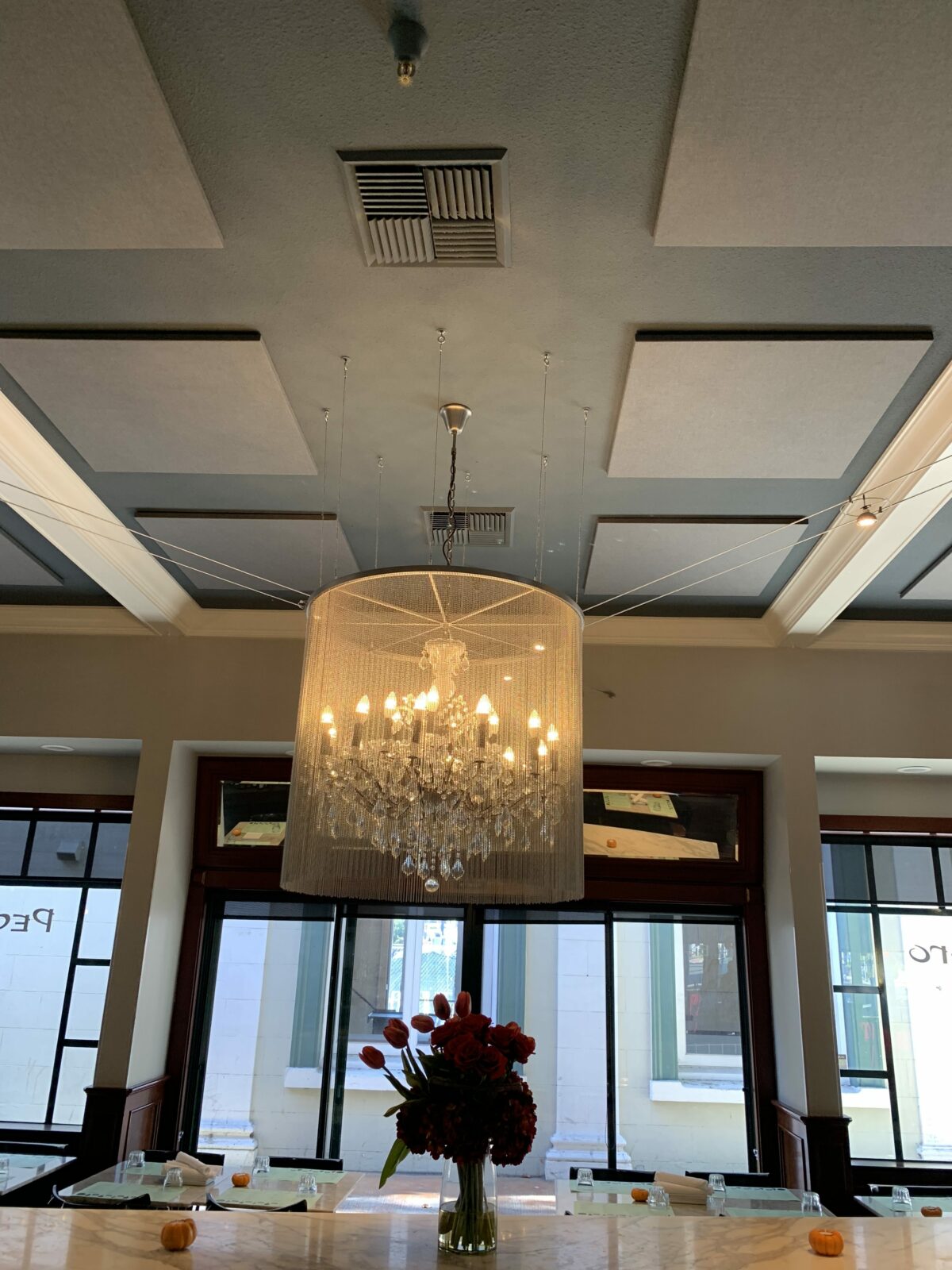 The Fabric Panel
These decorative, affordable class A fire rated acoustic panels can be placed as you wish, wall or ceiling mounted, within your space.  Francisco, like most restaurant owners, opted to target his ceiling for panel placement, which allowed him to keep the design to his perimeter wall surfaces in tact.   He carefully laid out a plan to anchor these Fabric Panels flush mounted to his ceiling in nice even site lines.   NetWell lead the project with giving him a square foot total to target based on room dimensions, while in turn, Francisco built his list of panels that would recess nicely into his available surface space.   On average, only 25-30 percent of a ceiling will receive the panels, evenly disbursing them around the room, while 75% of the ceiling stays as is.
See Fabric Panels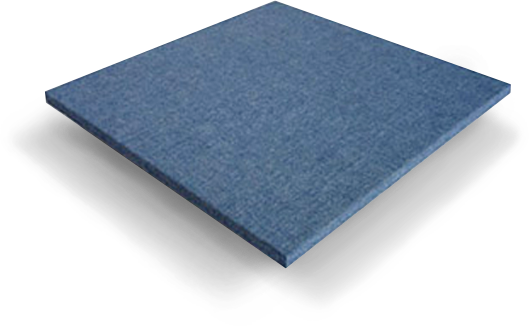 The Acoustic Results
The acoustic Fabric Panels are able to absorb up to 80% of the net unwanted sound wave reflections in a room.   By collapsing this level of background noise, greater clarity is restored to original sound, which in turn generates greater ease in conversation and the ability to communicate  and dine in comfort.   The sound values were met with dramatic results, with customers commenting on the improvements to the restaurant, and thanking Francisco for his work to protect them and preserve their repeat visits to his restaurant.   NetWell also thanks Francisco for his business and submitting these images of his results.  Congratulations!