Sound Absorbing Acoustical Baffles
NetWell's FELT Baffles improve the acoustical quality and comfort of indoor spaces. Our Poly-Tone line of polyester acoustic panels & baffles are designed to absorb and reduce sound waves, effectively minimizing echoes and reverberation within a room. This results in clearer speech, improved audio quality, and a more comfortable listening environment. Key features include:
High Sound Absorption & Noise Reduction Performance
Improved Speech Intelligibility
Made with Eco-Friendly Materials
Light & Easy to Install
Extremely Durable
Cost-Effective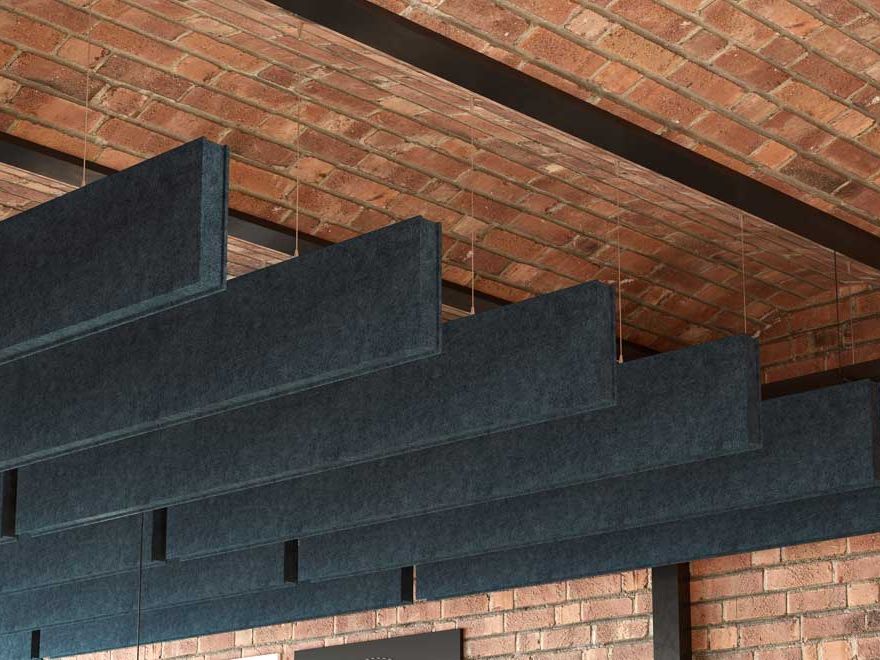 Color Options & Sustainability
NetWell's Poly-Tone line of echo-reducing acoustical FELT ceiling baffles are available in 34 different color options to choose from. Aside from providing a modern look, they're made with 55% recycled content, have low VOC emissions, and are 100% recyclable.
View Color Chart
View LEED Statment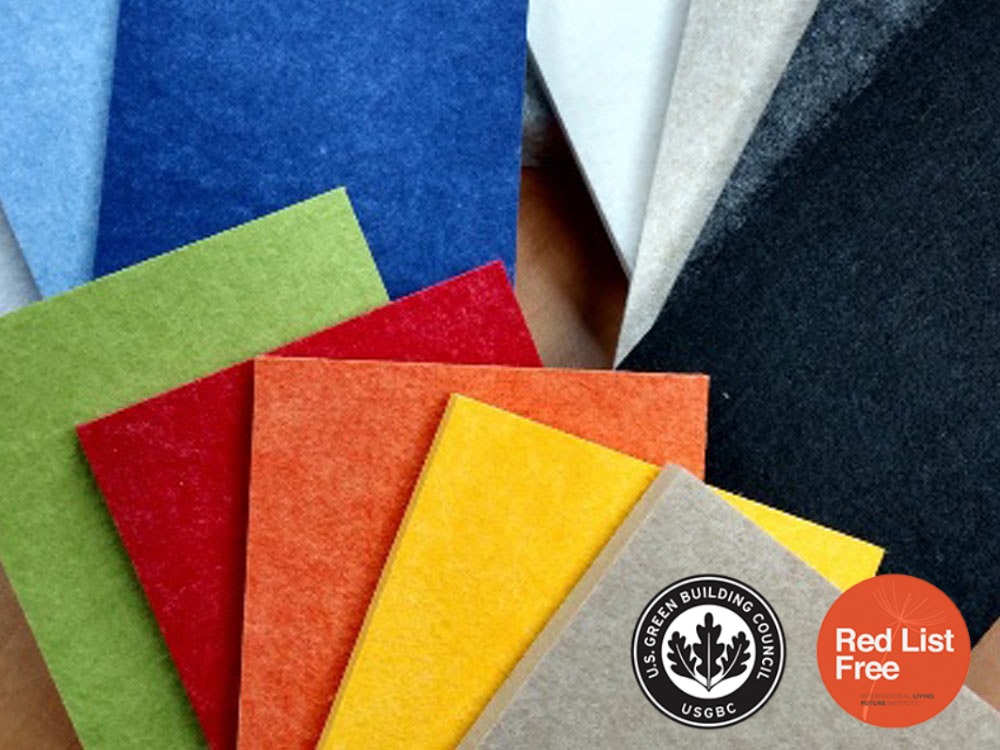 Pricing
The price of NetWell's FELT Baffles varies based on the dimensions. Pricing for the standard-sized FELT baffles are shown here. Custom sizes are also available upon request. FELT Baffles are 2.75″ thick.
To determine the correct number of baffles for your space, please complete a Room Analysis or give us a call at 1-800-638-9355.
Get Room Analysis
Size (width x height)
Unit Price
Applications for Noise Reducing FELT Baffles
PET acoustic panels & ceiling baffles are used in a variety of applications to improve sound quality and control within indoor spaces. These panels are designed to absorb sound waves, reduce echo, and create a more pleasant acoustic environment. Some common applications of our FELT Baffles include:
Commercial Spaces: Offices, conference rooms, and open workspaces often use our FELT acoustic baffles to control noise levels and create a more productive and comfortable environment for employees.
Educational Institutions: Classrooms, lecture halls, libraries, and other educational spaces benefit from FELT acoustic panels & baffles to enhance speech clarity and reduce noise distractions.
Hospitality Industry: Hotels, restaurants, bars, and lounges utilize PET acoustic panels to create a pleasant and peaceful atmosphere for guests by controlling noise levels and improving speech intelligibility.
Healthcare Facilities: Hospitals, clinics, and medical offices employ these polyester acoustic baffles & panels to create quieter and more soothing spaces, contributing to patient comfort and privacy.
Retail Stores: Retail spaces use PET acoustic panels & ceiling baffles to enhance the shopping experience by reducing noise and creating a more pleasant environment for customers.
Gyms and Fitness Centers: FELT acoustic ceiling baffles help control noise levels in exercise areas, allowing users to focus on their workouts without excessive distractions.
Public Spaces: Airports, train stations, and other public areas can benefit from the noise-reducing properties of FELT Baffles, creating more comfortable waiting areas.
Children's Play Areas: Daycares, schools, and indoor play centers use ceiling-mounted FELT Baffles to create safe and enjoyable spaces for children by reducing noise and enhancing acoustics.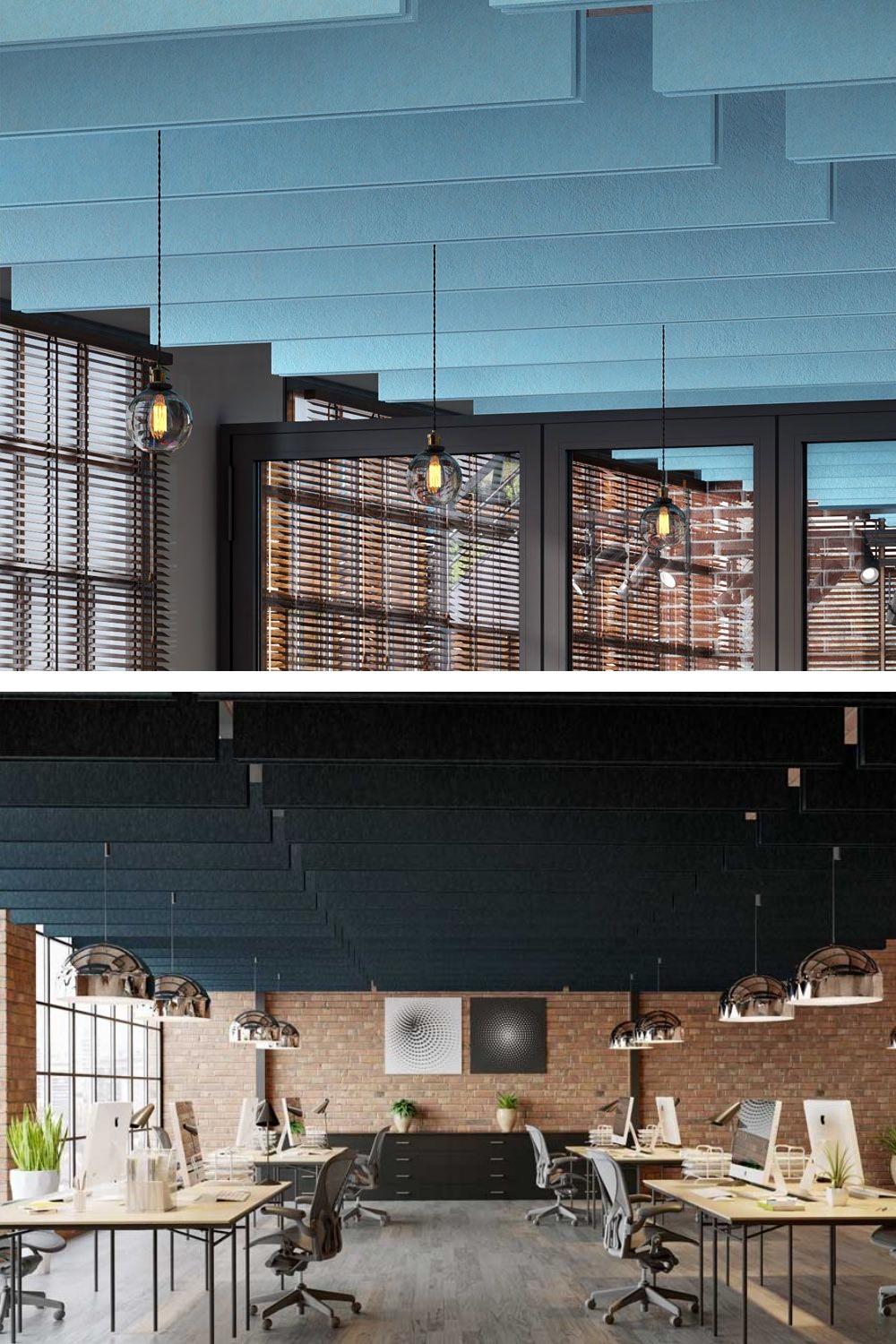 Sound Test Results
Octave Band Frequency (Hz)
2.75"
.38
.57
.90
1.36
1.61
1.74
1.10
2.94
4.45
7.05
10.62
12.61
13.64
Sabins
Per 4'x2' baffle
12.61
13.64
Sabins
Per 4'x2' baffle
See Spec Sheet
This product is class A fire rated and approved for use in any public venue.
* Test results available upon request
How to Install FELT Baffles
Installing NetWell's Poly-Tone acoustical FELT baffles involves suspending the baffle from the ceiling using aircraft cabling or threaded rods. Acoustic baffles are sound-absorbing panels suspended vertically from the ceiling to help control sound reflections and improve acoustic conditions in a room. FELT Baffles can be hung from any type of ceiling, including drywall, concrete, drop ceilings/T-grid, or unistrut. Before installing, identify the locations where you want to install the FELT Baffles. Consider factors like room layout, sound source, and architectural features.
Installation Instructions for Drywall or Concrete Ceilings
Installation Instructions for Unistrut