Soundproofing Panels | Reduce Echo
Welcome to our #1 selling acoustic sound panel system.  Fabric Acoustic Wall Panels are cloth wrapped sound absorbing panels that wall or ceiling mount inside your space to control your echoes.   By lowering your level of background noise, clarity to original sound is restored.  Premium sound quality results.   Your space becomes a more comfortable, user-friendly, and functional acoustic space.   These soundproofing panels are not only aesthetically pleasing, but also class A fire rated, bleach-cleanable, durable, and ship with a set of clips that make them easy to self install.
Care must be given to coverage amounts and panel thickness. Be sure to consult with NetWell on your project before ordering. Or submit a Room Analysis of your space so we can ensure the right amount of material is targeted for your sound-absorbing treatment.
Questions?  Call 1-800-638-9355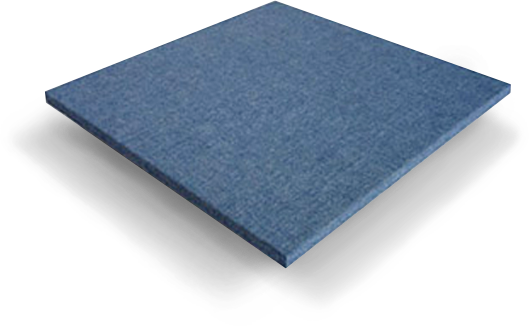 Sound Panels:  Improve Your Room Acoustics
Your acoustic Fabric Panel treatment will capture the echoes in your room, reduce your background noise, and generate more control over the sound quality inside your room. Sound absorbing panels are designed to restore clarity to your original sound.   Ease in conversation, an easier listening environment, a healthy learning environment, a more productive work environment, lower crowd noise, and a host of other related acoustical benefits await your soundproofing project.  Fabric-wrapped acoustic panels will generate a more user-friendly space by managing sound levels and absorbing unwanted echoes.
These wall or ceiling mounted acoustic sound-absorbing panels are available in 44 color options.  They are class A fire rated and approved for use in all public venues.   Click the button below to view the standard color options and order Free Color Swatches delivered to your doorstep at no charge. Specialty fabric options are available & custom quoted upon request.

Please note: White panels require a scrim layer to prevent color bleed. Additional charge applies.
View Colors & Order Samples
See Installation Guide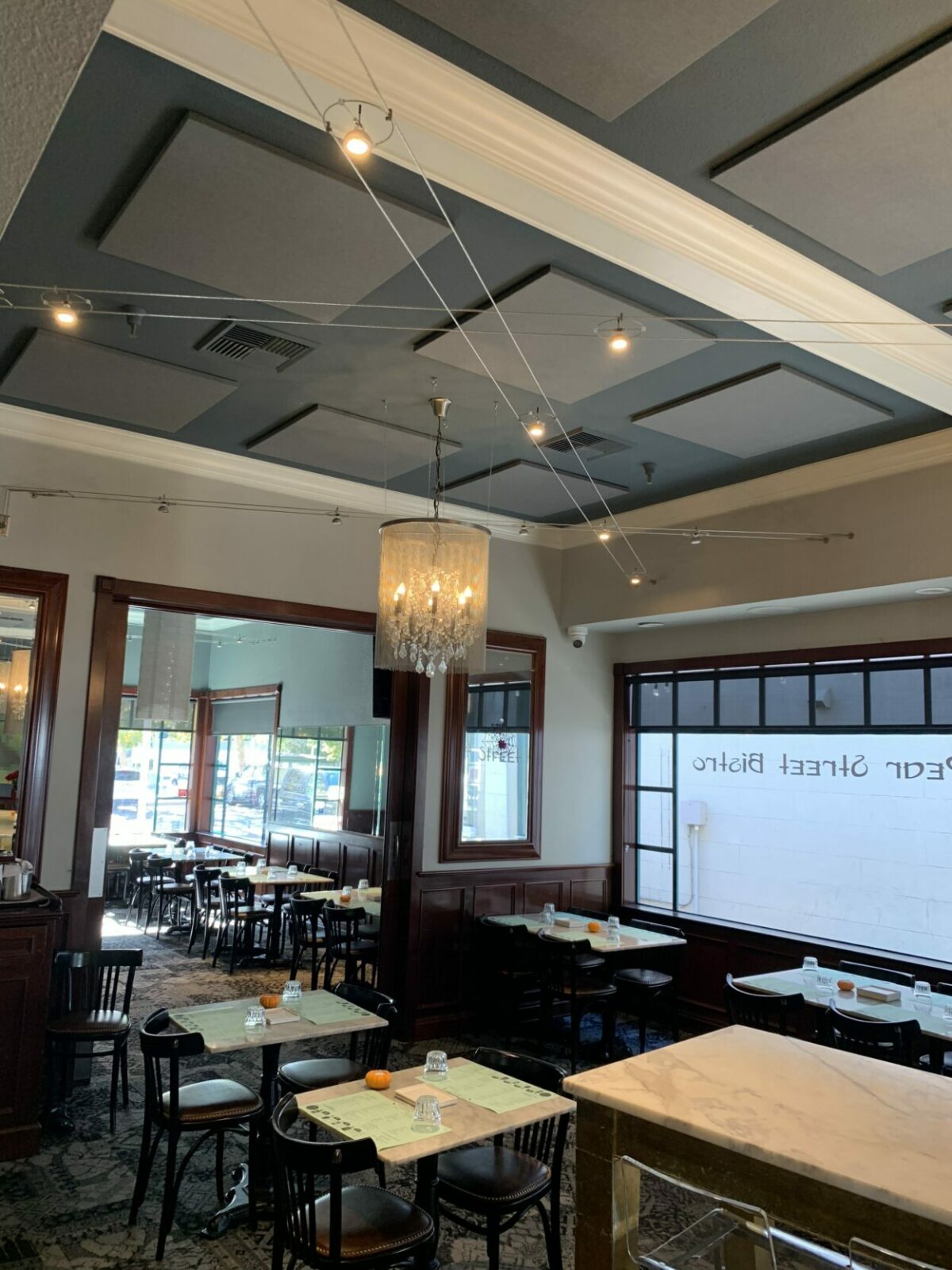 Unit Pricing for Fabric Panels
Acoustic Fabric Panels are priced based on panel dimension and thickness. Listed here are our standard sizes. We're also able to construct panels in custom sizes, shapes, and specialty fabrics to fit the design needs of your project.  To receive a custom quote, or if you have questions on how many sound-absorbing panels you will need for proper coverage, please call our help desk at 1-800-638-9355 with your room's dimensions or submit a Room Analysis.
Acoustic sound panel prices shown here reflect a natural square edge profile with Impaling Clips for mounting, wrapped in Guilford of Maine FR701 acoustic fabric. Order options include upgrades to hardened edges, specialty fabrics, and Rotofast or ZClip mounting methods.  For custom sizes, please contact us to get a quote.
Orders can be placed by phone at 1-800-638-9355 or online through our eStore.
See Order Options
See Custom Shapes
Case Studies on Soundproofing Panel Treatments
NetWell prides itself on the sound solutions we have helped tens of thousands of satisfied clients reach before your upcoming soundproofing project surfaced.   Please take the time to review some of the more recent treatments of acoustic sound panels enjoyed by our clients who once suffered from your same level of unwelcome noise.
See Case Studies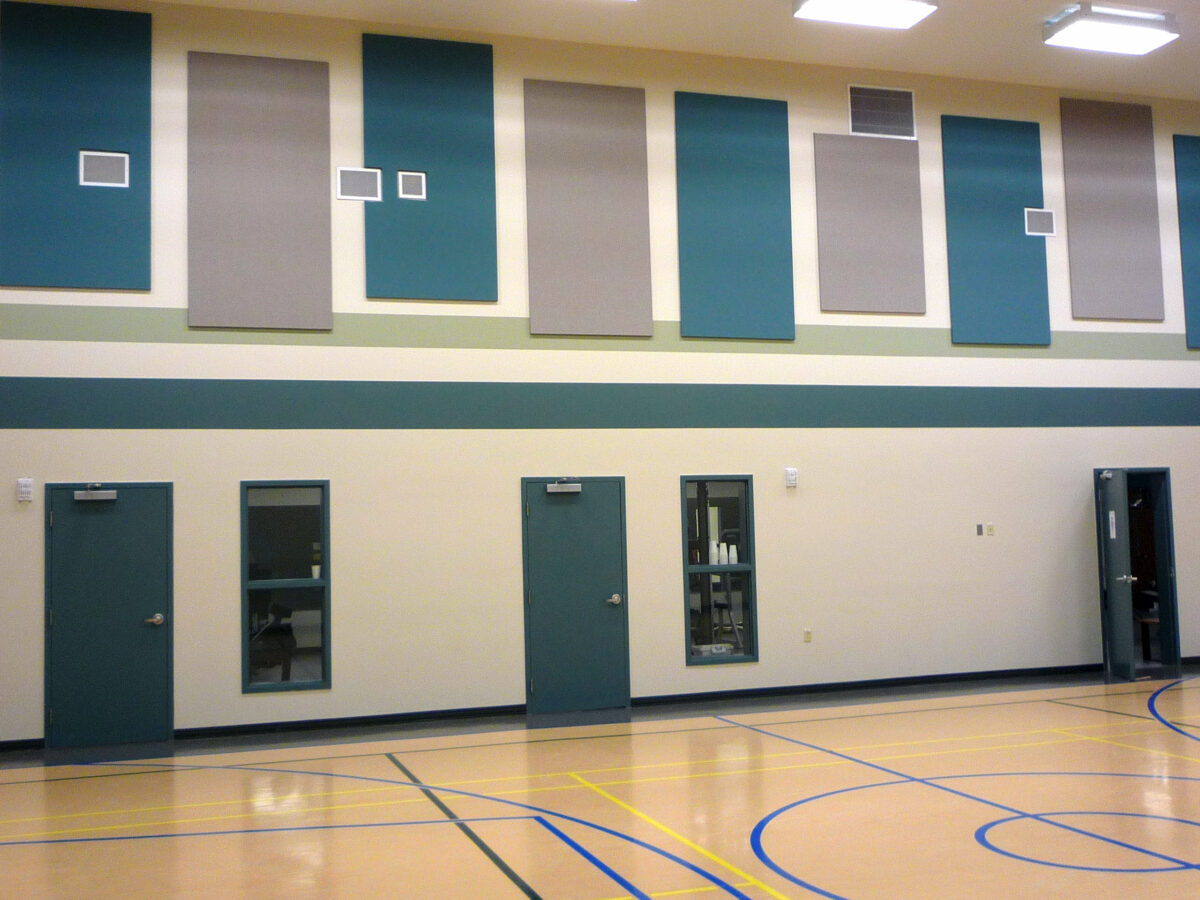 Related Acoustic Panel Product Options
The images here reflect two upgrade options to your standard Fabric Panel.   The first shows a color paint match, which is available in our line of Blush Panels.  For clients seeking to expand their color options beyond the 44 color pallet of our Fabric-wrapped Panels, NetWell offers the opportunity to have your sound panels custom painted to the Pantone color of your choosing.   Ideal for blending your sound panel treatment into the color of your walls, or branding your space with your own unique custom color codes.   See Blush Panels.
The second image illustrates our ability to print custom images, graphics, logos, emblems, mascots, artwork, and photography onto the face of your panels.   These PicturePanels offer beautiful, vivid mural-type wall or fabric-wrapped ceiling panels that are truly a feast for the eyes, as well as doubling as sound panels for the ears.    You supply the imagery, we will supply back your custom imaged wrapped sound panels.  See PicturePanels.
Two reminders with either of these upgrade options to the standard Fabric Panel.  First, the key to the success of your sound panel treatment depends on getting coverage amounts right.   Regardless of your choice in sound panels, be sure to use our Room Analysis tool or call our help desk at 1-800-638-9355 to determine your coverage amounts.   And second, the price points will jump with the Blush Panels or the PicturePanels.   The most cost-effective approach for tight budget projects is to stay with the Fabric Panels and make your color selection from our existing pallet.
Questions?  Call 1-800-638-9355
See Blush Panels
See Picturepanels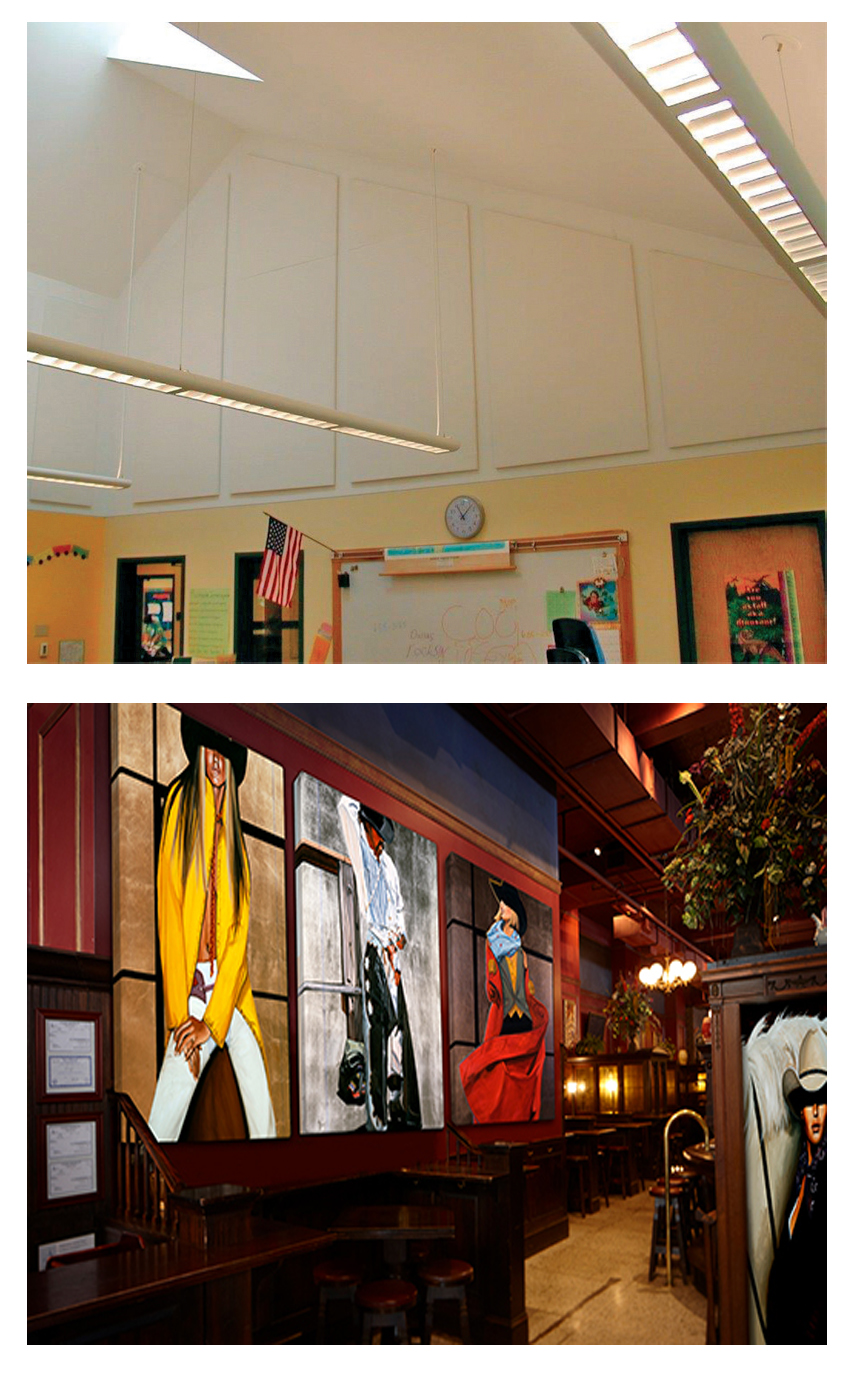 Sound Test Results
Octave Band Frequency (Hz)
1"
.13
.24
.77
1.08
1.15
1.07
.80
2"
.22
.81
1.24
1.30
1.21
1.16
1.15
Spec Sheet
This product is class A fire rated and approved for use in any public venue.
* Test results available upon request
Sound Panels Q&A
How do sound panels work?
As sound waves enter into the face of a sound panel, the micro fibers of the panel core begin to vibrate.  In turn, the vibrations convert the sound wave into a low grade form of heat called kinetic energy.   As the transformation occurs, there is less sound wave energy available to reflect back out of the sound panel.   As a result, echoes in the room are lowered.
What are sound panels made out of?
While there are a variety of core raw materials that can produce the conversion from sound wave energy to kinetic energy, most sound panels are made of compressed fiberglass boards or acoustic foam.
Do sound panels really work?
Yes.   So long as proper care is given when calculating coverage amounts and panel thickness, the echoes in a room can be captured and converted from your space.   In turn, a dramatic difference in clarity to sound and lower overall levels of noise will result.   Be sure to confer with a sound consultant to help determine the right panel coverage for your space.
How many sound panels do I need?
Coverage amounts for sound panel treatments will vary depending on the size, shape and surface textures of your room.   The key to the success of your soundproofing treatment is to ensure that you are not under-treating the room.   Work with a trained sound consultant to help determine the coverage amount that is right for your application.
Where do I place my sound panels?
As long as your soundproofing panels are exposed to the room, they will generate the sound values you are seeking.   The key the success of the treatment lies in making sure you are not under-treating the space, and not in where you are placing them.   So long as you have good coverage amounts, the panels can evenly disperse around the room as you wish and generate your values back.   Remember, sound waves will expand in your room like a balloon blowing up.   Traveling nearly 800 miles per hour.  The waves will find their way into your sound panels so long as you have good coverage amounts introduced into the room.
How thick are sound panels?
Compressed fiberglass panels wrapped in cloth are typically 1″ or 2″ thick.   Thicker panels will absorb more low bass frequency and impact sounds that stem from musical instruments.   If your room hosts music, go with 2″.  If your room hosts primarily human voice, go with 1″.
How much noise do sound panels remove?
Sound panels will lower the overall decibel level exposure in your room by capturing and converting up to 80% of your unwanted echo.   What remains will be the original sound in the room and a lighter level of background noise.   As a result, you generate premium sound quality.
How are sound panels installed?
There are 3 mounting options to install NetWell acoustic panels on your walls or ceiling – 1) Rotofast snap-on anchors  2) Z Clips/EC Clips  3)  Impaling Clips
The Rotofast snap on anchor system tends to be the most popular as they do not require adhesives and can be used on virtually any surface. Z Clips, also known as EC Clips, are popular when installing panels on brick & CMU walls, or on ceilings. Impaling clips are probably the easiest method, however, it is a permanent installation since this method requires construction adhesive applied directly to the panel. Impaling clips should only be used on walls.
You can view the detailed mounting instructions on our Installations Page.
Are sound panels durable?
Yes.  Depending on the room the panels will be placed into, there are upgrades available to make the edges of the panels crush proof for greater durability, such as for use in a gymnasium.   There are also membranes that can be adhered to the face of the panels prior to wrapping in cloth to boost its durability when needed.
Can sound panels double as bulletin boards?
Yes.   Sound panels can receive a tack-able membrane adhered to the face of the panel prior to wrapping it in cloth.   This will allow the sound panel to double as a bulletin board.
Can sound panels be color paint matched?
Yes.   Sound panels can be wrapped in a special textile that can accept color paint matching.   The painting can be performed by the supplier prior to shipping the panels, or onsite as a field application to paint after the panels are installed.   But no, standard cloth wrapped panels cannot be painted by the client.   There is a custom white textile that needs to be used in order to accept the paint.
Can you print logos, images, graphics on my sound panels?
Yes.  Custom imaged sound panels can receive dye sublimation printing.   From logos and branding in a conference room, to beautiful tapestries and murals of wall or ceiling mounted artwork in a loud restaurant, sound panels today can be designed to capture the eye as well as soothe the ear.   Where art controls sound.
Shipping Sound Panels
Soundproof Fabric Panels will be bundled, wrapped, edge protected, and strapped to pallets in preparation for their shipment.  Care should be given upon accepting delivery to ensure that the freight carrier did their job and got your sound panels to you in perfect shape.   If you detect any issues related to damaged panels, be sure to sign for them as such with the driver before he leaves, and forward that signature to our help desk.
Shipping/Receiving
Terms & Conditions