Acoustic Sound Baffles
Our colorful cloth-wrapped Fabric Baffles are part of our Sound Baffle Line of Products. They come in a standard size of 4′ wide x 2′ tall and are 2″ thick. Custom sizes are available up to 120″ wide x 48″ tall. The baffles are designed for vertical suspension from ceilings. These acoustic sound baffles work together to capture unwelcome echoes inside a room, clearing out the background noise to deliver greater clarity to the original sound. Our baffles are delivered fully upholstered on both sides with a finished edge and D-rings at the top for mounting. They are available in 62 standard color options.
Questions?  Call 1-800-638-9355
View Colors & Order Samples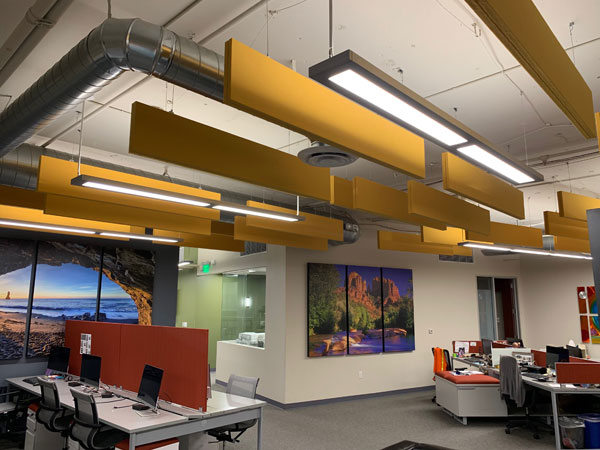 Choosing the Right Solution
The key to the sound values you are seeking for your space has everything to do with getting the amount of material right for your treatment. Our goal is to ensure that we do not under treat your space.
The Fabric Acoustic Sound Baffles are among a family of cloth wrapped sound panels supplied by NetWell Noise Control. Perimeter wall panels are called Fabric Panels. Acoustic ceiling panels that hang horizontally, parallel to the roof line are called Ceiling Clouds. Either of these are popular alternatives if suspending vertical baffles interferes with your lighting or other ceiling-mounted fixtures.
See Ceiling Clouds
See Fabric Panels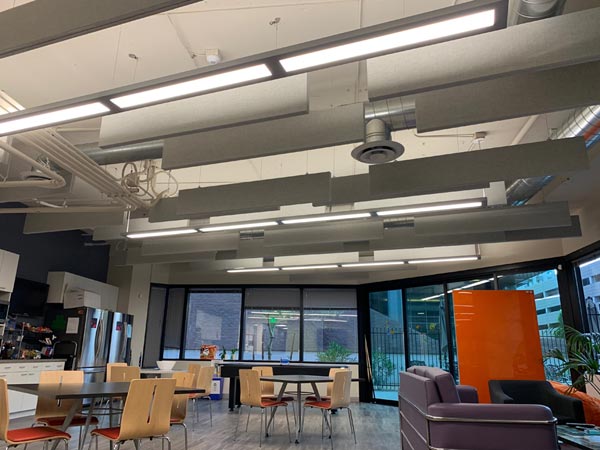 Pricing
Fabric Acoustic Sound Baffles with standard fabric finish are priced as shown here. Specialty fabrics & custom sizes up to 10′ wide x 4′ tall are available & quoted upon request. We can also wrap the baffles in the same paintable facing as our Blush Panels, in case you would like to paint match your baffles. Please contact us for pricing.
Orders can be placed by phone at 1-800-638-9355 or online through our eStore.
Case Studies
Be sure to visit our Case Studies Library where we showcase an array of various architectural sound panel projects for you to review. They might give you a good idea of what your upcoming soundproofing treatment will look and sound like!
See Case Studies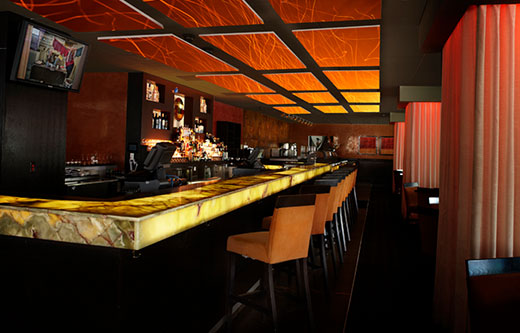 Tips & Techniques
Fabric Sound Baffles include D-rings sewn into the top edge of the panel. Simply thread a thin gauge wire through the d-rings and free hang as you wish from your ceiling. The goal with your installation is to ensure that the right amount of product is being introduced into your room and less concern about where you place the baffles. Simply spread them out as you wish with nice even sight lines, and be sure to not interfere with lighting or sprinkler heads.
Questions?  Call 1-800-638-9355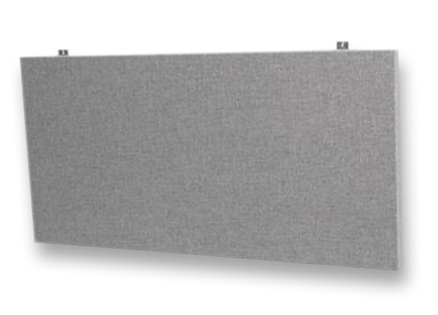 Sound Test Results
Frequency in Hertz
Thick
125
250
500
1000
2000
4000
NRC
2"
.29
.74
1.37
1.73
1.79
1.75
1.41
Spec Sheet
This product is class A fire rated and approved for use in any public venue.
* Test results available upon request
Shipping
Fabric Sound Baffles will ship edge protected in boxes carefully wrapped and shrunk wrapped on a pallet. Be sure to inspect your order upon delivery and sign for anything that might look like it was damaged by the freight carrier.
Shipping/Receiving
Terms & Conditions