Outdoor Sound Barrier Panels
QBO Blankets are outdoor sound barrier panels used to combat outdoor stationary noise sources and protect nearby neighbors from excessive decibel level exposure.   These outside sound blocking barriers can be made up to 25′ tall and 54″ wide per panel. We add grommets across the top and exterior grade velcro down the edges so you can attach multiple panels together to create a single continuous sound screen. Our QBO Blankets can reduce up to 90% of the noise that attempts to bleed out to adjacent spaces.
These outdoor-rated sound attenuating blankets are made to withstand the weather elements and combat directional noise. We offer several versions of the QBO Blanket, contact us if you have questions or need help selecting the appropriate outdoor noise mitigation blanket for your project.
For non-weatherproof solutions be sure to check out our full line of sound blankets.
Questions?  Call 1-800-638-9355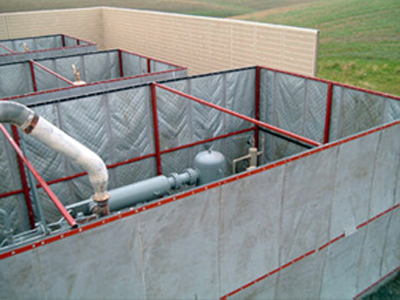 Industrial Noise Barrier for Outdoors
Our QBO Blankets are the perfect solution for outdoor sound abatement projects. They're able to act as a sound barrier for construction sites and to help mitigate noise coming from outdoor industrial equipment such as generators, chillers, compressors, and pumps. We're able to install grommets along the perimeters so they can be easily attached to fences, jersey barriers, scaffolding, or other frameworks. Their heavy-duty construction makes them able to withstand wind loads up to 140 mph and weather the elements for many years.
We have several variations of our QBO Blankets available to meet the needs of your project, whether it be a temporary or permanent application.
Give us a call to discuss your project at 1-800-638-9355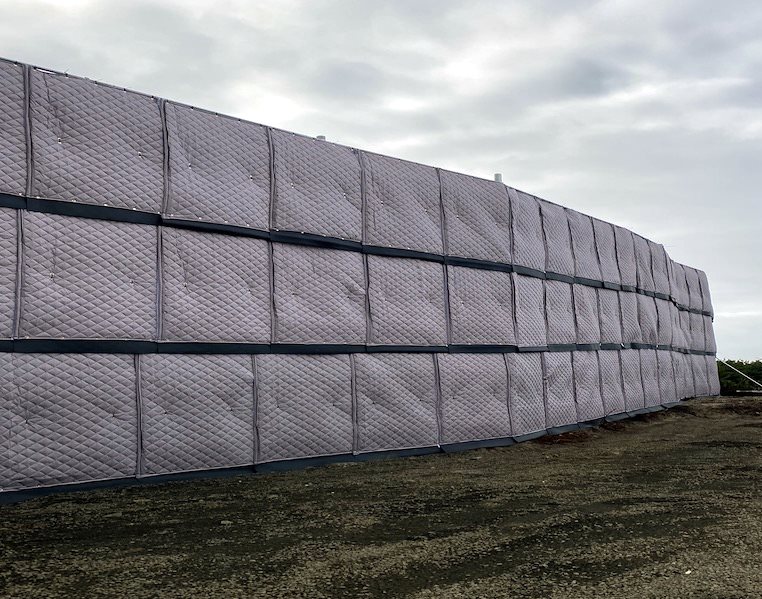 Using Sound Barriers In Residential Areas
For stationary noise sources outside, including generators, pumps, air conditioners, pool pumps, compressors, construction sites, outdoor kennel runs and more, these outdoor sound barrier blankets are the perfect solution to unwanted noise.   The QBO Blankets hold up in the weather and combat the bleed of noise to residential neighbors. They are custom cut to match the cavity size of a frame or fencing system surrounding your noise source, and are easy to attach / detach for ease in maintenance.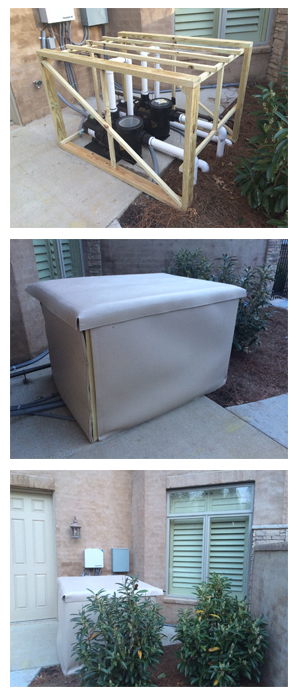 Pricing
QBO Blankets are custom cut to the size you need.  The table rates shown here reflect standard blanket dimensions only and are based on the QBO-2 variant.   Custom sizes are available and will average up to the nearest blanket size/price.  To receive a custom quote, give us a call at 1-800-638-9355 or complete an RFQ at the link above.
Width x Height
QBO-2 Unit Price
QBO Construction
Our QBO Blankets are constructed by bonding a quilted fiberglass sound absorber (1″ or 2″ thick) to a noise barrier treatment (a 1LB or 2LB reinforced version of dB-Bloc). The standard configuration has the noise barrier treatment at 54″ wide while the quilted sound absorber is at 48″ wide, leaving us with room on each side to sew outdoor-rated Velcro allowing you to attach multiple QBO blankets together to create a fully sealed enclosure or one continuous sound screen.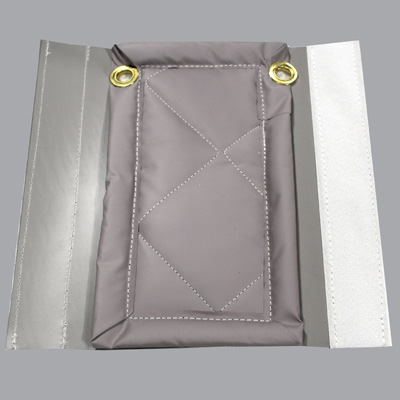 Case Studies
We host a variety of soundproofing projects in our Case Studies Library.  Be sure to check those out for any ideas that may align with your upcoming soundproofing project.   
See Case Studies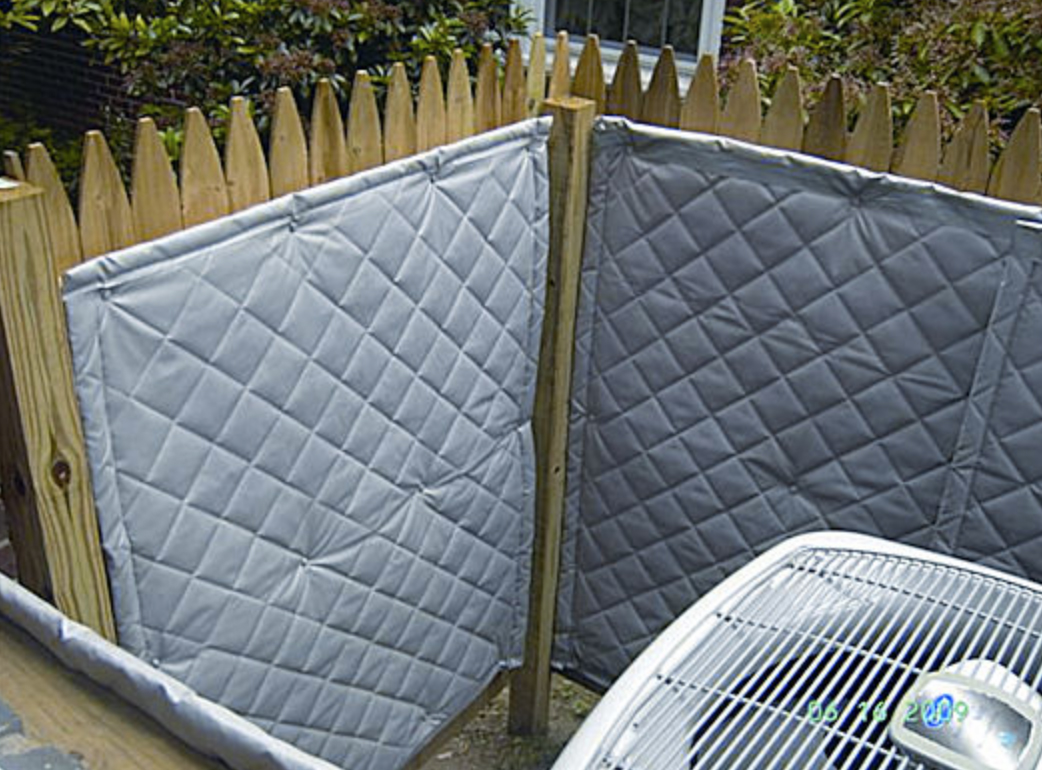 Tips & Techniques
You will need a structure around your stationary outdoor noise source for the QBO Blankets to attach to.  This could be chain link fencing, wood framing, or maybe you have existing walls already built around your noise source.   Simply provide us with your overall dimensions and we will cut a corresponding set of QBO Blankets to match.   The blankets will attach to your frame or wall via the grommets. If attaching to a frame, use cable ties. If attaching to a wall, use screws & washers.  We place velcro on all corner seals & edges where needed for maximum noise attenuating performance.  
Questions?  Call 1-800-638-9355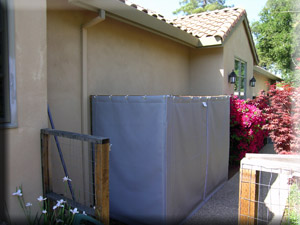 Sound Test Results
Octave Band Frequency (Hz)
Model
125
250
500
1000
2000
4000
STC
NRC
QBO-1
11
16
24
30
35
35
27
.12
.47
.85
.84
.64
.62
.70
QBO-2
13
20
29
40
50
55
32
.07
.27
.96
1.13
1.08
.99
.85
QBO-3
19
25
33
46
53
58
37
.07
.27
.96
1.13
1.08
.99
.85
QBO-Max 1
15
17
28
40
45
52
29
.18
.68
.74
.72
.42
.29
.65
QBO-Max 2
14
20
32
41
42
41
33
.45
.96
.87
.66
.47
.28
.75
QBO-Max 3
18
26
38
48
52
56
38
.18
.68
.74
.72
.42
.29
.65
Spec Sheets
This product is class A fire rated and approved for use in any public venue.
* Test results available upon request
Shipping
QBO Blankets will drop ship to your doorstep, custom sized per your request, and ready to affix to your perimeter structure to combat noise.   The blankets typically ship boxed on pallets by common carrier.   Be sure to inspect your delivery for any possible damage in transit.
Shipping/Receiving
Terms & Conditions