Soundproofing Your Natatorium
Natatoriums are built with hard reflective surfaces that repel moisture. Unfortunately, these same surfaces combine to bounce the echoes around the room, spiking noise levels to uncomfortable decibel levels. As the background noise in the room builds, blurred sound signals result, crowd noise spikes, and the room becomes unfriendly for hosting swimming meets, swim classes, or simple recreational enjoyment for the swimmers. To key to swimming pool soundproofing, the key to making your natatorium or indoor swimming pool more user-friendly, is to target the capture and elimination of the echo in the room.
Questions?  1-800-638-9355
Controlling Swimming Pool Noise
The goal with your soundproofing treatment is to improve the sound quality within your Natatorium by lowering your level of ambient echo. By reducing your background noise, you raise greater clarity to original sound and produce a more user-friendly swimming environment.   This is accomplished by introducing a set of sound panels for swimming pool acoustics that can effectively combine to capture and convert the unwanted echoes out of your room, and deliver back the sound values you are seeking.   Acoustic baffles or panels can be ceiling or wall mounted inside your space, the key to the success of your project is to ensure that you do not under treat the room.   Use the Room Analysis button at the top or bottom of this page to submit your room size, and we will quote your quantities and cost back within 24 hours.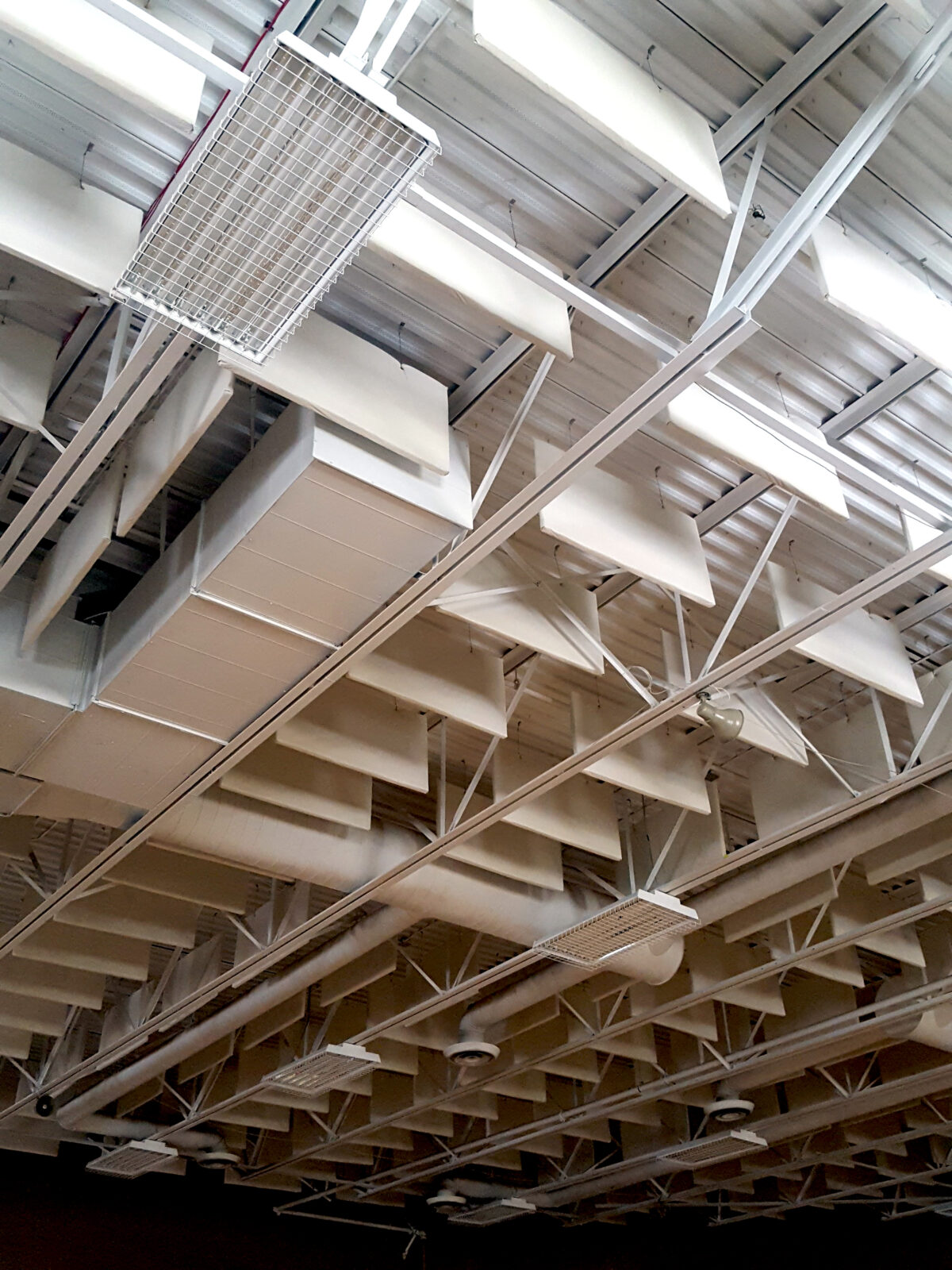 Swimming Pool Sound Panels Reduce Echoes
The most popular sound panel options for a Natatorium are our VET Baffles & VET Panels.   These two treatments are closely related, the difference is the VET Baffle is suspended vertically from the ceiling while the VET Panel is mounted to the upper portion of the perimeter walls.  The VET Baffles & VET Panels are colorful, class A fire rated, and waterproof, which makes them the ideal choice for controlling echoes in a Natatorium. The key to the success of your project is to not under treat the space.   Submit your Room Analysis, and we will define your quantities and quote your project back.   The VET Baffles & VET Panels will deliver with grommets sewn into the top each piece, for easy self-installation on the ceiling or against the upper portion of your walls.
Questions?  Call 1-800-638-9355
See VET Panels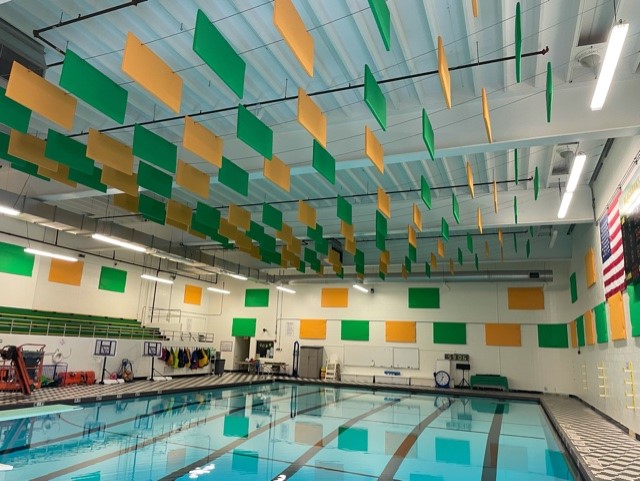 Installing Acoustic Baffles over a Swimming Pool
The VET Baffles suspend vertically from your ceiling.   They come in a standard size of 4' wide x 2' tall and are designed to tuck up inside the exposed joists or cement coffers in your ceiling space.  If your swimming pool is not drained, the best way to install the baffles over open water is to use aircraft cabling & turnbuckles. This method allows you to attach the baffles to the cabling while on the ground, and once a section is assembled you hoist the cabling into the air and anchor the cabling/turnbuckles to the walls. Alternatively, you can anchor the cabling first. Once the cable is in place you simply zip tie the baffles to the cabling and slide the baffles into position using an extension pole. Feel free to contact us if you have questions regarding installation.
Questions? Call us at 1-800-638-9355
See VET Baffles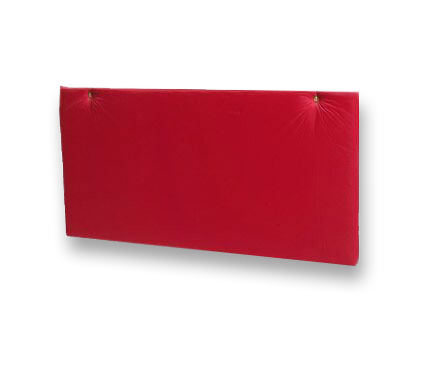 Why Natatoriums Love Our VET Panels

VET Panels are class A fire rated, waterproof, colorful, easy to self-install and combine to produce the absorption coefficients you need to create a more user friendly space.   For some swimming pool applications, hanging VET Panels around the perimeter walls of your room is often an easier installation than hanging VET Baffles over the water. Whether you choose to go with our VET Baffles or VET Panels, we highly recommend upgrading the standard nickel grommets to stainless steel to protect them from corrosion. Contact us for pricing.
Questions?  Call 1-800-638-9355
See VET Panels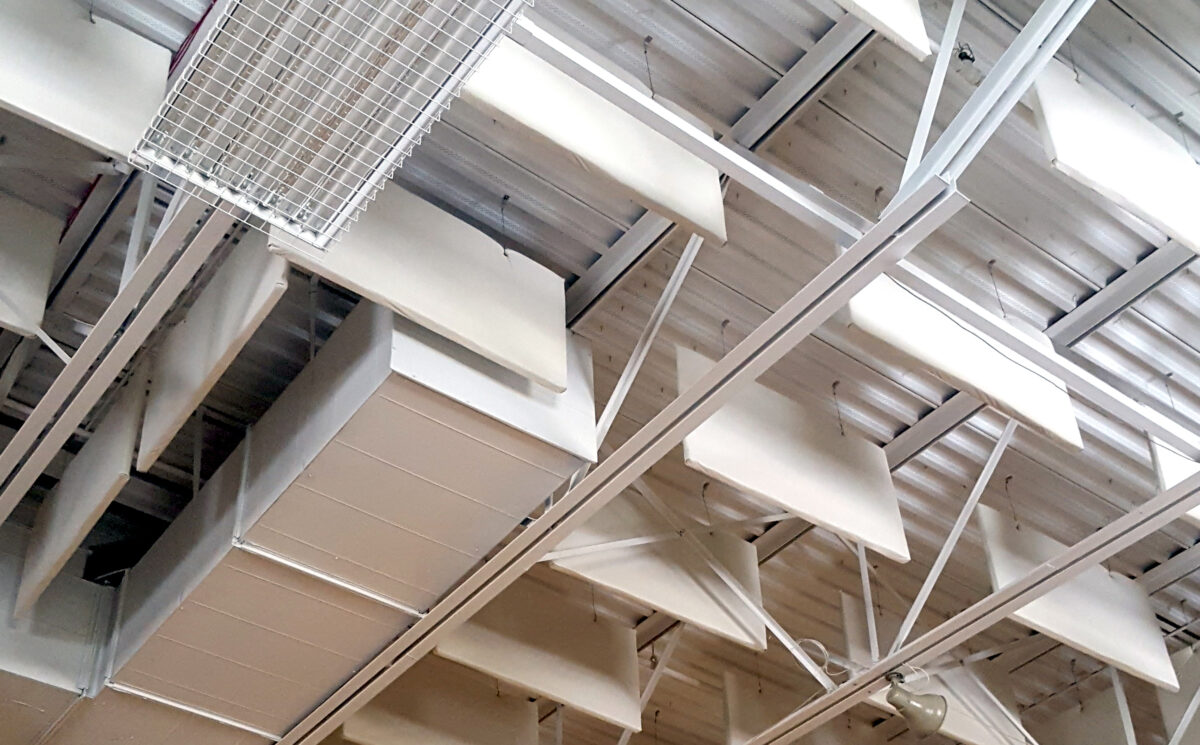 Your Next Steps:
Measure Your Natatorium
We need the cubic footage of your space. Measure your room's length, width, and height.
Submit Room Analysis
Use the button at the top or bottom of this page to submit your room's dimensions.
Approve the Quote
We will define the framework for your treatment and submit back your quote for approval.
Self Install
Your sound panels will drop ship to your doorstep.  Our treatments are cost effective, and designed for self-installation.
Case Study Listings
We built our Case Studies library to showcase the variety of sound panel projects that NetWell gets involved with.   Take the time to peruse through this list of recent soundproofing clients, check the images and testimonials, and call our help desk for any questions that might generate from your visit!
Questions?  Call 1-800-638-9355
See Case Studies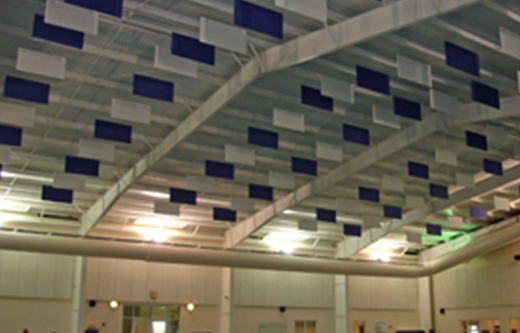 Natatorium Sound Control:  Q&A
How to Design a New Natatorium for Premium Sound Quality
Natatorium designs must start with hard, reflective, moisture-proof surfaces. Non-parallel sets of walls and angled ceiling surfaces are rare in a natatorium, but they would help with scattering sound wave reflections to break up standing sound waves. Adding a set of wall or ceiling mounted acoustic panels to the space will absorb the echoes in the room and repel moisture.
How to Soundproof an Existing Natatorium
Swimming pool soundproofing can be placed around the perimeter walls or ceiling. These acoustical panels will capture the echoes from the space and deliver premium sound values.  The location of the sound panels is unimportant as long as the right amount of product is introduced into the space.
The Adverse Effects Noise Can Have on the Learning Environment in a Natatorium
Without soundproofing a natatorium, echoes will bounce around the space and blur original sound signals. This threatens communication between lifeguards, teachers, coaches and parents and contributes to unwelcome levels of crowd noise. Once the swimming pool room is properly treated for sound control, the space becomes far more safe, functional and user-friendly.
How Noise Can Prove to Be a Safety Hazard Inside a Natatorium
Blurred sound signals can prove to be a safety hazard if your natatorium goes untreated. If a swimmer is in trouble and the lifeguard, parent or coach is unable to hear their distress, there could be a delay in response times. It is far better to protect the swimmers by investing in sound panels for swimming pool acoustics.
How to Control Noise in High-Moisture Environments
Sound panels can be wall or ceiling mounted in high-moisture environments. The panels will absorb the echoes in the space and deliver lower levels of background noise for a more comfortable environment. Swimming pool acoustics will require sound panels that are encapsulated in a moisture-protective skin. See our VET Baffles for more information.
How to Control Pool Pump Noise
Pool pumps are loud, stationary sources of noise. They can be enclosed within sound barrier blanket systems designed to shut down and decrease exposure to noise. Noise exposure levels can be diminished by up to 80% due to the enclosure of the pump. For indoor pool noise reduction, see our QBS sound barrier blankets. For soundproofing outdoor pool pumps, see our QBO sound barrier blankets.
How Many Sound Panels Does a Natatorium Need, and Where Should You Place Them?
Swimming pool soundproofing can be wall or ceiling mounted inside your room. The key to success is to ensure the space is not undertreated. Your overall sound panel count will depend on the size, shape and surface textures of your natatorium. Call our help desk at 1-800-638-9355 or use our Room Analysis tool to submit your room dimensions. We will calculate your coverage amounts for you.
What Are the Benefits of Using NetWell's Sound Panels in a Natatorium?
By controlling excessive sound wave reverberations in your natatorium, you'll lower your background noise and improve swimming pool acoustics. The sound panels will enhance speech clarity, communication and user-friendliness for teachers, coaches and lifeguards. It will also decrease crowd noise during swim meets. The bottom line is to produce a more functional, safe and user-friendly space for all recreational, instructional or competitive swim events.
Sign Up for StartSmart
StartSmart for Natatorium Noise
Cost control plays a key role in your decision making process.   Controlling noise starts with brining the project in within budget.   To help our clients, we built a simple email messaging series that teaches them how to better control the costs associated with their upcoming soundproofing project.   The program is free, and very popular with our clients. Sign up today!