Sound Absorbing Blankets
QB Blankets are an extension to the QB Baffles, just cut to longer sections up to 25' in length and hung against perimeter walls inside a loud factory setting.   The sound absorbing blankets look just like the heavier QBS Blankets, but lack the dB-Bloc membrane lined inside the quilt, making the QB Blanket an absorption only treatment.
If you're looking to mitigate sound bleed through the blanket, you will need the QBS Blanket, which acts as a sound barrier treatment.   If you want to absorb echoes off a wall, then the QB Blanket is the correct choice.
Questions?  Call 1-800-638-9355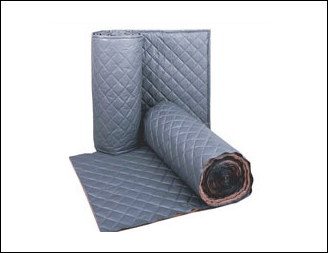 The Right Solution
QB Blankets are an excellent alternative for sound absorption to the standard acoustic foam panel that you might typically find in an industrial setting.    These sound absorbing blankets are more durable, equal in cost, and available in 4 colors.  
The standard QB-2 model contains a 2″ thick fiberglass core, designed to absorb unwanted industrial and/or other unwanted sound sources.    We also have a QB-4 model which consists of a 4″ thick core and provides higher levels of absorption. Consider complimenting their installation with a set of QB Baffles suspended vertically from an exposed joist ceiling.     
See QB Baffles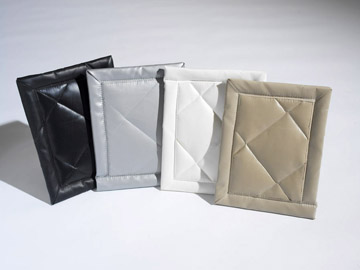 Pricing
QB Blanket reference prices shown here are based on the QB-2 model.  Please contact us for pricing on the QB-4 model. Custom size blanket dimensions are available upon request by calling our help desk at 1-800-638-9355.
Absorbing Echoes
A reminder that the QB Blankets lack the density of the dB-Bloc lining.  These are sound absorbing quilts only, designed to capture and convert echoes out of a room, much like an acoustic panel system would.   If your intent is to actually "block" noise from passing through, opt for the QBS Blankets instead.

Questions?  Call 1-800-638-9355
See QBS Blankets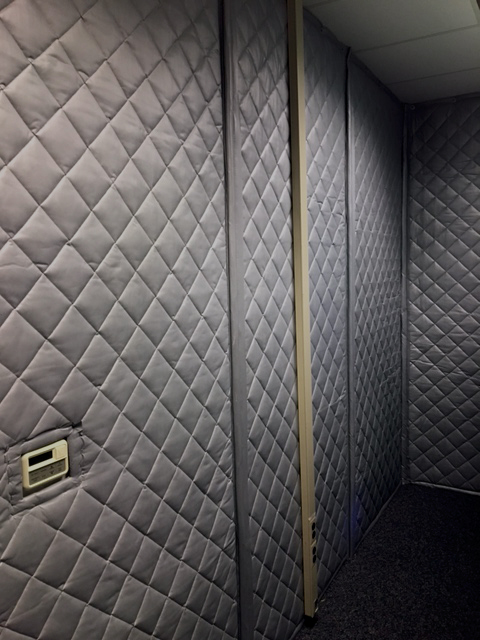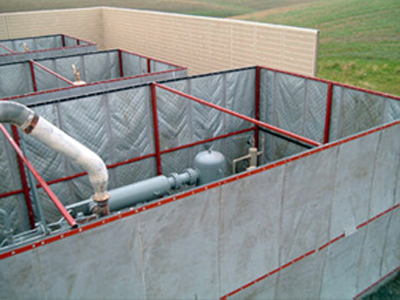 Sound Test Results
Octave Band Frequency (Hz)
QB-2
.19
.99
.96
.80
.57
.33
.85
QB-4
.38
.98
1.10
1.08
.96
.52
1.05
Spec Sheets
This product is class A fire rated and approved for use in any public venue.
* Test results available upon request
Shipping
QB Blankets are packaged and shipped in boxes shrunk wrap on a pallet.   Depending on the size of your order, the blankets will typically ship via common carrier direct to your project site.
Questions?  Call 1-800-638-9355
Shipping/Receiving
Terms & Conditions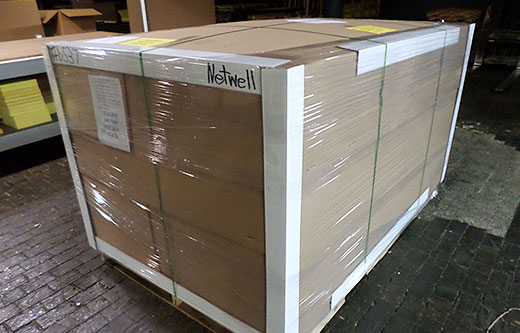 Before You Get Started…
NetWell prides itself on being a teaching website. Yes, our goal is to help you solve your noise issues, but just as important is to help you understand how to do it, and do so cost effectively. The support tools below are built for you to help you better understand the art of sound control. We look forward to working with you, and delivering back a more user-friendly space.