Industrial Sound Baffles
Poly Baffles are low-cost, industrial-type Sound Baffles designed as ceiling absorbers for use in large industrial plant applications. These acoustic baffles come in a standard size of 4′ wide x 2′ tall and are heat-sealed in a thin polyethylene film skin. They are available in two color options – black or white.
Poly Baffles hang vertically from the ceiling and are ideal for reducing excessive background noise caused by echo and reverberation in large industrial-type buildings, such as manufacturing facilities, warehouses, fulfillment & distribution centers, etc.
Questions?  Call 1-800-638-9355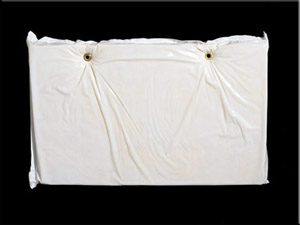 The Right Solution
The economical poly skin used on our Poly Baffles provides our clients the ability to purchase them in large quantities while controlling their unit cost. They are not as aesthetically pleasing as our VET baffles, but they combine to yield tremendous absorption values and can be easily and inexpensively replaced if they ever get damaged. The thin poly film is heat-sealed at the edges, making them moisture-resistant.
These industrial soundproofing baffles include grommets in the upper two corners for easy vertical suspension. Hang them in rows and columns above the footprint of your loudest factory sound sources or spread evenly across the expanse of the ceiling. Position them in a checkerboard pattern above your lighting, and be mindful to avoid sprinkler heads.
See Case Studies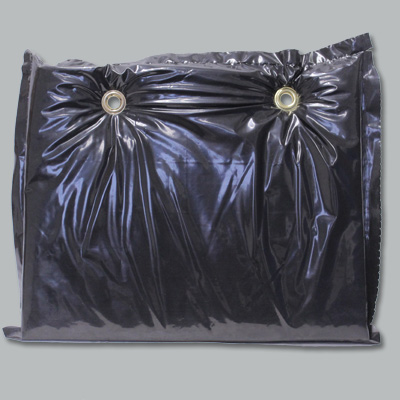 Pricing
Poly Baffle pricing is shown here. Panel dimensions are 4' wide x 2' tall x 1.5" thick and are available in either Black or White.
For questions, call our help desk at 1-800-638-9355.
Related Soundproofing Products
The upgrade option to the Poly Baffle is NetWell's VET Baffle which is similar in function, however, is a more durable & aesthetically pleasing product due to the PVC skin that is used to encapsulate the core. Both products are Class A and moisture-resistant.  VET Acoustic Baffles are a more popular option when appearance & longevity matter.
See VET Baffles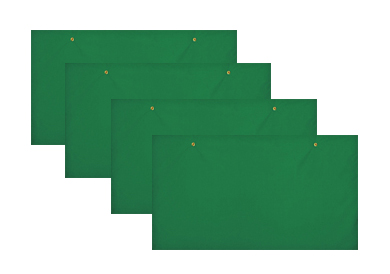 Tips & Techniques
When it comes to installing sound-absorbing Poly Baffles, the best practice is to distribute the baffles across the expanse of your ceiling in a checkerboard pattern to capture sound waves coming from multiple directions. The biggest factor in making sure your acoustic treatment is effective, is to avoid undertreating your space. The quantity recommended is based on the overall dimensions & surface finishes of your space, so make sure to submit a Room Analysis request so we can run the numbers and provide a recommendation. The baffles will deliver with grommets placed in the top 2 corners, simply thread your own wire or plastic zip ties through the grommets and secure them to the ceiling with your hardware of choice. When combined, they will deliver the noise reduction coefficients you need to lower the echo & reverberation inside your space.
Questions?  Call 1-800-638-9355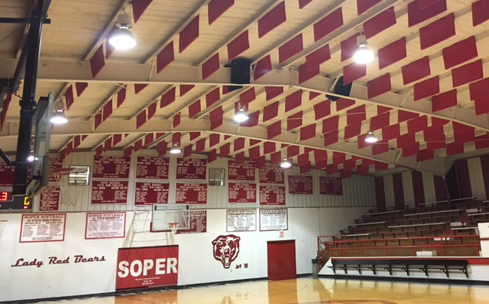 Sound Test Results
Frequency
125
250
500
1k
2k
4k
Sabins
1.5"
2.1
6.5
10.7
14.1
12.7
8.1
11
Spec Sheet
This product is class A fire rated and approved for use in any public venue.
* Test results available upon request
Shipping
By design, NetWell's Sound Baffles are lightweight and easy to handle. However, baffles are bulky and take up dimensional space in a truck. For smaller orders, Fedex can deliver straight to your doorstep. For larger quantities, baffles are boxed and palletized. While 100% of the baffles leave our facilities in perfect condition, there are times when larger baffle orders can get jostled en route. Be sure to inspect your baffles upon delivery and notify our office if any baffles are damaged by the freight carrier. This is a rare circumstance, but it's a good idea to inspect them carefully, just in case. We will replace damaged baffles so long as you signed for them as such.
Shipping/Receiving
Terms & Conditions