Improving School Acoustics
The goal with every school soundproofing project we undertake is to produce a healthier learning environment and reduced noise pollution in schools.   Poor quality sound will deter the student's ability to learn, and the teacher's ability to communicate effectively.   Performance standards drop as the user-friendliness of your space is compromised.   From band rooms to classrooms, from gym space to your auditorium or cafeteria, our goal is to reduce noise pollution in schools by delivering premium soundproofing options and creating the educational environment your students deserve.
Questions?   1-800-638-9355
Reduce Echoes | Improve Learning
Use our sound panel systems to clean your classroom acoustically.   Capture and convert the background sounds that blur your sound signals.  Premium sound quality delivers more effective teachers, stronger grades and happier kids.  There is nothing more deflating than a room filled with talented students, whose grades suffer due to high noise pollution in schools and poor sound quality.  Sound panels will maximize their chances to succeed.  Drop the echoes and help them listen, help them learn, help them grow.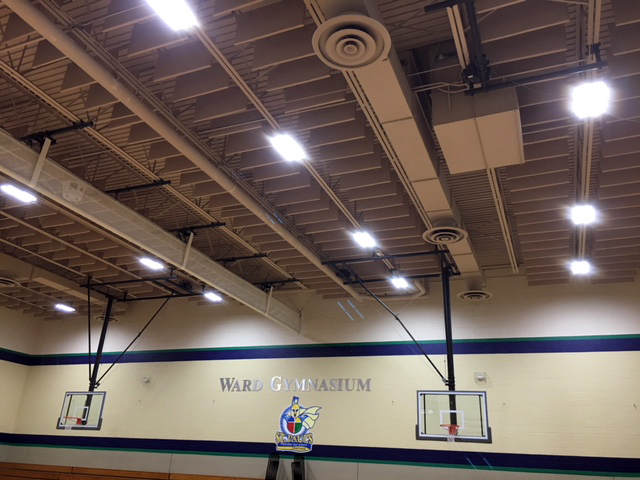 Acoustic Panels For Your School
One of the most popular ways to reduce noise pollution in schools is our cloth wrapped acoustic Fabric Panels. These panels will combine to absorb the echoes in your cafeteria, collapsing your levels of background noise, and restoring the room to premium sound quality. These soundproofing panels are available in 60 color options, and are designed to be flush mounted to perimeter walls or ceilings inside your room. The key to a successful treatment lies in our Room Analysis. It is there that we will gather your room's dimensions, and define the square footage totals you should be targeting for your project.
See Fabric Panel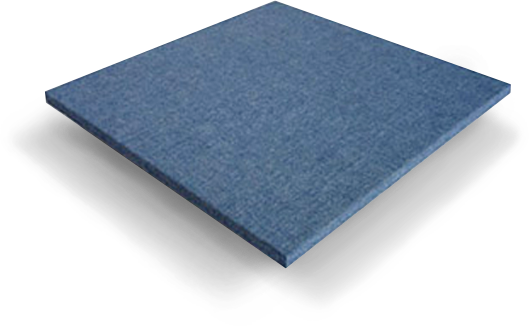 Sound Panels for Noisy Classrooms
We could upgrade the Fabric Panel and make it tackable for kids to tack seasonal projects up to the perimeter walls in the room. These are called FabricTack Panels. We could also upgrade the Fabric Panel to a PicturePanel, which allows us to print school logos, graphics, artwork and photography onto the face of the panels. For clients with exposed joist metal deck ceilings, we could also switch the product out for a set of VET Baffles. These are sound baffles that hang vertically between the rows of joists, and combine to produce the same values as the Fabric Panels. Any of these sound panel options will produce the sound values you are seeking, so long as the quantities are accurate. Use our Room Analysis tool below to determine your coverage amounts.
Why Schools Love The Fabric Soundproofing Panel
Fabric Panels are class A fire rated sound panels. They are decorative, durable, easy to self-install, available in 60 colors, and can be upgraded to double as bulletin boards or have graphics printed onto them. They can be placed as you wish around the room's perimeter, wall or ceiling mounted, evenly dispersed with nice site lines, and will combine to control the echoes in your room. When it comes to cafeteria sound panels, this is the most popular product that we've sold for over 25 years
See Fabric Panel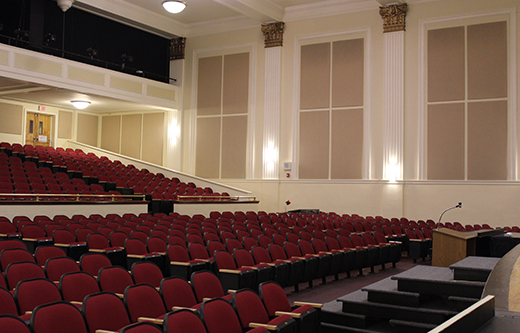 Your Four Steps to Quiet:
Measure Your Room
We need the cubic footage of your space. Measure your room's length, width, and height.
Submit Room Analysis
Use the button at the top or bottom of this page to submit your room's dimensions.
Approve the Quote
We will define the framework for your treatment and submit back your quote for approval.
Self Install
Your sound panels will drop ship to your doorstep.  Our treatments are cost effective, and designed for self-installation.
Case Study
For more than 25 years we have been diagnosing sound panel treatments and delivering premium quality to tens of thousands of satisfied clients. Our Case Studies library showcases a variety of recent sound panel projects that you may enjoy reviewing in preparation for your upcoming sound panel treatment to your Auditorium.
See Case Study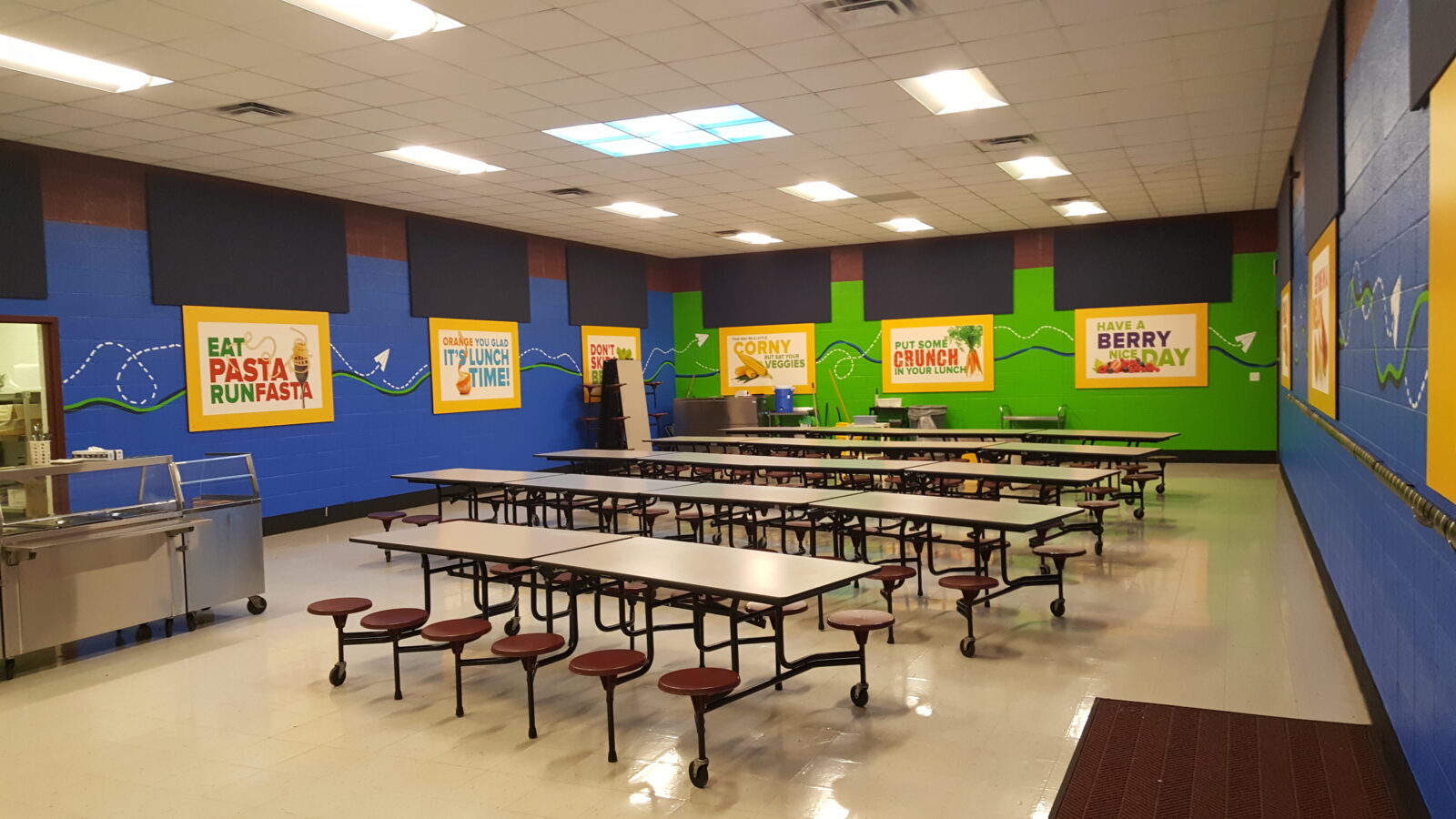 School Soundproofing:  Q&A
How Architects Should Design New School Buildings for Premium Sound Quality
Schools are built for safety and cleanliness. Hard, reflective surfaces line the hallways, classrooms, gymnasiums, auditoriums, offices, music rooms, cafeterias and more. As a result of these highly reflective textures, sound waves will bounce around all of these spaces for extended periods of time. As the background noise builds, the rooms in the school become less functional, and the learning environment becomes compromised. School soundproofing must be introduced to offset any negative noise caused by the hardened surfaces. Sound panels will capture the echoes, lower the background noise and increase the sound quality. The noise reduction will improve the learning environment for every student.
How Poor Classroom Acoustics Affect Grades and Teacher Performance
Classrooms are typically built with hard, reflective surfaces that make the room easy to clean. However, the echoes that are caused by these surfaces compromise the learning environment by spiking noise levels and blurring sound signals from the teacher. As a result, teacher performance becomes compromised and creates a potential collapse in grades. Care should be given to soundproofing a classroom to ensure that premium sound quality is preserved.
Why a Positive Learning Environment Should Include Acoustic Panels
A positive learning environment stems from quality sound for vocal instruction. If the room is filled with too much background noise, the original sound signals become blurred. To restore the sound, acoustic panels can be wall or ceiling mounted to effectively capture echoes. Soundproofing for schools is a must; your effort will help deliver the premium sound quality that's required for a safe and positive learning environment.
How to Control Noise Exposure Levels in a School
By introducing a set of sound panels into your classroom, hallway, office, auditorium, music room, gymnasium, natatorium, cafeteria or auditorium, you'll effectively capture the sound wave reflections that would otherwise cause acoustic distortion. This will generate better sound quality, lower crowd noise and a more functional space. Soundproofing a school with acoustic panels improves the learning environment for the students and the teachers.
How to Soundproof a School Gymnasium
To properly soundproof a gym, you'll need to install a set of wall or ceiling mounted sound panels. This will effectively capture and convert echoes, lower the level of background noise and restore original sound to your gym space.  The echoes will disappear, the gym will sound great.   See Gym Soundproofing
How to Soundproof a Classroom
Classroom noise control involves installing a set of wall or ceiling mounted sound panels designed to capture the unwelcome echoes in the room. It's a must for any productive and healthy learning environment.   See Classroom Soundproofing
How to Soundproof a School Cafeteria
Cafeteria noise is caused by hard, reflective surfaces that force noise to bounce around the room. As students gather, their voices reflect off of these surfaces and spike noise to uncomfortable levels. By introducing school soundproofing, the echoes can be caught and captured, which will reduce the background noise and generate a more calm and peaceful environment for the students.   See Cafeteria Soundproofing
How to Soundproof a School Music Room
Acoustical panels can be retrofitted into a music room for the purpose of capturing sound wave reverberations. What remains is lower levels of background noise, greater sound clarity, a healthier teaching environment and hearing protection for the musicians. Soundproofing for schools can be placed where you wish as long as they are wall or ceiling mounted.   See Music Room Soundproofing
What Are the Benefits of Using Sound Panels in Your School?
Sound panels reduce noise pollution in schools as well as deliver a healthier learning environment for students and a healthier teaching environment for teachers. By investing in school soundproofing, you are investing in the future success of your student body.
Sign Up
StartSmart for Schools
Many of our clients enjoy this simple, easy to read email course that teaches you how to control the costs associated with your upcoming noise control project. Filled with insider tips and techniques of the sound panel trade, we pass the knowledge on to our clients in hopes to control their costs as well as their noise. Sign up today and get started!