Sound Baffles
Sound baffles suspend vertically in rows and columns spread out across the expanse of your ceiling. These acoustic baffles can help stop echoes, minimize noise pollution, and reduce reverberation. The typical treatment is to tuck sound baffles up inside the cavity spaces between exposed joists in an open deck ceiling.   If your ceiling is flat, space the panels evenly between the joists, setting them side-by-side like dominoes, average 3-4′ off center from one another.   If your ceiling is vaulted, with a center peak, then place the acoustic baffles all parallel to the spline of the ceiling in order to maximize their ability to capture and convert the echoes out of the room.
The VET Baffles are the most popular of all our sound baffles as they are the least costly, the strongest absorbing, class A fire rated, waterproof, easy to self install, and are available in 25 colors.   These decorative acoustic sound baffles can absorb up to 80% of the unwanted echoes in your space, but the key to the success of your upcoming soundproofing treatment is to ensure that we will be shipping the correct amount of these acoustic baffles to your doorstep based on the size, shape and surface textures of your room.  The other sound baffles in our system also work great to control noise, but will represent different price points or cosmetic presentations to your space.  In any case, acoustic sound baffles offer an ideal way to capture and convert the unwelcome echoes from your space to produce the premium sound values you are seeking.   If you need help with product selection or running baffle counts for your upcoming soundproofing project, please reach back to our help desk.
Need help finding the right product for your space? Call our help desk at 1-800-638-9355.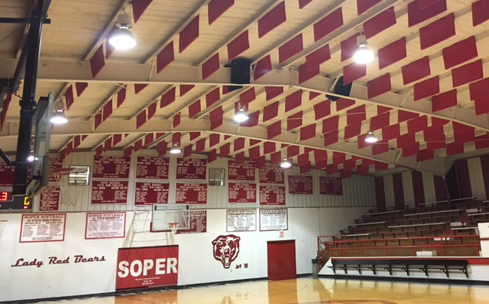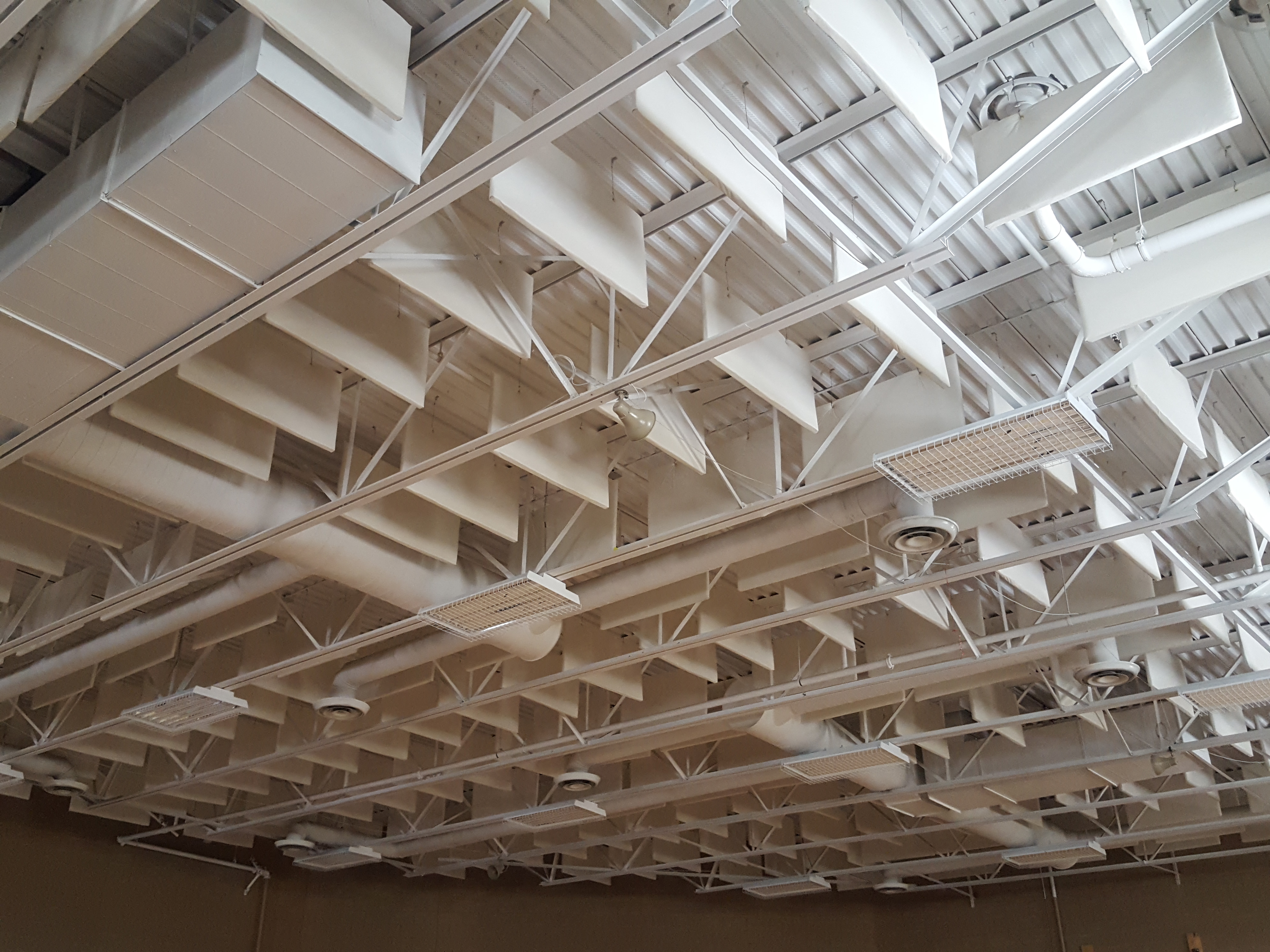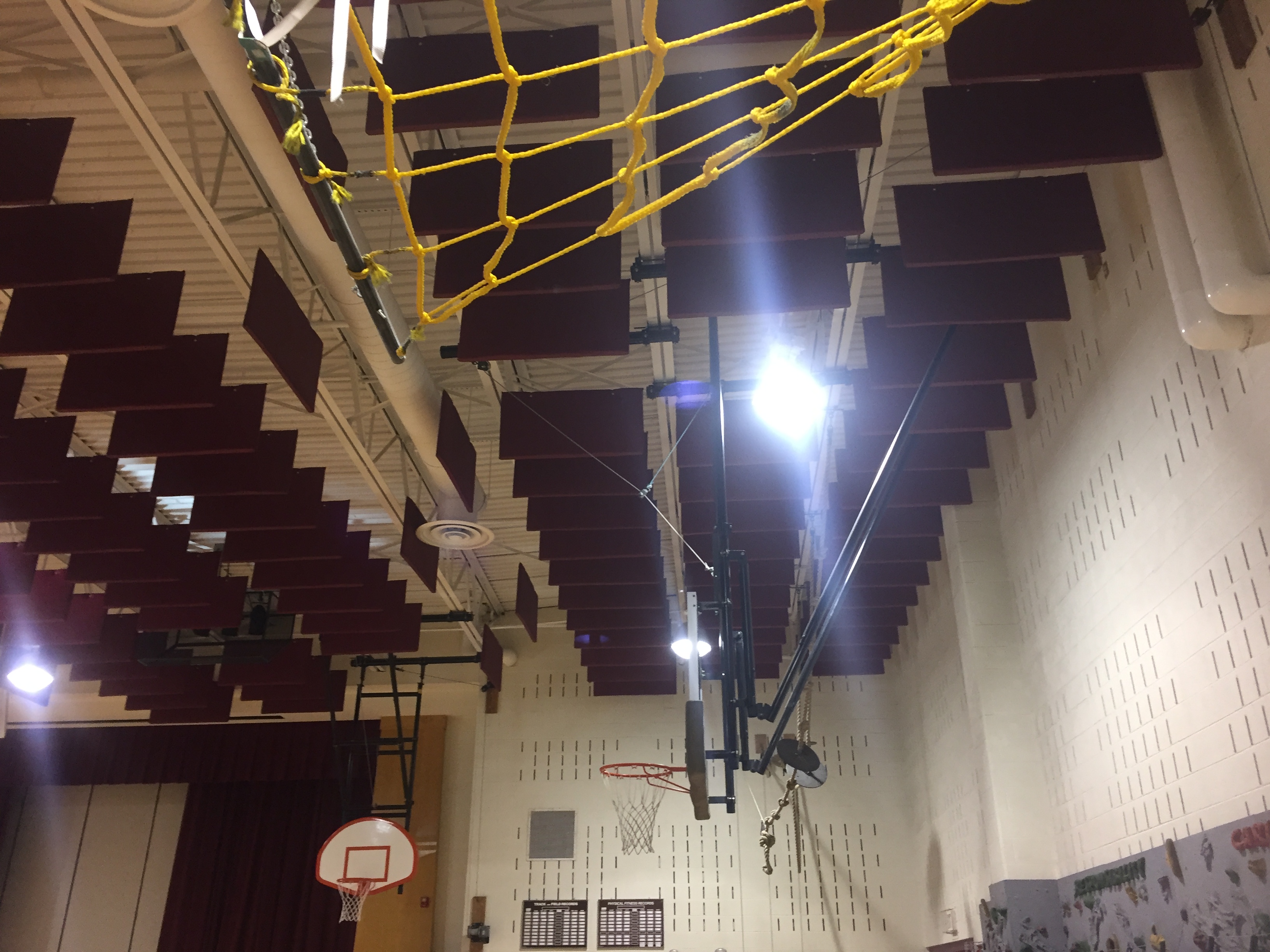 VET Baffles
The most popular sound baffle we sell, VET Baffles are easy to install and one of the most affordable ways to control excessive reverberations in your space and create the sound quality you are seeking.  From gymnasiums to industrial plants, these decorative and affordable acoustic sound baffles suspend vertically from your ceiling and will capture and convert the unwelcome echoes from our space.   The sound baffle treatment will lower your background noise, and generate a more user friendly and functional environment.
Fabric Baffles
Fabric Baffles are a colorful acoustic baffle option that hang from the ceiling in gymnasiums and auditoriums. They come in a variety of colors that are cloth wrapped on both sides to reduce background noise.   The sound performance value of these decorative sound baffles match to the same values of our popular VET Baffles, but offer the upgrade of having the baffles wrapped in upholstered cloth.   Ideal for higher end office, auditorium, theater, atrium and lobby soundproofing applications.   These acoustic baffles offer an ideal compliment to their sister Fabric Panels that can flush mounted to perimeter walls.
FireFlex Baffles
FireFlex noise reduction baffles are designed to both capture and convert unwanted echoes to transfer back high quality sound. These sound baffles anchor mechanically to your ceiling and are evenly distributed for optimal echo reduction.   Most of the soundproofing treatments that opt for these acoustic baffles are industrial clients targeting lower exposure levels to factory noise.