How to Soundproof a Classroom
Classroom settings are notoriously loud. Most are built with hard, reflective, washable surfaces that are ideal for keeping clean and tidy, but terrible for bouncing noise. As the students assemble and their voices carry, the echoes off these surfaces begin to interfere with blur sound signals.  Communications become strained, as the teaching/learning environment is threatened with poor room acoustics. Test scores can collapse if students find it difficult to hear. Teachers grow exhausted and become less effective due to the echoes in the room.
We show you how to successfully soundproof a classroom, reduce echoes, and produce high sound quality using fabric acoustic panels and ceiling clouds.
Questions?  1-800-638-9355
Reducing Classroom Noise with Sound Panels
When sound panels are introduced into a Classroom setting, the echoes are caught and captured.   As the background noise subsides, as the crowd noise dies back, what is restored is greater clarity to original sound.   Ease in communication is returned as the Classroom setting becomes the healthier learning environment you are seeking.   It is all about control of the echoes, and our sound panels will deliver the values back you are seeking.  
The key to the success of your treatment lies in our Room Analysis, where we ask for the dimensions of your Classroom, and in return define the quantities/quote you will need to ensure the sound values are met.   Our goal is be sure we do not under treat  your space.
Questions?  Call 1-800-638-9355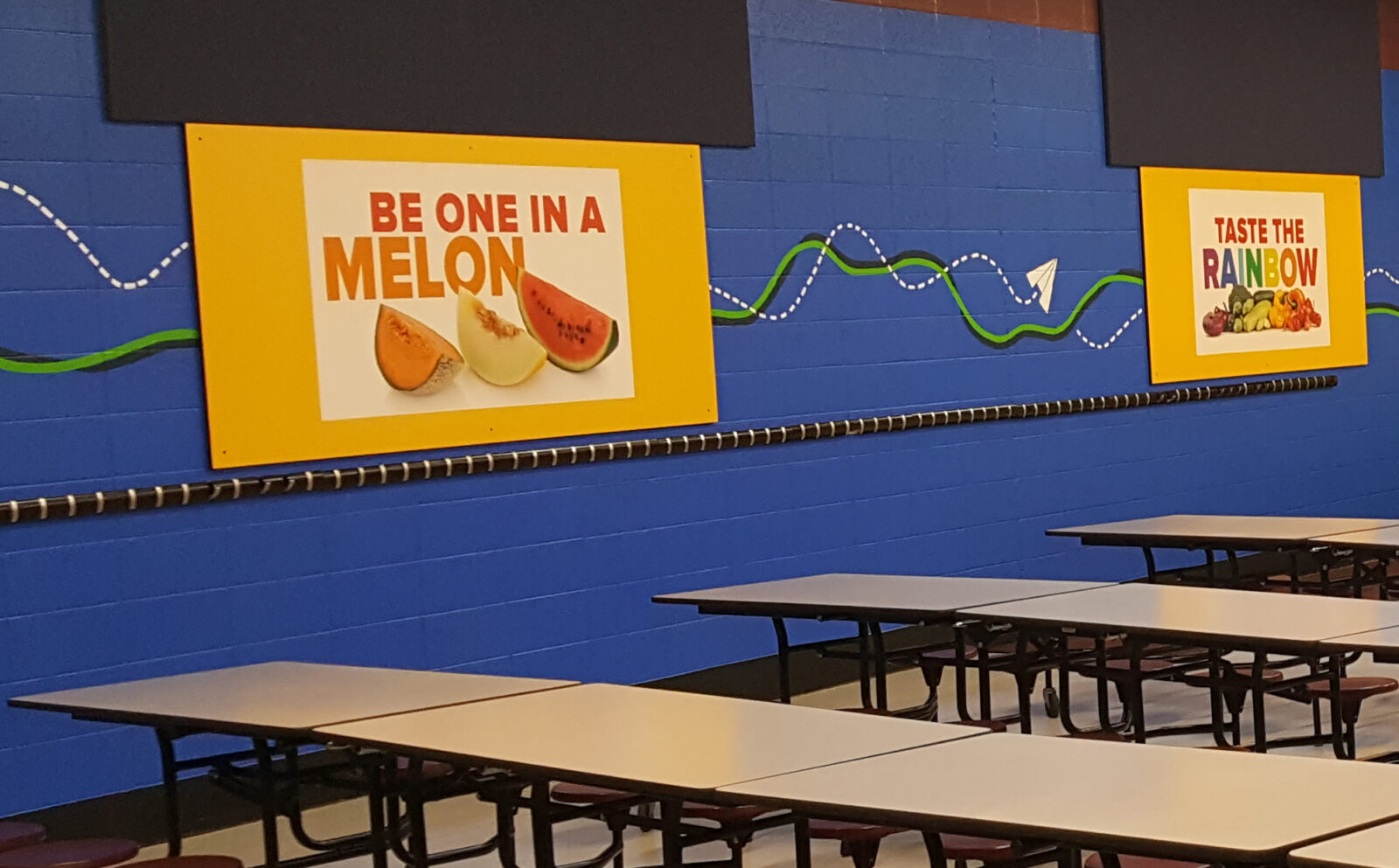 Choosing the Right Sound Panels for Your Classroom
For soundproofing your Classroom, we recommend a set of decorative, colorful sound panels called Fabric Panels.   These are class A fire rated sound panels that offer premium sound absorption values.  The panels are portable, durable, made available in 60 color options, and are shipped with the clip system you need to easily surface mount them to the perimeter wall or ceiling surfaces inside your Classroom.   Location matters not, what does matter is getting the right amount of panel delivered to your doorstep.
See Fabric Panel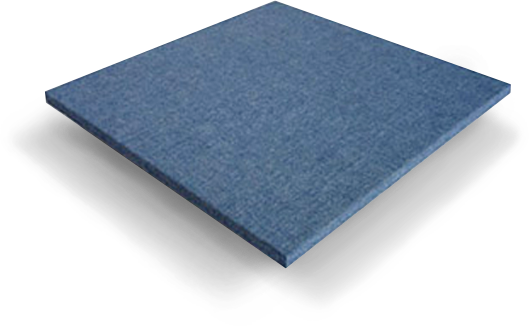 Other Sound Panel Options for a Classroom
One popular upgrade for a Classroom setting is our FabricTack Sound Panels. These are the same panel as our standard Fabric Panel, but they also double as a bulletin board. Students can use the boards to pin up their seasonal art projects. Teachers can use the boards to pin up announcements and seasonal messages.  
Another popular alternative is to "float" the sound panels off your ceiling, and leave your walls as they are.   This popular product option is called a Ceiling Cloud.

Why Fabric Panels are a Perfect Fit for Classroom Acoustics
For more than 25 years NetWell has been prescribing sound panel treatments mostly to the school, church and restaurant markets in America. By far, the most popular treatment is our Fabric Panels.   They look great, sound great, are easy to install, they do not degrade over time, and they deliver premium sound quality back for your Classroom.
Fabric Panels are the ideal choice for controlling your noise, and providing the learning environment you are hoping for. 
Questions?  Call 1-800-638-9355
See Fabric Panel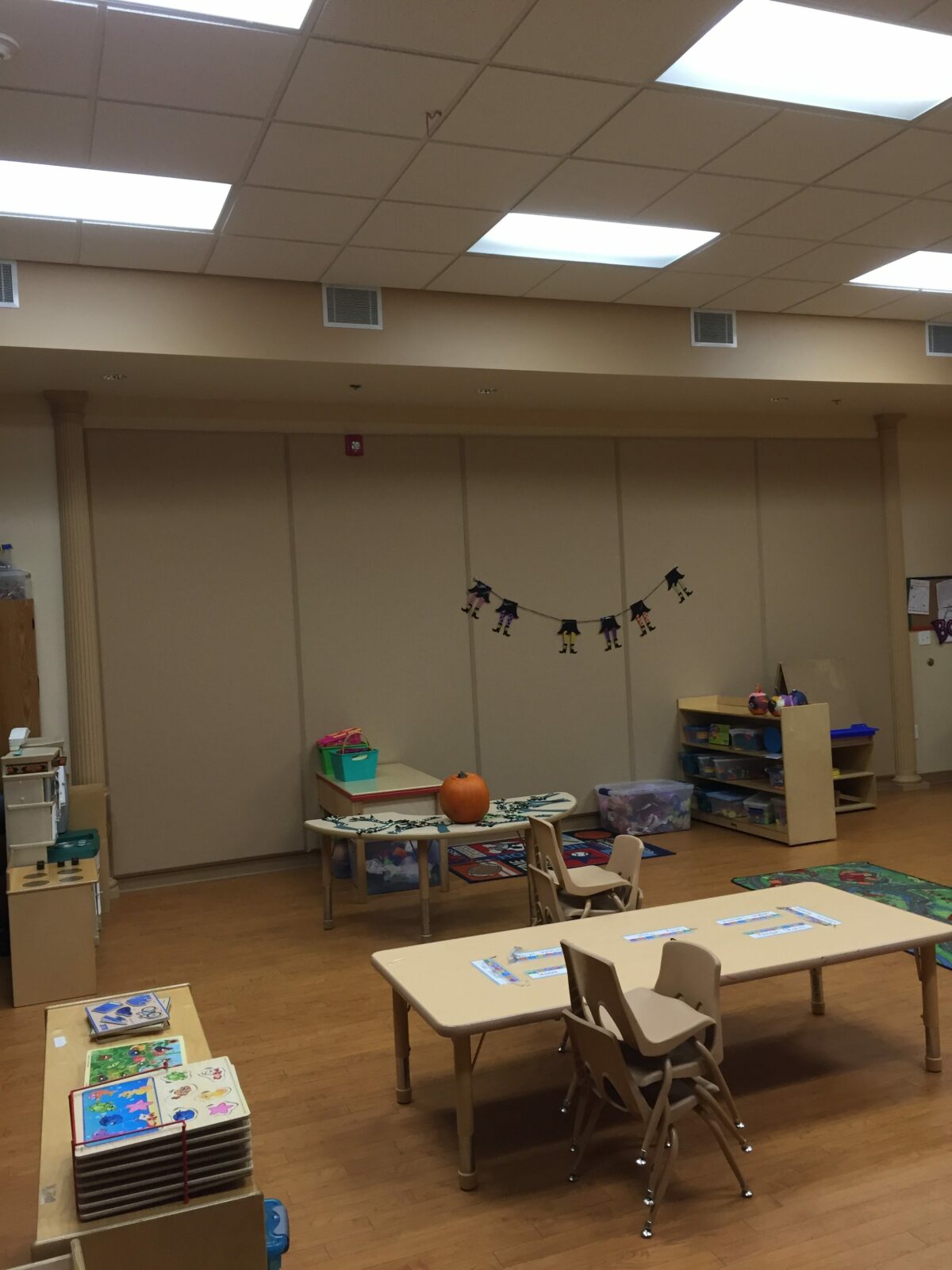 Four Steps to a Quiet Classroom:
Measure Your Classroom
We need the cubic footage of your space. Measure your room's length, width, and height.
Submit Room Analysis
Use the button at the top or bottom of this page to submit your room's dimensions.
Approve the Quote
We will define the framework for your treatment and submit back your quote for approval.
Self Install
Your sound panels will drop ship to your doorstep.  Our treatments are cost effective, and designed for self-installation.
Sound Panel Case Studies
There are a variety of sound panel treatments that we display in our Case Studies Library.   Be sure to check it out.   Here we showcase dozens of sound panel projects recently completed, to help illustrate for you what a sound panel system might look like, and witness testimony from our clients.
See Case Studies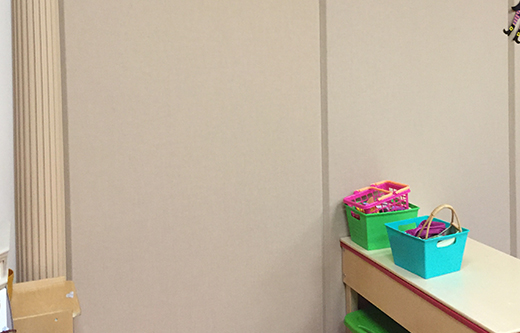 Classroom Soundproofing:  Q&A
How to design a new Classroom for premium sound quality
Classrooms are typically designed for the purpose of cleanliness and durability. Because of this, they have hard VCT tile floors, painted sheet rock walls, and a hard sheet rock ceiling. These materials create notoriously loud classrooms due to the echoes that reflect around the room.  If you're designing a new room, it's important to consider classroom soundproofing that will capture and convert the echoes.  Placing sound panels around perimeter walls or ceiling surfaces will combine to convert the echoes out of the classroom, to restore the room to premium sound quality and a healthier learning environment.   Our most popular acoustic panel option, Fabric Panels, are portable, durable and easy to self-install.
How to soundproof an existing Classroom
NetWell has three different sound panel options that work great for classrooms. Our Fabric Panels are an easy, self-install option that comes in 60 different colors. They are also class A fire rated, decorative and durable.  Call our help desk to determine coverage amounts appropriate for your project based on the size of your classroom.  For a popular upgrade, you can get the tackable version, our FabricTack Panel, which doubles as a bulletin board and a sound panel.  You can pin announcements, art projects or any messaging you wish whlie also quieting the classroom.  Another alternative is our Ceiling Clouds, a soundproof treatment that "floats" from your ceiling and keeps your sound panels up and out of the way of the students.  Placement of your sound panels is regardless, so long as you target the appropriate amount of material.  The goal is to not under treat the room.
What impact does Classroom noise have on student performance?
Because classrooms are made with hard, reflective surfaces, they make it easy for background noise to bounce around. As the students assemble, their voices travel and create echoes within the space. This strains the communication between the teacher and students, making learning difficult. Without knowing how to soundproof a classroom, student performance will decrease due to excessive noise and lack of sound absorption.   The inability to focus or comprehend communication will compromise grades and threaten the learning environment.  Care should be given to the quality of the acoustics within your classroom.
What impact does a noisy Classroom have on teaching performance?
Due to sound wave reflections within a classroom, teachers have to strain to be heard. This creates an unenjoyable work environment that is exhausting. The spike in noise levels makes teaching less effective overall, but by investing in sound panels, teachers will have an easier time communicating with students and controlling the classroom's attention.  Leaving the issue of noise left untreated, higher levels of turnover, absenteeism and overall effectiveness with the students are all a threat to the viability of the school and the students in the classroom.   A teacher's health should be protected in order to help them maximize their impact on the students.  Controlling noise level exposure in a classroom will aid in the ability of the teacher to perform at peak levels.
How many acoustic panels does a Classroom need?
The amount of sound panel coverage depends on the room's size, shape and surface textures. For soundproofing a classroom, you want to ensure that you don't undertreat your space. To determine the quantities of Fabric Panels appropriate for your classroom, call our help desk with your room's dimensions at 1-800-638-9355, or submit your room size to us via our Room Analysis worksheet. From there, we will define your soundproofing project and calculate your acoustic panel coverage.
Can Classroom sound panels double as bulletin boards?
Yes!  A popular technique for classroom sound panels is to cut them into large horizontal panels that are placed lower on the wall where kids can reach them. These acoustic panels, called FabricTack Panels, can be upgraded to a tackable surface. This allows the panels to double as bulletin boards, where seasonal messaging and school projects can be pinned. In general, soundproofing panels that double as bulletin boards are a good idea. For more information, contact our help desk at 1-800-638-9355, and visit our FabricTack Panels section of this website.
Where should sound panels be placed inside a Classroom?
In regards to how to soundproof a classroom, there is no optimal placement for the sound panels.   Rather than location, the goal is to have the right coverage amount as long as you spread the acoustic panel treatment around your classroom as best you can. If you opt for the tackable version of our sound panels, you'll want them lower on the walls where people can access them (see FabricTack Panels). However, if you opt for the standard Fabric Panels, then the recommendation (for durability purposes only) is to place them higher on the wall around the perimeter of the room, or flush mount them flat to the ceiling. You can also "float" them off the ceiling as a set of Ceiling Clouds. When it comes to the final product, you control the panel size, color and placement.
How do Classrooms benefit from using NetWell's sound panels?
By soundproofing your classroom with a set of NetWell sound panels, you will be adding a level of clarity and comfort to your learning environment. By lowering your ambient noise levels within the classroom, there's more clarity to original sound. This generates a healthier teaching environment, a more favorable learning environment, better concentration levels for the students, and stronger grade performance values.
Sign Up for StartSmart
StartSmart for Classroom Acoustics
Schools are always on tight budgets, and loud Classrooms threaten the learning environment for the students.   This enhances the need to get the soundproofing you are after, for the most cost effective price possible.   For that reason, we have built an email series called StartSmart.   Here, we provide a variety of valuable tips & insider information designed to curb costs associated with sound panel projects.   Sign up today and we'll get started with your StartSmart program!