Soundproof Blankets and Noise Blocking Curtains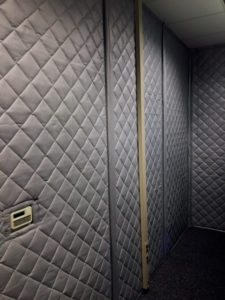 Soundproof blankets are used to absorb sound and reduce noise by creating a sound barrier. Also known as sound barrier curtains, these sound barrier blankets can be suspended from portable frames, floor mounted frames, or attached to your ceiling to serve as a dividing wall between machine noise and employees.   Unlike sound panel treatments, which are designed to attack the "path" of reflecting sound waves inside a room, these noise reduction blanket  systems are designed to attack the "source" of the original sound and literally "block" the noise from releasing into the room.
How do Noise Control Blankets Work?
Sound blankets and sound barrier curtains block noise like sandbags block flooding water.   The blankets are dense, weighted to combat sound waves from passing through the material.   In addition to the density, the core padding fiberglass combines to also absorb the energy that the core density is blocking.   This makes the sound blanket a hybrid product, yielding both the ability to "block" directional noise, and "absorb" reflected sound waves.   Noise reduction curtains are used to combat exposure to machine noise in most any industrial, commercial or residential application.
What are Noise Control Blankets Made Out Of?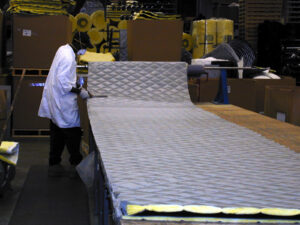 The core of the noise reduction curtain is fiberglass batting insulation.  Typically 2″ thick worth of this sound absorbing material.   As the sound wave enters the curtain, the fiberglass batting will absorb up to 75% of the echoes that will want to bounce back off the curtain.   In addition, the noise "deadening" impact of blocking the sound wave from penetrating through the blanket is derived from the thin dense membrane lined in the blanket called mass loaded vinyl   This membrane is also known as dB-Bloc.   The membrane comes in two densities, 1# & 2# per square foot, and is the primary reason the sound control blanket is able to isolate the noise.
What to look for when selecting a Noise Control Blanket?
STC Values.   This is a number assigned to the sound barrier curtain that indicates its ability to block directional noise.   The acronym stands for Sound Transmission Classification.   The stronger the number, the better the blanket performs.   Be sure to match the frequency of the machine noise "pitch" to the specific STC value at that frequency range.   The lower the frequency of the machine noise, the easier the longer, flatter sound wave will be able to make its way through the blanket.   In a lab setting, the QBS-1 Blankets will test at an STC value of 29.  But that's an overall average.   If your noise source is at a 1000 Hertz, the STC rating is 40.   But if your noise source is at 125 Hertz, the STC rating is 12.   This is true for any sound barrier blanket system found anywhere.   The lower the frequency of the sound wave, the easier the energy is able to pass through the blanket.   On average?   A solid 12-18 dB drop is realistic for most machine noise.   And remember, a mere 10 dB drop is a 50% collapse in overall perceived noise.
NRC Values.  This is a measurement of the soundproof blankets ability to capture and eliminate echoes off the face of the blanket.   NRC Values do not measure the noise reduction blankets ability to "block" noise, but instead "reduce" echoes.   The NRC Value of the QBS blanket is .75.   Basically, converting up to 75% of the echoes off the face of the blanket and preventing the reflections from bouncing back into the noise infested space.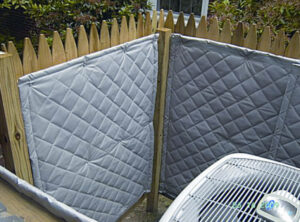 Moisture.   If your machine produces moisture, or is in a wet room environment, or is outdoors, the sound reduction blankets should upgrade to a silicone-based skin that can repel water – our QBS-HT Blanket.
How are Noise Control Blankets installed?
The noise reduction curtains are constructed in sections.   Each piece carries a maximum width of up to 54″ with a maximum length of up to 25′.  The blankets will have grommets across the top of each section and hook & pile velcro is placed along the vertical edges, allowing the blankets to seal together for continuous coverage.  The velcro strips are 2″ wide, so overlap needs to be taken into account. For example, a barrier that is 17.5 ft wide would be composed of (4) blankets, where the first panel is 54″ wide and the remaining 3 panels are 52″ wide (subtract 2″ for the velcro overlap).
How to Custom Trim Sound Blankets Onsite
A field stitching kit can be shipped with the sound curtains.   This kit will allow you to make custom cutouts, and staple new edging around the cutout.   Be sure to ask for a field stitching kit when you order.
How much do Noise Control Blankets weigh?
The noise reduction curtains average 1.5-2.5 pounds per square foot, depending on model.
Can I use the noise control blankets as a window cover?
Yes.   The blankets can be custom sized to fit.   It would be suggested to oversize the window cover to seal around the perimeter.   This would then cover the seal between the window & the wall framing where much of the leakage would normally occur.
Can I use the noise control blankets as a door cover?
Yes.   The noise reduction blankets can also be cut as a soundproof blanket for a door.   Where the door handle is located, we will sew a vinyl patch into the blanket, so a simple slit can be cut into the patch and the door handle can penetrate through. The door panel blanket extends 2″ beyond the edges of the door to ensure adequate coverage over the door jambs where sound leaks through.
What do Noise Control Blankets look like?
These curtain systems will have a diamond stitch pattern on their face.   They will look much like moving blankets that protect furniture in a truck or elevator, but much stiffer.   Available in White, Black, Gray or Tan for indoor treatments.   Gray or Tan only for outdoor treatments.
How do I store Sound Control Blankets when not in use?
You can easily roll them up like a taco, and store them as needed.   The big advantage of sound control blankets is the ease with which the blankets can be put up and taken back down.
How do I buy Sound Control Blankets?
You should coordinate with your sound consultant for selecting the correct version of your sound control blanket, and then work to define the coverage and size.   A CAD drawing of your order will be produced by NetWell Noise Control and presented for sign-off prior to putting your order in for production.   There are a variety of versions of the noise control blankets available to you, including the following:
QBV Sound Barrier Blankets   Our staple product.  Vinyl backed, padded front, these noise reduction curtains isolate machine noise.
QBS Sound Barrier Blankets   Comparable to the QBV blanket, but padded front and back, with the vinyl membrane sewn into the core of the panel.
Acoustic Enclosure  These are 2, 3, or 4-sided fully configurable noise attenuating enclosures.
Sound Jackets   These are custom-fitted sound blankets that wrap and velcro around a machine, custom fit like a golf glove.
Portable Soundproof Screens   These are 4′ wide x 8′ tall self-standing sound barrier curtains with optional caster wheels for sliding in and out of place to isolate machine noise.
Vinyl Strip Curtains  These are clear vinyl strip curtain systems that help isolate noise but allow traffic to pass through into the workspace.
QB Sound Absorbing Blankets  These are non-sound-barrier curtains that are lightweight and designed to simply absorb machine echoes, and not block original machine noise.
QBO Blankets,   Outdoor weather resistant noise reduction curtains that block stationary noise sources such as compressors, generators, HVAC, pool pumps, and construction site noise.
How long does it take to get my noise reduction blankets?
Average is 4 weeks.
Can you customize my blankets for my specific needs?
Yes.  These sound blankets and sound barrier curtains are all customized to the needs of your noise mitigation project, including cutouts, holes, slits, patches, windows, removable lids, and so on.
For help in product selection, be sure to call our help desk at 1-800-638-9355.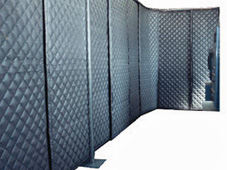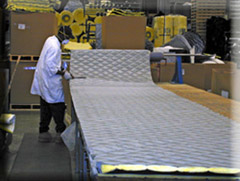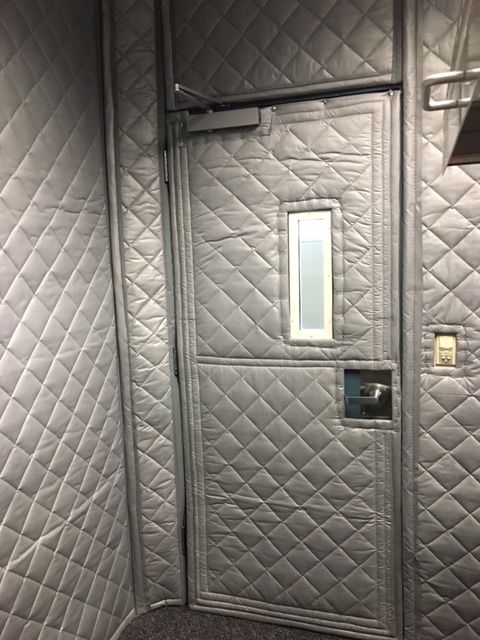 QBS Blankets
Our standard sound blanket.   Class A fire rated.  For indoor use.   These QBS Blankets can be custom sized to match the cavity size of any project.   We can cut holes, slits, patches, windows, hatches, vents and anything else to accommodate your custom fit soundproofing needs.    Use to suspend from the ceiling, a floor mounted frame, against a common wall, or direct to your machinery casing to block up to 80% of the transmitting noise.   These sound barrier blankets offer an effective drop in decibel levels, blocking original noise, and rendering the perimeter space far more user friendly, functional and safe.
SoundScreens
These are 4′ x 8′ kits of QBS Blankets that are shipped with a tubular framing system that allows you to free stand the sound blankets as you wish to block directional sound.  SoundScreens serve as modular noise barrier wall partitions, but can cut only to a height of 8′.   If you need taller treatments than this, use the ceiling of your facility, and drape QBS Blankets down from the top.   If you have questions related to the use of a Soundscreen sound barrier curtain system, call our help desk at 1-800-638-9355.
QBO Blankets
Sound blankets designed for use outdoors.   Ideal for absorbing and reducing noise that stems from construction sites. Also popular for anchoring to framing built around outdoor stationary noise sources such as generators, air conditioners, and pool pumps.  QBO Blankets are designed to hold up against inclement weather conditions, and trigger the same drop in noise levels as the indoor QBS Blankets.