Noise Attenuating Enclosures
NetWell's Acoustic Enclosures are full or partial noise attenuation enclosures used by industrial & manufacturing companies seeking to reduce dB levels on the production floor.  The goal is to mitigate excessive noise coming from a workstation, machinery, or a stationary piece of equipment by surrounding it with our sound-attenuating QBS or QBV blankets mounted to a frame. Each sound enclosure is custom-made to order, easy to assemble, and configurable to meet the needs of your project. Some of the options include locking caster wheels for portability, clear vinyl windows for visibility, baffled cutouts for ventilation, piping,  & electrical conduit, and a roof to further encapsulate & trap sound.
The Acoustic Enclosures are available in two variations – portable or stationary. Portable enclosures include caster wheels, allowing for easy re-location. With stationary enclosures, you may opt to have some of the panels mounted to a track & trolley system, creating a "sliding door" for easier access to the contained machinery or equipment. CAD drawings of your enclosure are provided after your order is placed, allowing you to confirm measurements & dimensions before the project moves to production.
The entire system is simple to erect and disassemble for easy maintenance and/or portability.
Floor mounted Stationary Enclosures are available up to 10′ tall with standard square tube framing, and up to 16′ tall with an HD frame. Taller enclosures can also be made which suspend from your ceiling deck.
Portable Enclosures with caster wheels can be constructed up to 10′ wide x 8′ deep x 8′ tall. This includes two separate 3-sided enclosures that join together to create a "clamshell" style enclosure around the sound source.
Questions?  Call 1-800-638-9355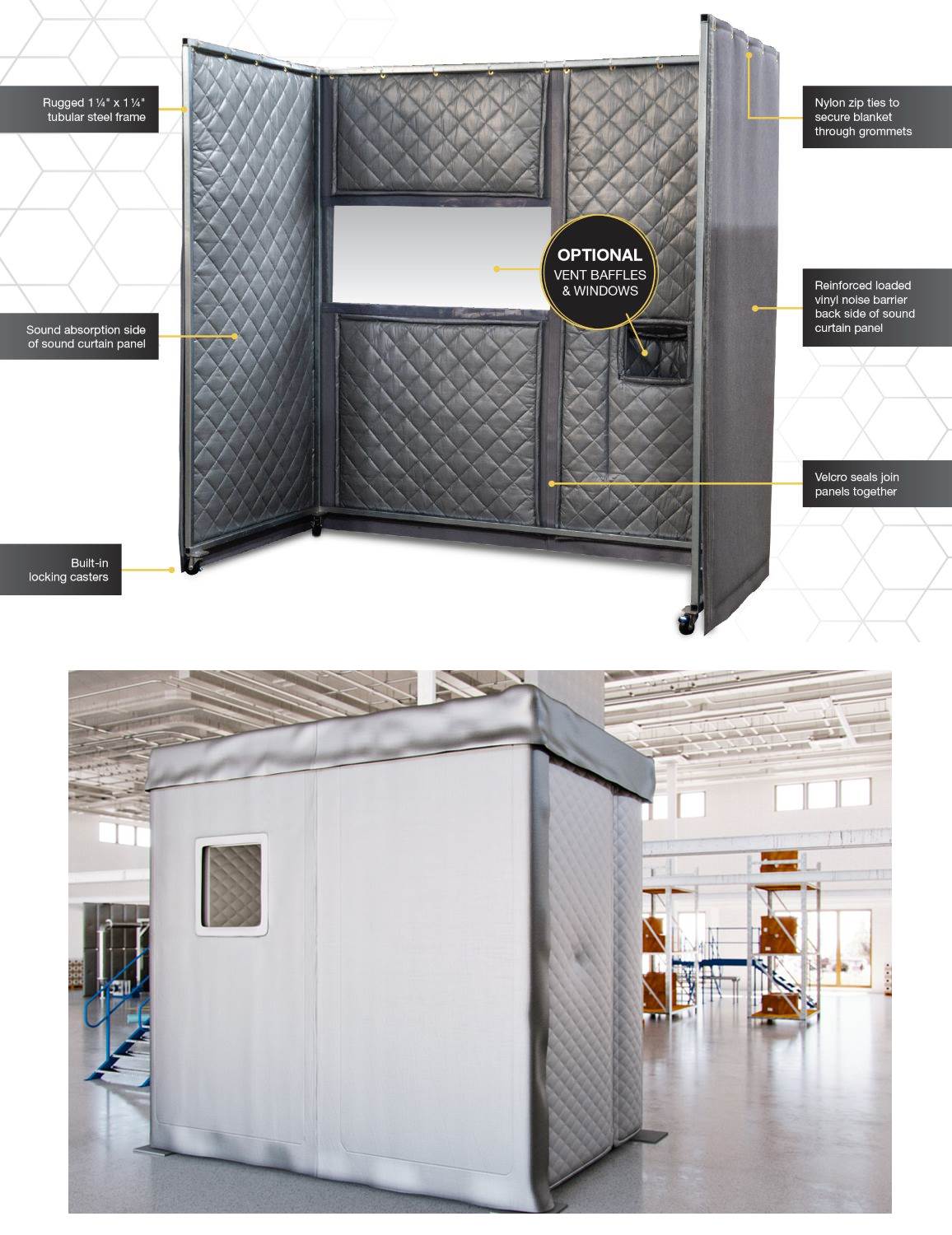 Sound Isolation
Our three-sided industrial sound enclosures are able to provide up to a 15 dBA noise level reduction, while a four-sided enclosure with a roof is able to trigger up to 25 dBA level drops.
Acoustic Enclosures are available in configurable sets of QBS or QBV Sound Reduction Blankets that ship with a square tube framing system. Assembly instructions and all hardware is included for clients who do not want to build their own framing system. Only basic hand tools are required for assembly.
These noise attenuating enclosures are designed for clients looking for a turnkey solution to their noise problems, however, you are free to build your own frame as well. Frames may be built from chain link fencing (outdoor enclosure – see QBO Blankets), tubular steel, green treated lumber, angle iron, uni-strut or any other structure that is able to support the weight of your preferred acoustic barrier blankets. In that case, we will simply supply you with the sound barrier blankets for you to attach to the frame.
See QBS Blankets
See QBV Blankets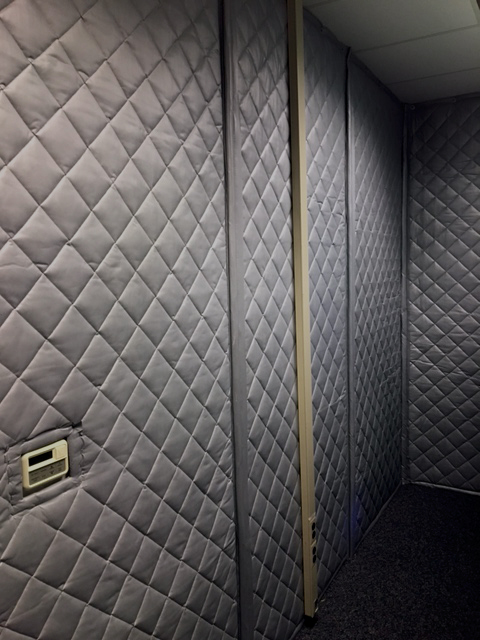 Pricing
Acoustic Enclosures are custom-built to your specifications.   To discuss your industrial noise mitigation project & receive a custom quote, please call our help desk at 1-800-638-9355.  We've included an example 3-sided portable enclosure & pricing here.

Length x Depth x Height
Without Roof
With Roof
8' x 4' x 8'
$4,800
$5,600
The Framing
Our industrial noise enclosures are built with a tubular framing system that comes complete with locking caster wheels or stationary feet, legs, connectors, arms, and hooks that are used to anchor the sound blankets into place.   The Sound Barrier Blankets are then cut to fit the frame perfectly, and shipped to your doorstep as a sound barrier kit ready to assemble.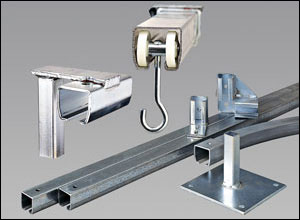 Tips & Techniques
NetWell's noise enclosures are two, three, or four-sided sound barrier enclosures with an optional roof.  Some clients who are unable to enclose a workstation or machinery will instead opt to use SoundScreens, which are portable acoustic walls on caster wheels that can be placed into position to block directional noise using the same QBS or QBV Blankets.  Note that the acoustic enclosures can be customized with clear vinyl windows, cutouts for running electrical, lighting, ventilation, pass-through strip curtains, and double track "slide by" doors to help meet all of your needs.

For other sound barrier options be sure to view our full line of sound blankets.
Questions?  Call 1-800-638-9355
See SoundScreens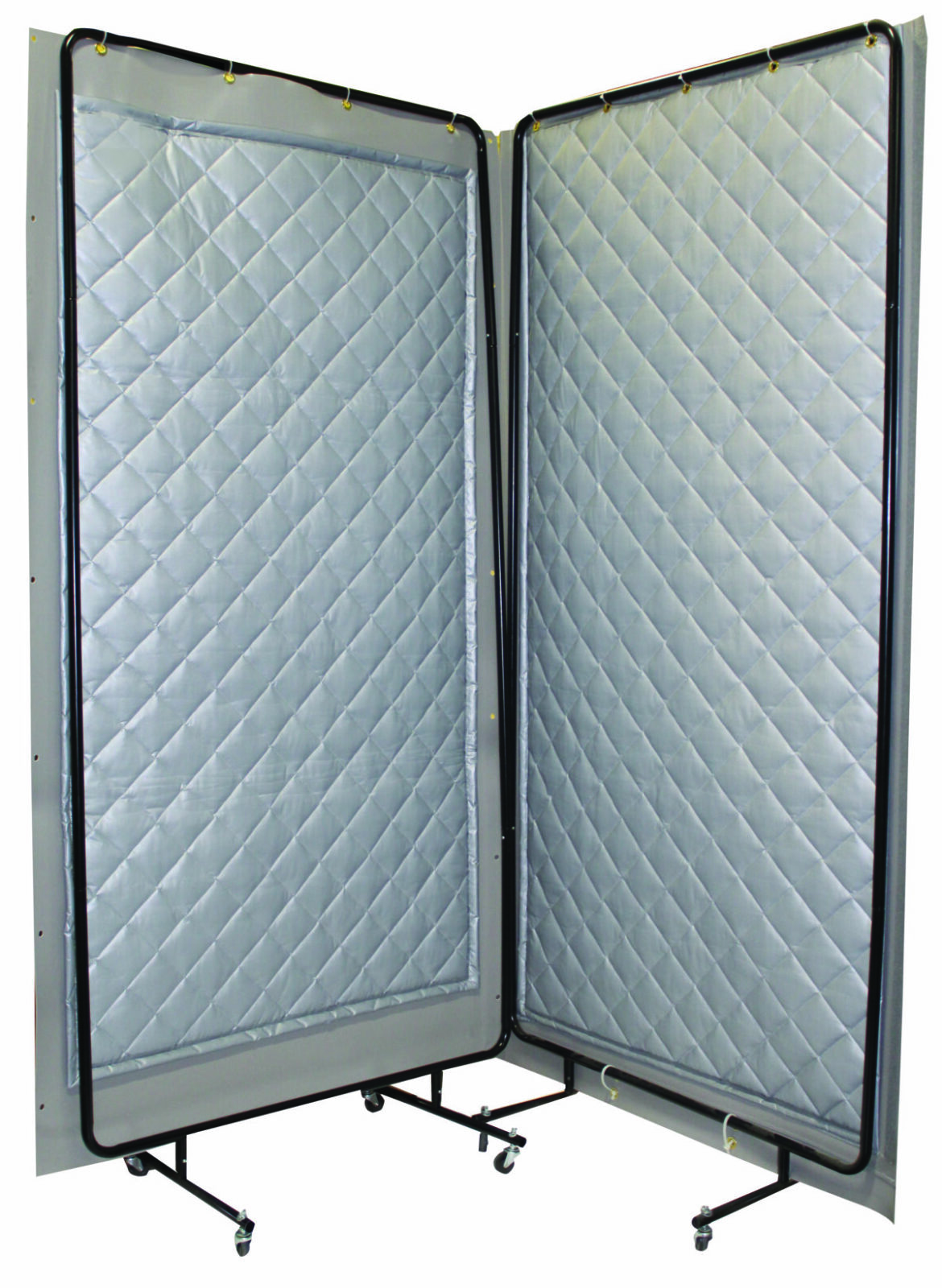 Sound Test Results
Octave Band Frequency (Hz)
Model
125
250
500
1k
2k
4k
STC
QBV-1
11
16
24
30
35
35
27
QBV-2
13
20
29
40
50
55
32
QBV-3
19
25
33
46
53
58
37
QBS-1
12
16
27
40
44
43
29
QBS-2
19
22
28
40
56
61
33
Spec Sheet
Acoustic Enclosures are class A fire-rated and approved for use in any public venue.
* Test results available upon request
Shipping
Your Acoustic Enclosure will be shipped complete with the square tube framing and the corresponding QBS or QBV Blankets carefully prepared and packaged for shipment.  Be sure to inspect your order when it delivers, and sign for anything that may have been damaged en route to your job site.
Shipping/Receiving
Terms & Conditions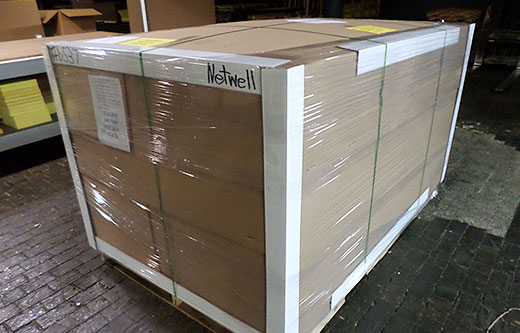 Before You Get Started…
NetWell prides itself on being a teaching website. Yes, our goal is to help you solve your noise issues, but just as important is to help you understand how to do it, and do so cost effectively. The support tools below are built for you to help you better understand the art of sound control. We look forward to working with you, and delivering back a more user-friendly space.