Noisy Pool Pump
Nearby neighbors were exposed to excessive noise generated by this residential pool pump. Client Gary Ettinger contacted NetWell for some advice on lowering the exposure levels to both his home and his neighbors. We explained to Gary that the noise levels can be controlled by placing a partial enclosure around the pool pump. The goal being to isolate the noise and block the direction to the neighbors house, as well as his own. Create a chimney effect, for the noise up, not across.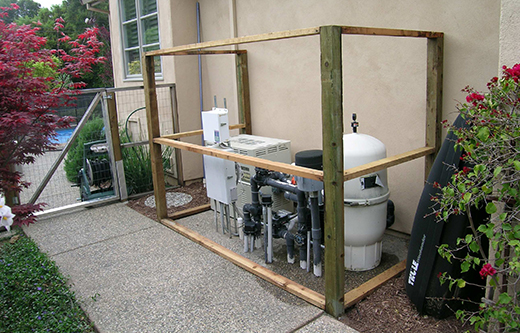 The Treatment
With an outdoor, weather resistant, sound barrier blanket system, stationary noise sources such as pool pumps, generators, and air conditioning units can be treated for noise control. We ask our clients to build a simple structure around the noise source, and feed us the dimensions of the framing. In turn, we will cut a series of QBO Sound Blankets to match the cavity size of the frame. The blankets come ready to hang via grommets across top and base, with velcro seams to seal sections together.
See This Treatment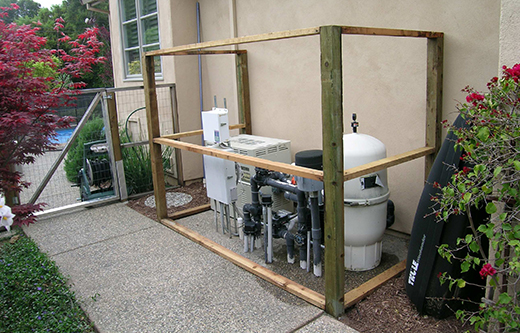 Products Used
QBO Blankets are sound barrier blankets that block directional noise and hold up in the weather.   We will custom cut them to match the cavity size of your frame.   Ideal for enclosing pool pumps, air conditoners, generators and other outdoor, stationary noise sources.
See QBO Blankets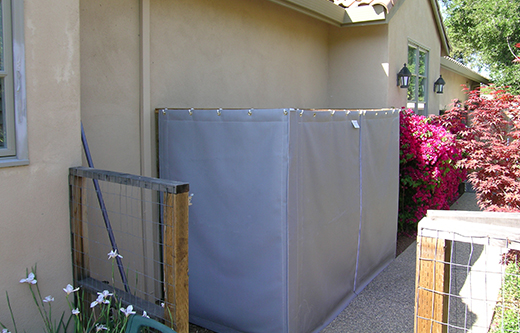 Results
Outdoor sound barrier blanket systems can trigger 15-20 dB drops over existing noise levels, producing a dramatic collapse in exposure levels. Results will vary per application due to leakage. Most outdoor treatments are L-shaped two sided, or U-shaped 3 sided treatments with an open top. Some are 4 sided, and some add a top to create a full enclosure. Ventilation options available to help your unit breathe. The blankets are portable, easy to collapse, so you can access the noise source for maintenance. Each treatment is unique based on its own starting point, which triggers various degrees of control vs sound leakage. The blankets should be cut a minimum 3′ taller than the noise source to garner premium sound values.