Multipurpose Room Sound
St. Kate's College in St Paul, MN tore a center wall down between two adjoining racquetball courts. The resulting space was redesigned to host a series of medical testing stations designed to study the female athlete. Sound values within the space were predicted to be too reverberant. The St. Kate's project was presented to NetWell Noise Control for help in designing the space for premium sound quality, while adding a stunning visual presentation to the space. Thanks goes to LA Ink of Mpls, MN for their design work in creating these stunning images that were printed onto the face of the NetWell sound panel systems. Soundproofing with the WOW factor visually helps to brand space for both the eye and the ear!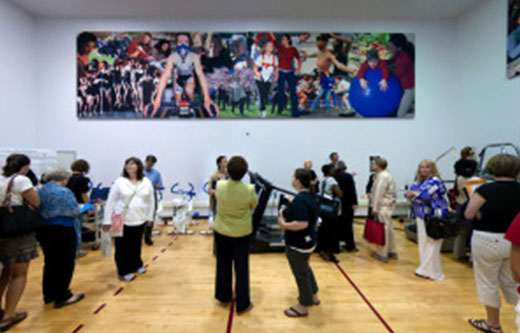 Designer Sound Panels
Each of the perimeter walls in the space were targeted for a sound panel treatment. The room's dimensions were measured, and in turn, the appropriate square foot totals for the panel treatments were determined. The panel systems were designed to curb the excessive levels of noise in the space, while providing the visual appeal to the room.
See This Treatment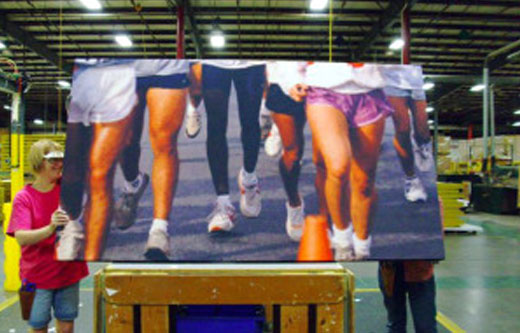 Featured Product
PicturePanels are sound panels that are wrapped in graphics, images, logos, fine art, vintage images, and more. The design options with these sound panel systems offer limitless beauty, combining to produce both a collapse in perimeter noise within a space, as well as a stunning visual presentation to the room. The panel systems can be wall or ceiling mounted, the imagery can print onto a single panel or carry across multiple panels to generate decorative murals that carry across the expanse of a wall or ceiling surface.
See PicturePanels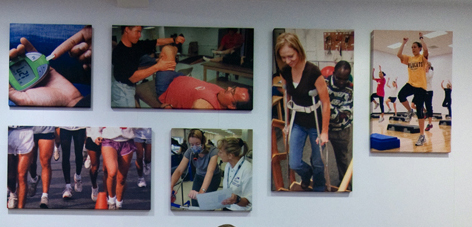 Sound Values Back
St. Kate's celebrates the completion of their project with an Open House. For those who never stepped foot in the room prior to the panel treatment, they commented on how spectacular the images on the walls were. They had no idea they were also sound panels. For those who experienced the reverberations of the space prior to the treatment, they commented on how great the room sounded now that the panels were controlling the levels of unwanted echo.
If you are interested in a custom designer sound panel system with logos, graphics and images printed onto the face of your panel system, we look forward to hearing from you!