As the old saying goes, "When the sawmill shuts down, it's time to sharpen the blades".
COVID 19, the time to update noise control?
The difficult times we as Americans are facing will come to a close at some point.   Covid19 will be laid to rest. We will return to our lives as a new normal, whatever that might look like, and finally yes finally be able to return to your favorite eatery, pub, bistro, café, or five-star restaurant.   We will enjoy conversation, enjoy professional cooks that prepare our food, and the grace and courtesy of those who wait on our tables.  For now, however, we Americans wait, as these spaces sit empty and we practice the new art of social distancing.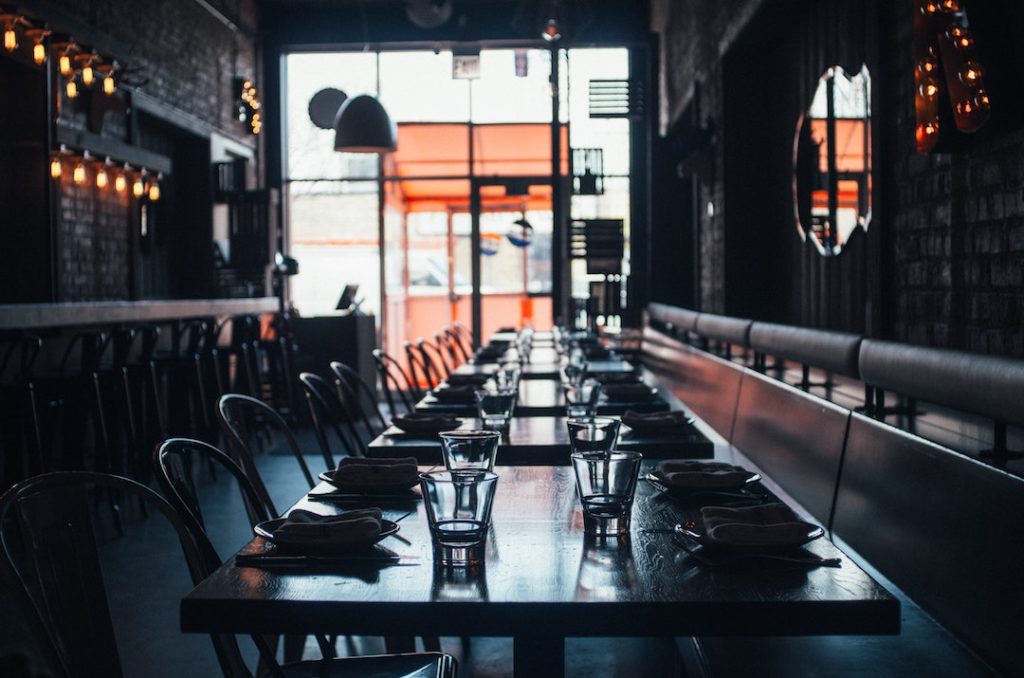 So…in this time of need, there also comes the time for the opportunity to present itself.   An opportunity for the millions of restaurant owners in America to take stock in their space, as Covid 19 descends upon us.  Yes, some of these spaces will forever be closed because of this deadly virus, but for those that survive and live to see another day, to open their doors back up to the American general public, and return to the culinary world we were once so used to, might the time be right to seize the opportunity to finally address the noise control concerns that inhabited the space prior to the Covid19 attack? The virus dies, the crowds surge back, what will the acoustics in your space sound like?   Might it be the right time, with the sawmill closed, to sharpen the blades and install your sound panels?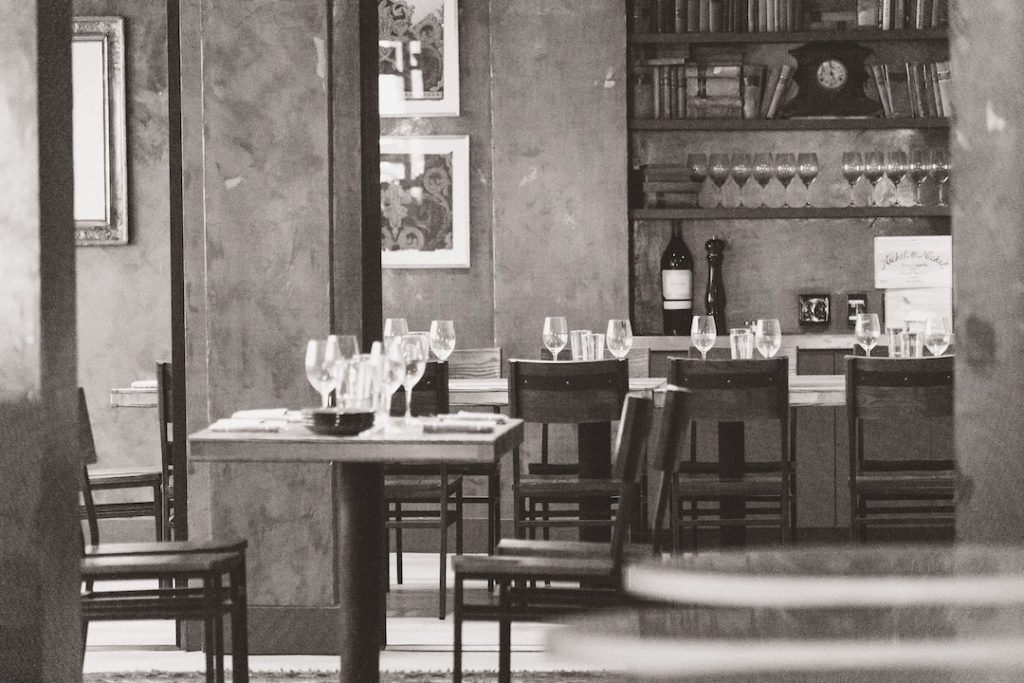 Experience counts in design of soundproofing systems
For more than 30 years, NetWell Noise Control has been delivering sound panel treatments to restaurants and bars throughout the United States.   Panel systems that can effectively capture and convert up to 80% of the unwanted echoes in the space, rendering the dining experience far more favorable for the patron, producing clarity to the original sound, and restoring the venue to premium sound quality for conversation.   With the restaurants across America today standing empty, might it actually be the best time of all to tackle the noise issues that combine to otherwise drive loyal repeat customers away?
Does your restaurant space need a sound panel treatment? Is your space too loud for your customers and your wait staff? Have you been putting off the acoustic panel project because you don't want to interrupt the flow of business? If your answer is yes, NetWell stands ready to help.
Free Room Analysis
No obligation
Cut up to 80% of your echo
Generate great clarity to conversation and sound
Protect your repeat customers
When your venue re-opens, spoil your customers with premium sound quality
Room analysis for sound damping can help
A simple Room Analysis can be performed on your venue that will properly define the treatment and quote the soundproofing project.   No obligation, a free and simple tool that's used to help calculate your coverage amounts and produce your quote.   Today's sound panel systems can be made to be a beautiful addition to your space, or disguised to go unnoticed, either as you wish, and both options will take your noise and get it under control.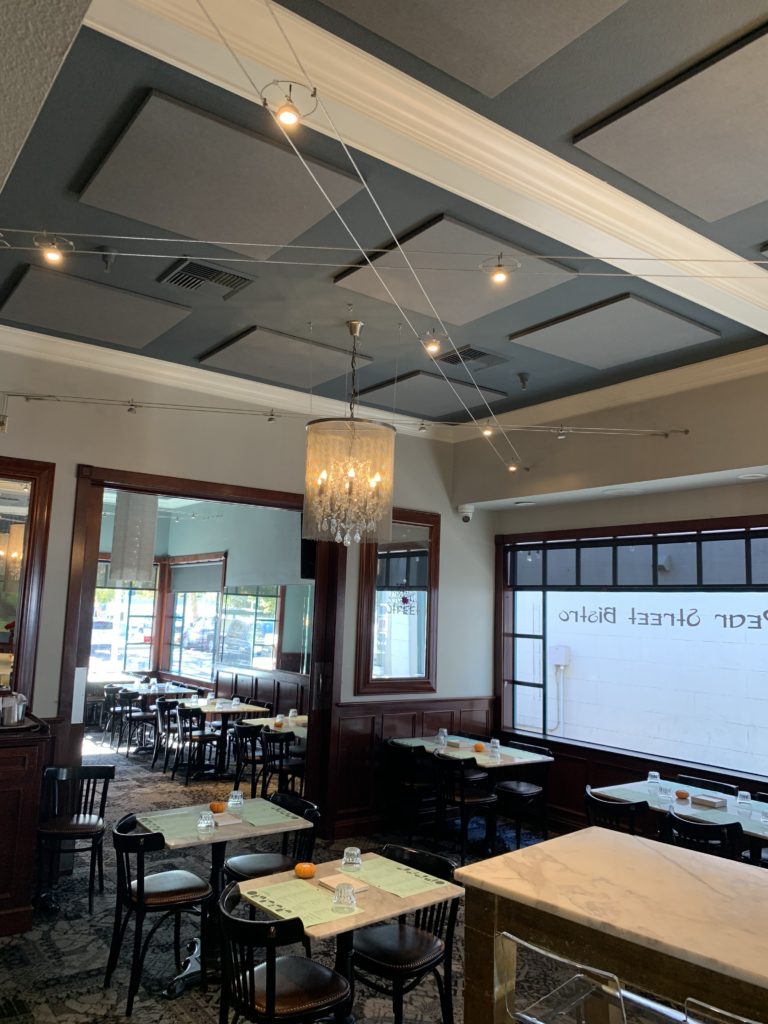 Most restaurant owners target the ceiling for their sound panel treatments, allowing them to leave their perimeter wall surfaces just as they are, and not corrupt the existing design to their space.   Panels are Class A fire rated, decorative, durable, offered in 70 or more color options, and can be cut to the cavity size and placement as you wish inside your space.   And yes, once the panels are introduced into the room, the echoes drop as conversations flow.   Your clients will thank you, and so will your wait staff.
Questions on noise control in restaurants?
For more information on treating your restaurant for sound control, in this time of the Covid crisis, contact NetWell Noise Control at 1-800-638-9355 or visit us online at www.controlnoise.com.