As America works to rebound off the Coronavirus and open our lives back up, questions remain as to the safety and health of all commercial spaces. American ingenuity has begun to kick in, as these spaces become redefined and re-purposed for use. Case in point would be a larger gymnasium space that can be used as a worship space, with more distance generated between parishioners. But with the escalation in social distancing, there comes more echo in rooms filled with fewer people. Acoustics are poor, speech intelligibility is compromised, echoes bounce around the room, and the room's functionality is threatened as a result.
Converting a multipurpose room into a more Covid friendly space can often times require perimeter wall or ceiling mounted sound panels that can be designed to help compensate for the elevations in sound wave reflections. With fewer bodies in a room, the absorption coefficients drop, and the standing sound waves increase. By introducing a set of sound panels into the space, the control over echo delivers back greater levels of clarity to original sound. For purposes of communication, the spoken word, blended musicians, and social gatherings with ease of conversation, a quality sound panel system introduced into the room will generate a more user-friendly and functional space.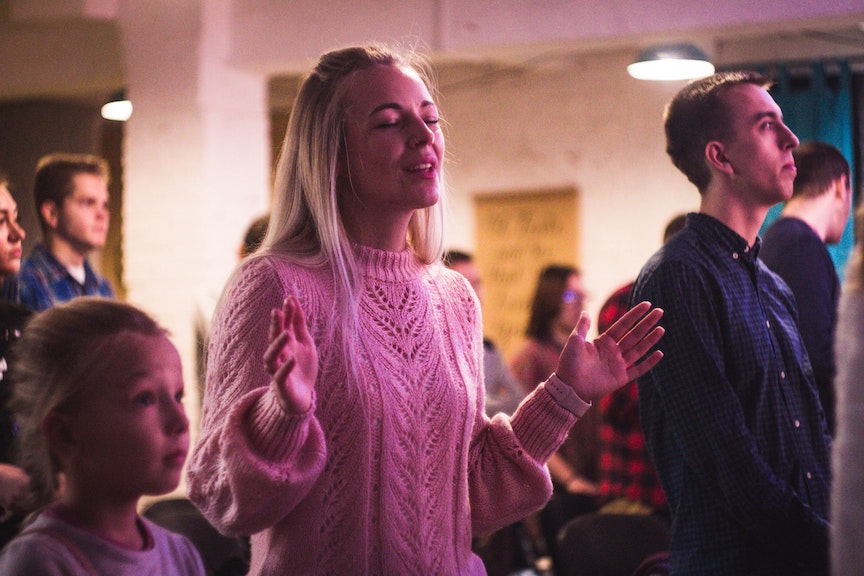 Sound panels can be wall or ceiling mounted in a room, most often elevated up higher on the walls, or flush mounted and/or ceiling suspended off the ceiling. The panels combine to capture up to 80% of the echoes in a room, which in turn generate the acoustic quality that a pastor in a church, or a restaurant owner, or a schoolteacher would want to see delivered to their space. With a simple set of decorative cloth wrapped sound boards, the echoes will collapse, and the acoustics will improve. To get to that point, it's a matter of simply matching the cubic footage of the room, along with its surface textures, to the appropriate square footage of panel that the room should take. The key to the success of the treatment is to not under treat the room. This is where the magic happens, where a solid acoustical sound panel supplier can help define the approach, quantify the project, and quote the right amount of panel for your space. The panels are class A fire rated, available in 70 color options, measure 1" or 2" thick, and can be custom cut to the size of your choice to be placed as you wish around the perimeter of your room.
So what if a minister wanted to turn a gym space into a sanctuary? Exactly how many people could be placed into the venue with 6' of social distancing? We know the size of a full basketball court is 54' x 94'. That could seat a congregation of about 140. And if there is an apron around the basketball court, say another 10' of floor space all the way around the perimeter, that could seat about 220 worshipers. And in a room that size, with a ceiling elevation of an average 25', the space would command an average 2200 square feet of sound panel. 2" thick panels will be the right choice for contemporary services, delivering premium sound values at the low bass end stemming from drums and bass guitars. 1" thick panels are ideal for traditional services hosting mostly human voice, choir and organ.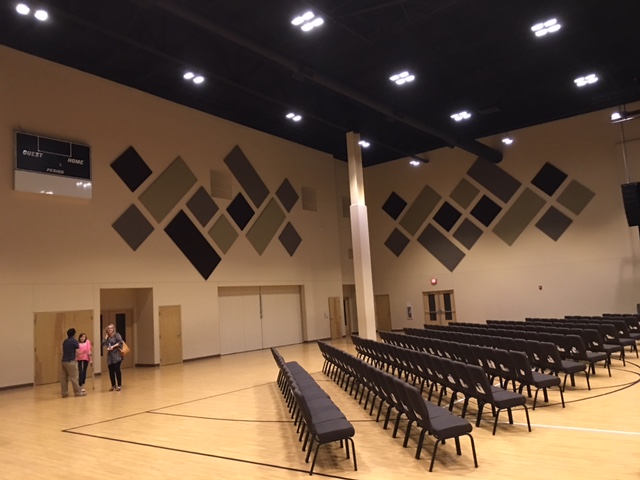 So does the echo increase when the people count in the room decreases? Well that answer is yes. The human body is an absorption coefficient just as the sound panels themselves are, so care must be given to proper calculations when generating any Room Analysis for scoping out a project like this for acoustic control. Converting a gym into a sanctuary is no small task when it comes to premium sound quality. Your best bet would be to speak with a sound consultant prior to taking on the project, and ideally putting the panel system into place while the facility stands empty, before the crowds return.
As for installation, sound panel systems can be clipped to your perimeter wall or ceiling surface as a cloth wrapped set of sound boards. Available in 70 color options, shipped with the clips you'll need to perform a self-installation, the treatment can easily be applied by a facility manager, building maintenance, or volunteers in the congregation. The panels can be evenly distributed along a nice even site line as you wish. You control panel size, color and location, and let the sound panel supplier control the coverage amounts. Again, the key to making the sound values happen is to ensure you do not under treat the space.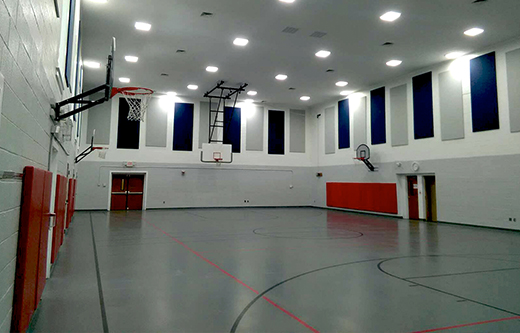 So if you are considering moving your worship services into your gymnasium in response to the Covid -19 outbreak, your sound panel system awaits you. The panels average 4 weeks in production and can be drop shipped to your door. For more information on treating your space for premium sound quality during this era of pandemic, contact NetWell Noise Control at 1-800-638-9355 or reach us online at www.controlnoise.com.