Reducing Your Gym Noise
Gymnasiums are mostly big, over-sized, shoe box shaped rooms with 3 sets of parallel surfaces.   All the surfaces are typically hard and reflective, with floors, ceilings and perimeter walls absorbing less than 5% of the sound wave reflections within the space.    As the gym fills with people, whether for classes, sporting events, public speakers, musicals or any other multipurpose functions a gym may host, the acoustics within the space play a key role in determining its overall user friendliness.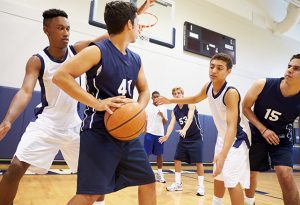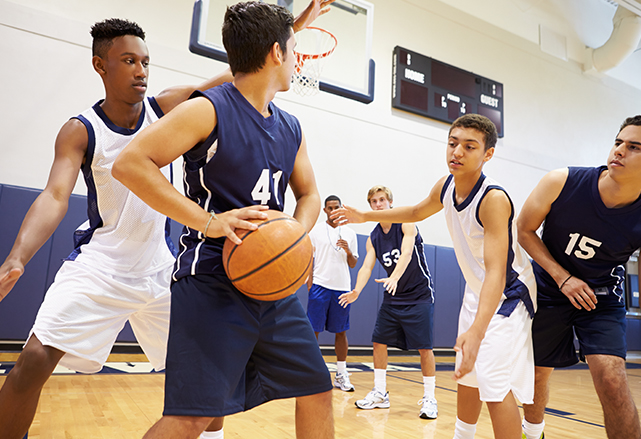 As sounds are generated with the gym, echoes begin to carry in all directions, like a balloon inflating in the room.   The sound waves then begin to bounce off all the hard surfaces in the gym.   These sound wave reflections combie to causes background noise that elevates the overall noise exposure to unwelcome decibel levels.   Crowd noise spikes.  Clarity to voice is compromised.  The room loses its friendliness and function.   To produce a more acoustic friendly gym space, sound panels or acoustic baffles can be wall or ceiling mounted in the gym.   The soundproofing panels will combine to collectively capture and convert the echoes out of the room.    The soundproofing treatment will reduce the noise in the gym by dropping the crowd noise, and replace poor acoustic quality with premium sound values that generate clarity to original sound.  Your soundproofed gym will be rendered user friendly and available to host more and more functions to the satisfaction of all who use the space.
Soundproofing a Gym with Acoustic Baffles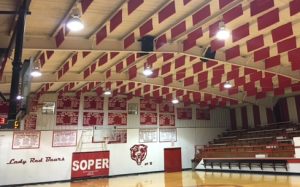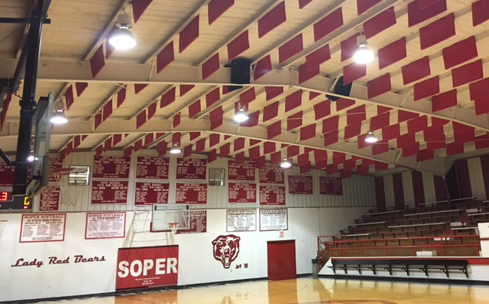 The next time you are in a gymnasium, look around to the perimeter walls and ceiling surfaces.   If you see large panels anywhere, rest assured they are there to absorb the echoes.   The key to the success of a sound panel treatment in a gymnasium soundproofing treatment is all about quantities.   If the right product is selected, but the wrong amount is installed into the room, the sound values will collapse.   At NetWell Noise Control, we safeguard to not under-treat a space by running a complimentary Room Analysis to help determine both product selection and quantities appropriate based on the size, shape and surface textures in the gym before we get started.
Most of our gym treatments target the installation of a set of sound baffles to be suspended vertically between joists in an open metal deck setting.   These sound baffles are suspended vertically, tucked up in between the joists for easy installation and safe-keeping.   Keep them 3-5′ clear of sprinkler heads, ventilation and lighting.   They are called VET Baffles, are class A fire rated, available in dozens of colors, are waterproof, and easy to self install.   Again, call our help desk with your gym's dimensions to help determine how many of these 2'x4′ baffles you will need to produce the values your gym deserves.
Soundproofing Panels for Gym Noise Reduction
For lower ceiling heights, less than 20′, or for finished ceilings with flush mount or recessed lights, sound baffles are usually not the product of choice.   Here, the soundproofing treatment would target a perimeter wall treatment, positioning a set of cloth wrapped sound panels around the top 1/3 of the wallspace around the room.   These sound panels are called Fabric Panels.   They are not crash pads for down low under your basketball hoops, but instead are intended to surface mount up high on the walls.   We dip the edges in an epoxy to render them crushproof and safe for use in a gym environment.    Clips are attached to the backside of the panels, with mating clips sent with the order.   Clients mechanically affix these Fabric Panels to the walls, so they are portable.

In either case, a wall or ceiling mounted soundproofing panel treatment, the treatment works!   Soundproofing a gym is not brain surgery.   The treatment is straight-forward, takes 4 weeks to build the sound panels, 2-3 days to self install, and the gym will forever more produce a user-friendly space for all the various multipurpose events the gym will then be able to host.   We have serviced tens of thousands of spaces spanning over 22 years, and are confident that if your gym needs a soundproofing treatment, NetWell Noise Control can easily replicate for you what our track record has demonstrated over and over again.
Got a noisy gym space?    Call NetWell Noise Control at 1-800-368-9355 today or check us online at www.controlnoise.com.    Or click here for your complimentary Room Analysis!