Soundproofing Room Dividers
Social distancing in today's commercial marketplace places a premium on the design and function of commercial space.  The ability to take a larger room and sub divide it into two smaller rooms that remain sound protected from one another is a popular means by which to stay social distanced while making the most of the existing space.    From Sunday school classrooms to restaurant seating, office meeting rooms, telehealth call centers  or professional office buildings, sound barrier room dividers have never been more popular.   Or needed.
Ceiling Track Mounted Soundproofing Curtains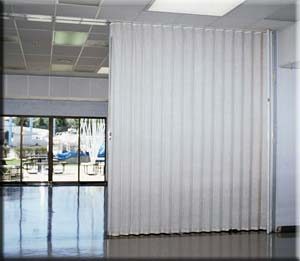 With the same commercial space, however, there are also occasions when the room divider would need to open up, collapse back against a wall, and present a larger commercial venue for hosting larger gatherings.   In such a case, there are ceiling mounted accordion style curtain systems that can glide open and shut to serve this exact purpose.   This system is called a Curtition System, and yields greater flexibility for the function and purpose of most any commercial space.   These popular soundproofing room dividers allow larger rooms to be subdivided into smaller rooms that remain more sound protected from one another.   With today's social distancing efforts, making maximum use of existing space puts these noise reduction room dividers all the more popular.   They are sturdy, beautiful, user-friendly, and easy to self install into most any commercial venue.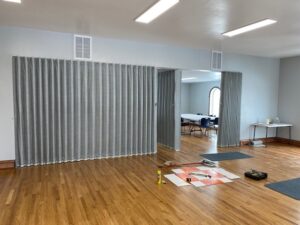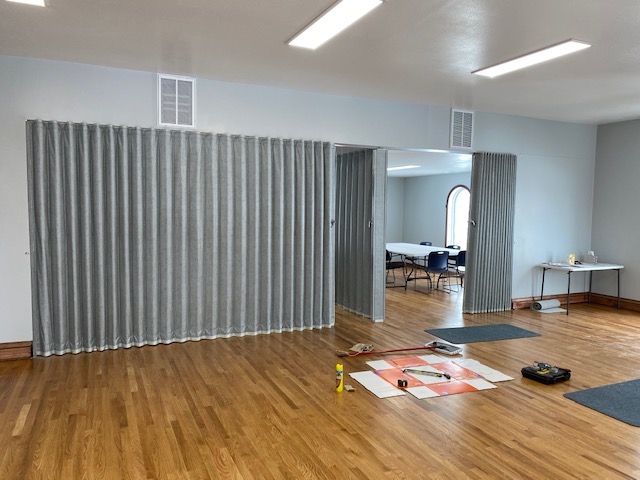 Curtitions are ceiling mounted room dividers that glide across a track that is connected to a beam or clamped to a ceiling system.   The Curtition sets into the track, and slides open and shut accordion style.   One side being latched to the wall, the other side able to glide as needed.  These sound barrier room dividers can generate STC ratings of 40, which is the equivalent to a permanent wall being installed into the space, and wrapped in dozens of decorative color options.   Curtitions are custom sized to the demands of the opening with a maximum height of 15' and a maximum width of 50'.    Any system larger than 25' in width will be cut as a dual system, with a set of (2) Curtitions that pull from the left, and the right, and latch in the center.
You will need either a header board across the ceiling to anchor the track to, or be able to clamp the track to the structure of the building's ceiling in the case where your starting point is a drop grid ceiling tile system.    Curtitions are weighted, averaging 3.5 pounds per square foot, but any sound barrier curtain system worth its value will be dense.  Weight is needed to block sound wave energy.   Once installed, anyone is able to glad the Curtitions back and forth, and strap them against the wall when fully retracted.   There will be stack depth of 20% once the Curtition is opened up and strapped to one side of the room.
Modular Floor Mounted Noise Reducing Room Dividers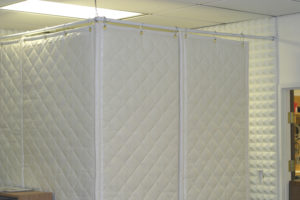 For applications that require a smaller room divider, there are sound control blankets that can suspend from a tubular mounted framing system on caster wheels.   Cut into 4' wide x 8' tall sections, these modular systems can also serve to contain noise to one side of the room, and protect the other side from the noise.   These are called SoundScreens.   Ideal for isolating machine noise, compressors, computer racks, as well as separation of a room for enhancing the social distancing.   More limited in terms of custom sizing and color options, but equally as effective at combating exposure to noise levels within the same room.
Soundscreens are more industrial grade in their appearance, but work equally as well to generate the sound barrier results as do the ceiling-track mounted Curtitions.  In either case, if your goal is to make better use of an existing space, keep crowds of people social distanced from one another, and the noise levels under control, consider either of these popular sound barrier room divider options for your use.   Ideal for church, school, office, restaurant, and factory applications.
Soundscreens are also popular for isolating machine noise, or stationary computer noise such as computer racks, or compressors in a dental office.  Any time noise exposure levels exceed 85 dBa, care should be given to isolating the rest of the space and protecting the environment for safety standards.   These blanket systems are available in White, Black, Gray or Tan with a diamond stitch pattern for appearance.  For more information on these noise reduction room dividers, reach to NetWell Noise Control at 1-800-638-9355 or visit them online at www.controlnoise.com