Deliver Premium Sound Quality to Your Restaurant
There are few commercial spaces in the world where you have the luxury of walking into them on day 1, experience the noise levels, treat the room for noise control and then return to the same room on day 2 to notice the difference triggered.   The fact is that the majority of all commercial soundproofing treatments are retrofitting to an existing space, space is filled with noise, and the noise needs to be addressed.   But to apply the soundproofing treatment, it becomes somewhat of a guessing game…ie…will it really work?
While there are a variety of soundproofing websites that populate today's internet landscape, there is just a handful that has been around long enough to produce enough testimony back from tens of thousands of satisfied clients.   For restaurant owners, in particular, knowing that other restaurants have indeed once stood in the wake of losing clients due to noise levels, and then made steps to resolve the noise, it is those testimonials that answer the question….that yes indeed, the sound panel treatments work.   And they do. If they're done right.
A case in point is the Pear Street Bistro in Pinole, CA.   Owner Francisco Flores reached out to NetWell Noise Control in an attempt to calm the noise in his restaurant space, and help preserve his core of repeat customers.   NetWell crafted the solution to the acoustic issues in the space, designed to lower exposure levels to noise, and reward his customers with premium sound quality.   Upon completion of the soundproofing treatment, Francisco's one-sentence comment should say it all to anyone considering doing the same:
"The best investment I have done for my restaurants in the last few years"  Fransico Flores, Owner, Pear Street Bistro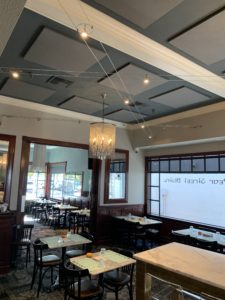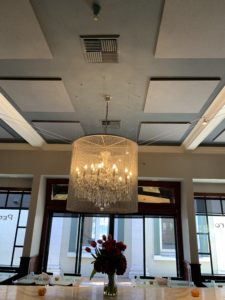 Knowing that NetWell Noise Control had no track record with Pear Street Bistro or Francisco Flores, but we did have a 26-year track record of replicating these same sound values back for tens of thousands of clients spread across America, Francisco made the blind step of trusting the process.   Immediately upon completion of his treatment, he posted on social media: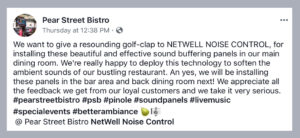 The result was a set of beautifully sized and placed sound panels, ceiling-mounted, that added a visual site line that caters to the style and design to space while absorbing up to 80% of the unwanted echoes in the room.   Comments posted by his loyal clients were appreciative of his steps taken to produce greater comfort for their dining experience: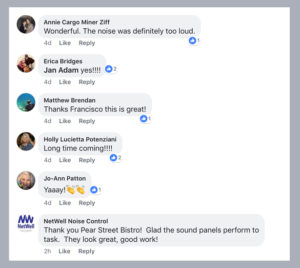 So the answer is always an emphatic YES!   Soundproofing treatments for restaurant space do indeed work, so long as you work with a reputable supplier who has prescribed these treatments for tens of thousands of spaces spanning back decades. The same acoustic values back can be jeopardized, however, if the wrong website or wrong vendor is selected to sound manage the project.
Also, note that these sound panel systems are easy to anchor to your perimeter wall or ceiling surfaces.   Clip systems are included with each order for an easy self –installation by local contractors who are already performing odd jobs for your restaurant space.
For questions related to treating your commercial space, restaurant or otherwise, for effective sound quality control, reach out to NetWell Noise Control at 1-800-638-9355 or visit us online at www.controlnoise.com